Bella's Story 1899 - 1923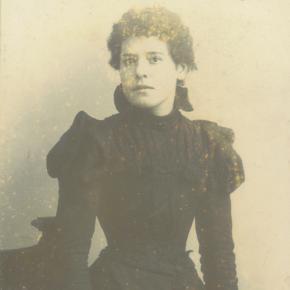 Bella Hale 17th May 1884 - 22nd May 1972
photograph c 1900 aged 16
This volume is the story of Bella Hale who was 16 years old in the year 1900. It covers the period from her birth on 17th May 1884 to her marriage on 8th September 1907. Her age is given with the date at the top of each entry. The diary entries are not in Bella's real voice, as she did not keep a diary. However, her daughter Helen told me a little about her life and the entries are built around these stories and documentary evidence.
(A outline biography of Bella to her death in 1972 is given at the end of this page.)

Isabel Rose Hale
(Bella) -

Birth 17th May 1884 Bella was born on 17th may 1884, the fifth child of Frederick Edwin Hale and his wife Helena. Frederick was a printers labourer living in Lambeth, London. The record above tells of her Baptism at St Agnes, Southwark on 9th June 1884. The address given is 33 Royal Terrace, Kennington Park. This had been the family address in the 1881 Census - before Bella was born (see the page on Hale Ancestry). In that census her father gave his occupation as Warehouseman but by Bella's birth in 1884 he had started work in the Print.

(insert Bella's BC)


1891 Census - Hale Family

The census record for 1891
shows Bella's family living in 4 rooms at number 46, Royal Terrace, Newington London. This was a few doors away from the previous address. The property was pretty crowded! Frederick is working in the Print as a Labourer and his son Frederick RC (this enumerator kindly gives some middle name initials) has also started work in the Print. Bella is now aged 6.

The adopted son, Harry Day, is a great mystery. Nobody in the family ever spoke of him and Day is not a name that figures anywhere in the family tree so he would not have been family. He was not with the Hales in 1881 so was presumably adopted after the age of 8. His place of birth Gloucester is also odd - the Hale family had no known connections with Gloucester and had lived in Lambeth as far back as I can trace.
Formal adoption, as we now know it, did not exist in England and Wales until 1927. Before then, adoptions were usually informal. In a few cases there was some legal documentation, but no central register. This means it is not possible to discover anything further about Harry Day.

The property was in multiple occupancy with the Beard family also living at number 46, in a single room – Thomas Beard (39) his wife Ellen (33) and their children Caroline (3) and John (10 mths). Thomas was a General Labourer and they were all local people (born in Camberwell/Lambeth).
1891 Census 46 Royal Terrace, Newington Lambeth

Name and Surname of each Person

Age

Profession or Occupation

Where Born

Frederick E Hale (head)

44

Printer's Labourer

Lambeth, London

Helena (wife)

41

Bermondsey, London

Frederick R C (son)

18

Printer's Lad

Wandsworth, London

Ellen S R (daughter)

16

Machinist (Learner)

Newington, London

Charles T (son)

11

Scholar

Newington, London

Louisa M (daughter)

9

Scholar

Newington, London

Isabel R (daughter)

6

Scholar

Newington, London

Harry Day (adopted son)

18

Apprentice Book Binding

Gloucester
February 19th 1900 - Bella (16)

Father died today from Bright's disease. He was only 55 years old but he has been ill for nearly a year. Six months ago he lost his sight, but he was so proud he would not walk on anyone's arm even when he was quite blind. Mum nursed him to the end and now she is exhausted and devastated. We will look after her and although Nell and the boys have left home we shall manage all right with Lou and I working.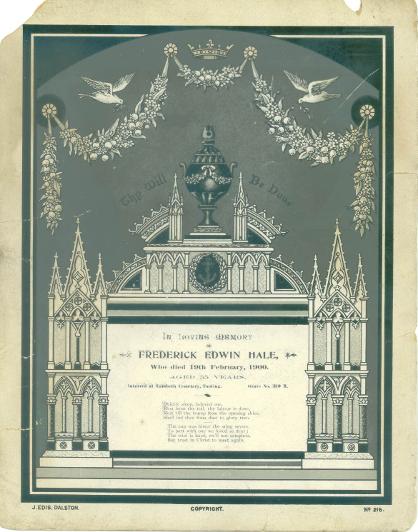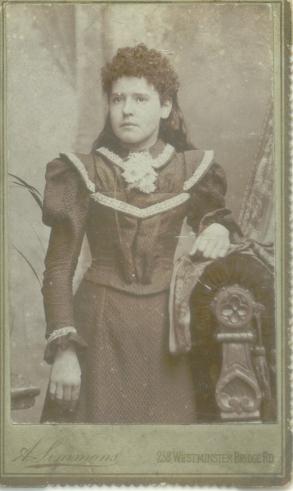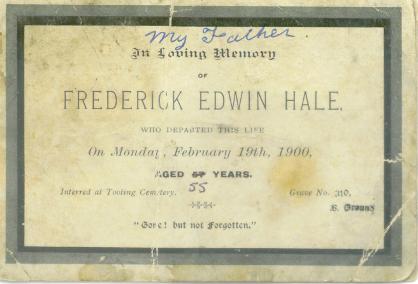 Bright's Disease is a disease of the kidney. I was told that Frederick was blind for the final few months of his life but this is not listed as a symptom of Bright's Disease. The funeral card and separate In Memoriam card give his age as 55 but if all the census data is correct he could only have been 53.

The handwriting on the above card is Bella's. The photographs are undated but show her at about this age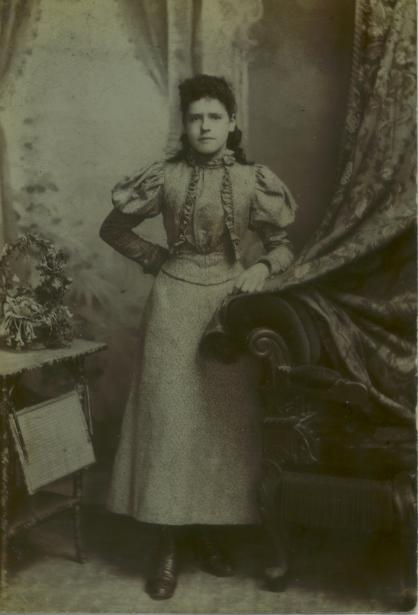 1901 Census - Hale Family

In 1901 Bella is living with her widowed mother, Helena and sister Louisa, at 152, Warham Street, Lambeth. This is the adjacent street to John Ruskin Street where Helen Hamshar later went to school. Bella, aged 17, is working as a Sewing Machinist.
Apart from Census data I have no evidence about Bella's childhood or schooling but I was told by her daughter (Helen) that she
attended St John's Church of England School in Kennington until the age of 13 when she left to work as a laundry maid, later becoming a qualified laundress.
The occupation given in this 1901 Census is Sewing Machinist which seem to contradict this but the sewing work could well have been in association with the laundry.


1901 Census - 152 Warham Street Lambeth

Name and Surname of each Person

Age

Profession or Occupation

Where Born

Helena Hale (head)

51

Charwoman

Surrey, Bermondsey

Louisa Hale (daughter)

19

Sewing Machinist

Surrey, Newington

Isabel R Hale (daughter)

17

Sewing Machinist

Surrey, Newington
Other Census records show Bella's three older siblings, Fred, Helena (called Ellen in the 1891 Census above) and Charlie have all now left home. Fred and Helena (now Fish) are married with their own families and Charlie is staying with the Fish family.
1901 Census - 29 Myatt Road, Lambeth

Name and Surname

Age

Profession or Occupation

Employer, Worker

Where Born

Frederick R Hale

28

printers warehouseman

worker

London Lambeth

Mary A E Hale (wife)

28

Devon Exeter

Frederick T

5

London Kennington

Mary E

3

London Kennington
1901 Census - 27 Harvey Road, Camberwell

Name and Surname

Age

Profession or Occupation

Employer, Worker

Where Born

Thomas F Fish

30

printers labourer

worker

London Lambeth

Sarah H Fish (wife)

26

Thomas F Fish (son)

7

London Newington

Helen L Fish (daughter)

5

London Newington

Charles T F Hale (brother in law)

21

printer

London Newington

Thomas J Bailey (boarder)

20

carpenter

Not Known

Sarah I Fish (daughter)

15m

London Newington
September 14th 1901 - Bella (17)
Mum died four days ago, on September 10th and she was buried today in Tooting Cemetery in grave number 636B. It is not too far from grave 310 where we buried Father last year. You should have seen the number of wreaths from all the people who knew her. She was the midwife who brought most of them into the world. Uncle George and Uncle Bill (Mum's brothers) both run cabs and they took us all to the cemetery following the hearse and then brought us back home to Cooks Road, Kennington for sandwiches and drinks. The horses were dressed up for the occasion and we made a dignified sight.
Lou and I shall now go to live with our brother Fred and his family at 29 Myatt Road. It is a nice house and Fred works in the print so they are quite comfortable but it won't feel like home.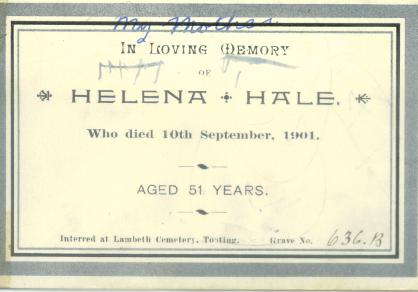 The photograph shows Bella with Fred and Louisa (Lou) on the right.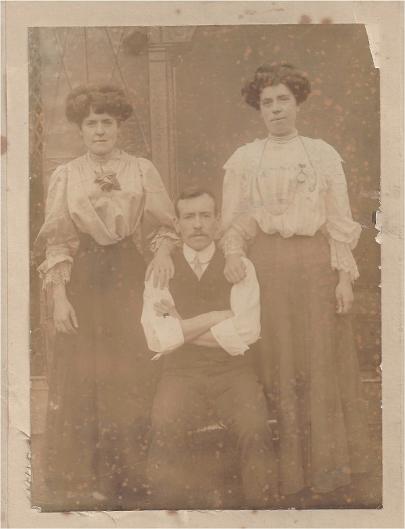 1905 - Bella (21)

Today I passed my test on shirt and collar ironing and became a qualified laundress.

I got a good opportunity to celebrate when I went to a party at Rose's house in Brixton. Rose is my cousin and her husband's name is Will Hoare. I have been to parties there before but today I met a really nice young man by the name of Ernie Hamshar. I found out all about him. He is Will's stepbrother but he is much younger than Will, 21 just like me. His Mum runs the laundry in West Norwood and they live in the house next door to it. Ernie works for his Mum collecting and delivering and looking after the horse.

The best bit of the party was when Ernie played the piano and we all had a singsong. He is a very good piano player. Afterwards he walked me home and I am going to see him again next week.

I have no photographs of Ernest Hamshar prior to the wedding photograph below.


September 8th 1907 - Bella (23)

Today Ernie and I were married at St John the Divine in Kennington. After the ceremony we went back to his parents' house for our Reception and the wedding photograph was taken in the garden (7 High Street, West Norwood). We shall be going to live at 54 Cambridge Street, Kennington.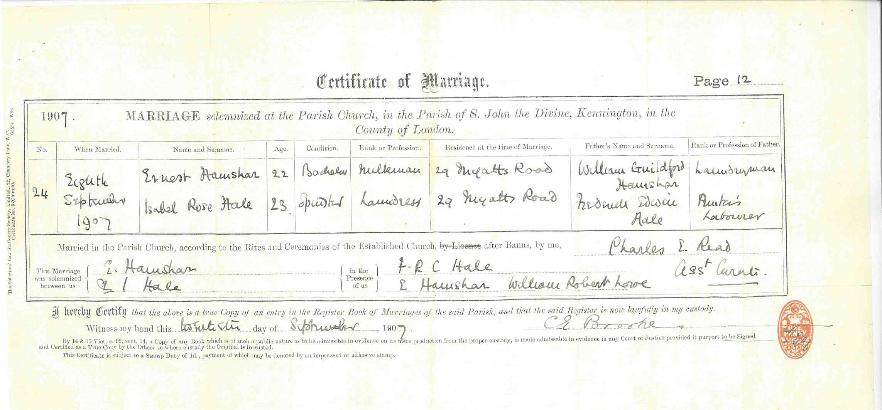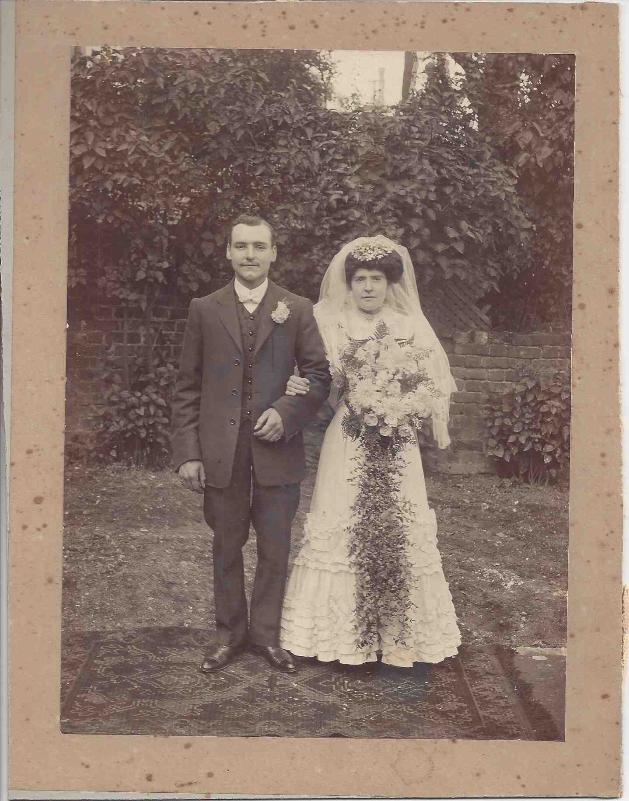 For the continuing story see the Hamshar Family Story


Isabel Rose Hale - Brief Biography

Isabel Rose Hale was born on 17th May 1884, the daughter of a London printer's labourer and a district nurse. Bella, the youngest of five children, attended St John's Church of England School in Kennington until the age of 13 when she left to work as a laundry maid, later becoming a qualified laundress.
When orphaned in 1901, at the age of 17, after her parents had both died in the space of eighteen months, she and her sister went to live with their eldest brother Fred and his family at 29 Myatts Road, Kennington.
On 8th September 1907, at the age of 23, she married Ernest Hamshar, a London milkman. She bore him two children, Ernest and Helen, and acquired another, Bert, when her sister, widowed by the war, died in 1917 leaving the young child in the care of his aunt. Bella and Ernie were a fun loving couple and had a happy life until Ernest enlisted in 1915. They then saw each other for only brief periods of military leave before Bella was widowed in August 1918, Ernest being killed in a bombing raid on Calais just three months before the end of the First World War.
For many years Bella struggled to bring up three children single-handedly, living on her pension as a war widow, supplemented by cleaning work and the money raised by sub-letting rooms in various properties, which she rented. She suffered regularly from bilious attacks and the recurrent pain of gastric ulcers but remained robust enough to look after her two sickly sons - Bert, who needed constant medical attention for a curvature of the spine and Ernie who suffered from a heart defect. In 1922 the family moved to St Neots seeking a healthier environment for the ailing Ernie, but they returned to London after only three years and made a succession of moves before finally settling at 17 Ullswater Road, West Norwood in 1936.
Bella continued to sub-let rooms to a number of tenants including her daughter Helen and husband, Tom Govier after their marriage in 1938. When later, in 1957, Tom and Helen were able to purchase the freehold of the property, Bella continued to live in the bosom of her daughter's family, helping to bring up her two grandsons. She continued in good health (although becoming very deaf) until the last year of her life, finally dying in her bed on 22nd May 1972 at the age of 88.
Although in her later years she became somewhat cantankerous, trying the patience of all her relatives, Bella was a tough woman who rose well to the challenge of bringing up a family alone. She was neighbourly, kind and generous with her time and took a friendly interest in the lives of all around her.