Bertha's Story 1899 - 1923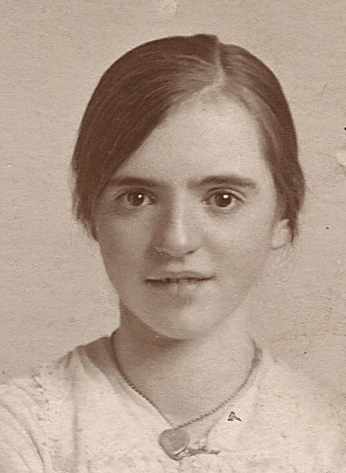 Bertha Fitton 27th April 1899 - 14th May 1965
photograph c 1915 aged 16
This volume is the story of Bertha Fitton who was 1 year old in the year 1900. It covers the period from her birth on 27 April 1899 to her marriage on 30 April 1923. Her age is given with the date at the top of each entry. The diary entries are not in Bertha's real voice, as she did not keep a diary. However, when I was a child, she told me a little about her life and the entries are built around these stories and documentary evidence.

(A outline biography of Bertha to her death in 1965 is given at the end of this page.)
Bertha Fitton
-

Birth 29th April 1899

Bertha was born on April 29th 1899, the third child of two Yorkshire cotton mill workers. Her father, William Fitton was a shuttle maker, a skilled job, and her mother Grace (nee Crowther) was a weaver.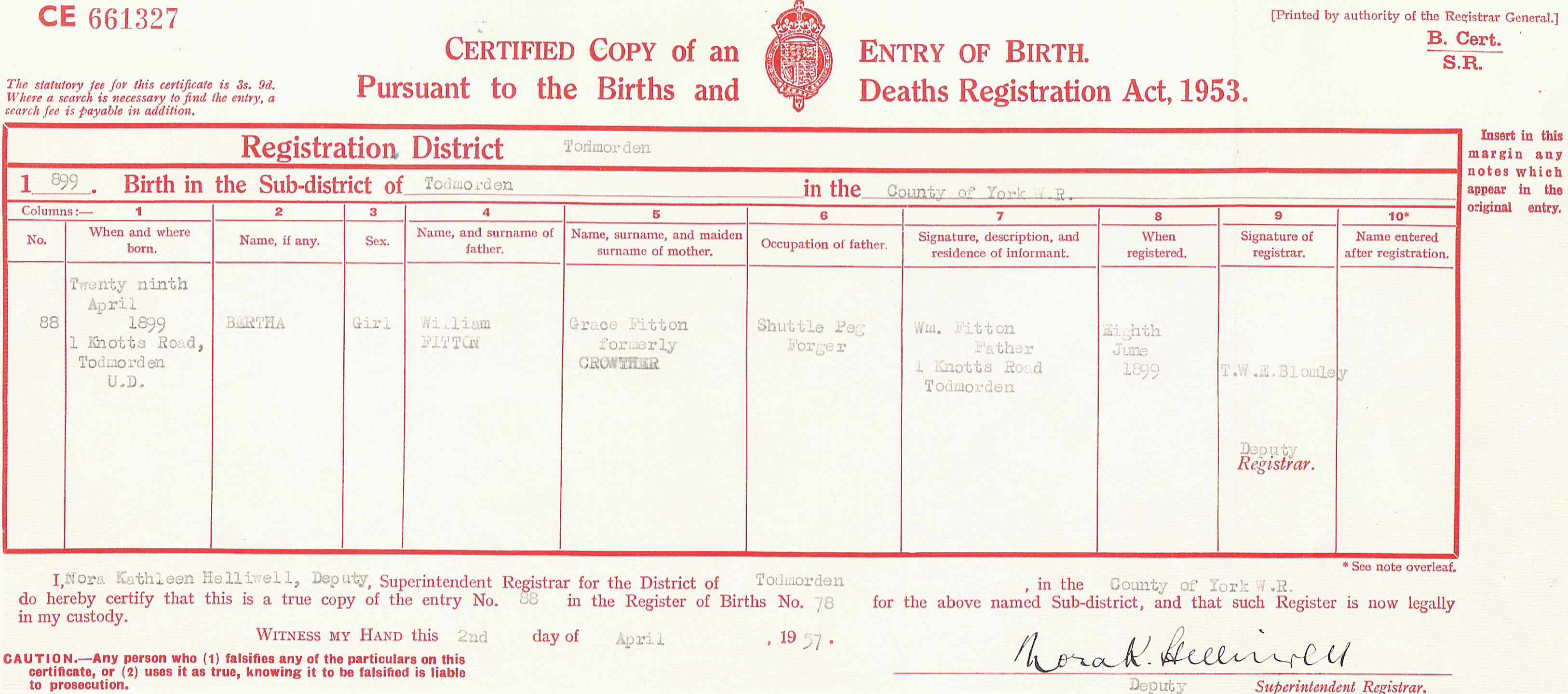 Bertha's place of birth is given on the birth certificate as 1, Knotts Road Todmorden. This lies on the edge of the village of Cornholme where Bertha was to live for the rest of her life. In the 1901 census the family is recorded as living at New Delight, less than a mile from Knotts Road, and after 1905 they moved to a remote cottage called Dundee Cottage in the hills above Cornholme. This cottage had been home to the Crowther family for a number of generations but life there was harsh, even in the early twentieth century, with no gas or water supply and a long walk along farm tracks providing the only route to school, work or shops.
Bertha Fitton (1) - 1901 Census
The census record for 1901 shows Bertha's family to be living at 'New Delight'. A map of the area in 1849 shows New Delight, up what is now Pudsey Road. Other settlement names from the census form are also clear (Stones, Doldrums etc) as are Dundee – the place where Bertha recalled living as a child - and 1, Knotts Road, Todmorden – the address on Bertha's birth certificate - both are further down the Burnley Road but still part of Cornholme really.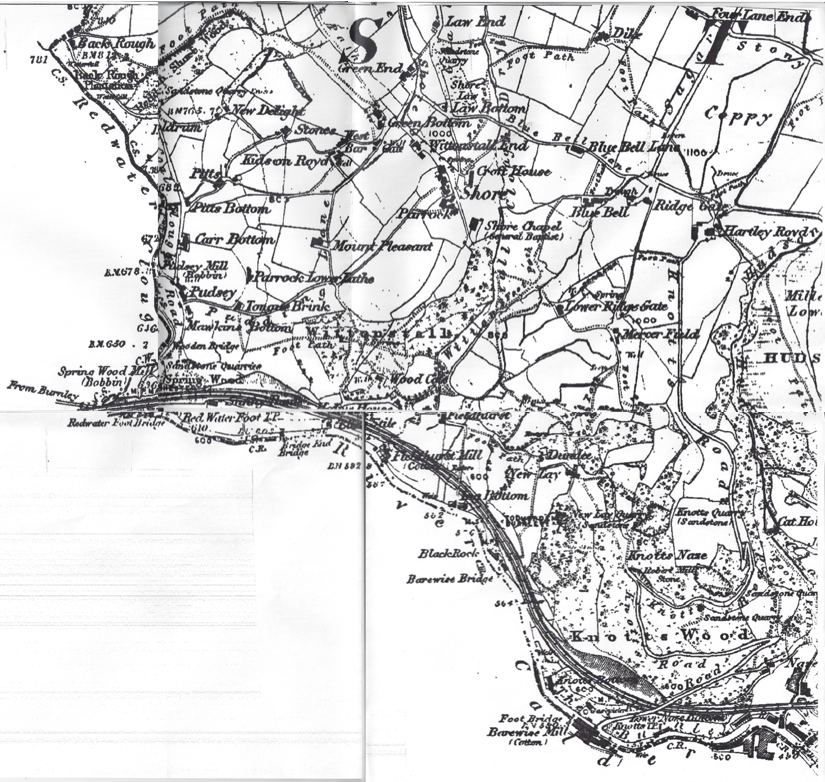 In September 2003 we visited Cornholme and armed with the 1849 map (shown above) we drove up Pudsey Road (marked as Coal Clough Road on the old map) looking for the area. The footpath marked on the 1849 map still runs from Pitts Bottom up past Pitts and on to Stones. It is grassy and overgrown but still quite distinct. We turned left half way up and took the side spur to New Delight, which is amazingly still there with the name New Delight carved into the door. There is a terrace of 2 dwellings – the one nearest the path has the door with New Delight marked the other has a number 37. The old barn is currently being converted into what will be quite a smart third home. The track down on to Doldrums and round to Coal Clough Road is just about drivable – certainly there were a couple of vehicles by New Delight.

In 1901 the Fitton family was living in 4 rooms and the key details are as follows:

Ellen Fitton (Nell) was daughter to William through a previous marriage. There was also a son, Bill (aged 10), who was living with his uncle in Oldham (see Fitton Line <1900 for details). Nell's birth in Radcliffe suggests that William lived there with his first family – moving to the Cornholme area sometime prior to his marriage to Grace (1894). I wonder why Ada was born in Bury? Mabel, the youngest sister does not appear, as she was not born until 1903.
The surnames on other sheets of this census record include many local names which figure within the family history – Marshall, Stansfield, Greenwood, Helliwell, Howarth, Pickles - all families in the Cornholme community in 1901 – and perhaps for generations before. The 'Where Born' column for these people certainly puts some of the older generation in Cornholme. The very comprehensive Crowther family tree (see Fitton Line <1900 for details) was researched by a cousin to Muriel.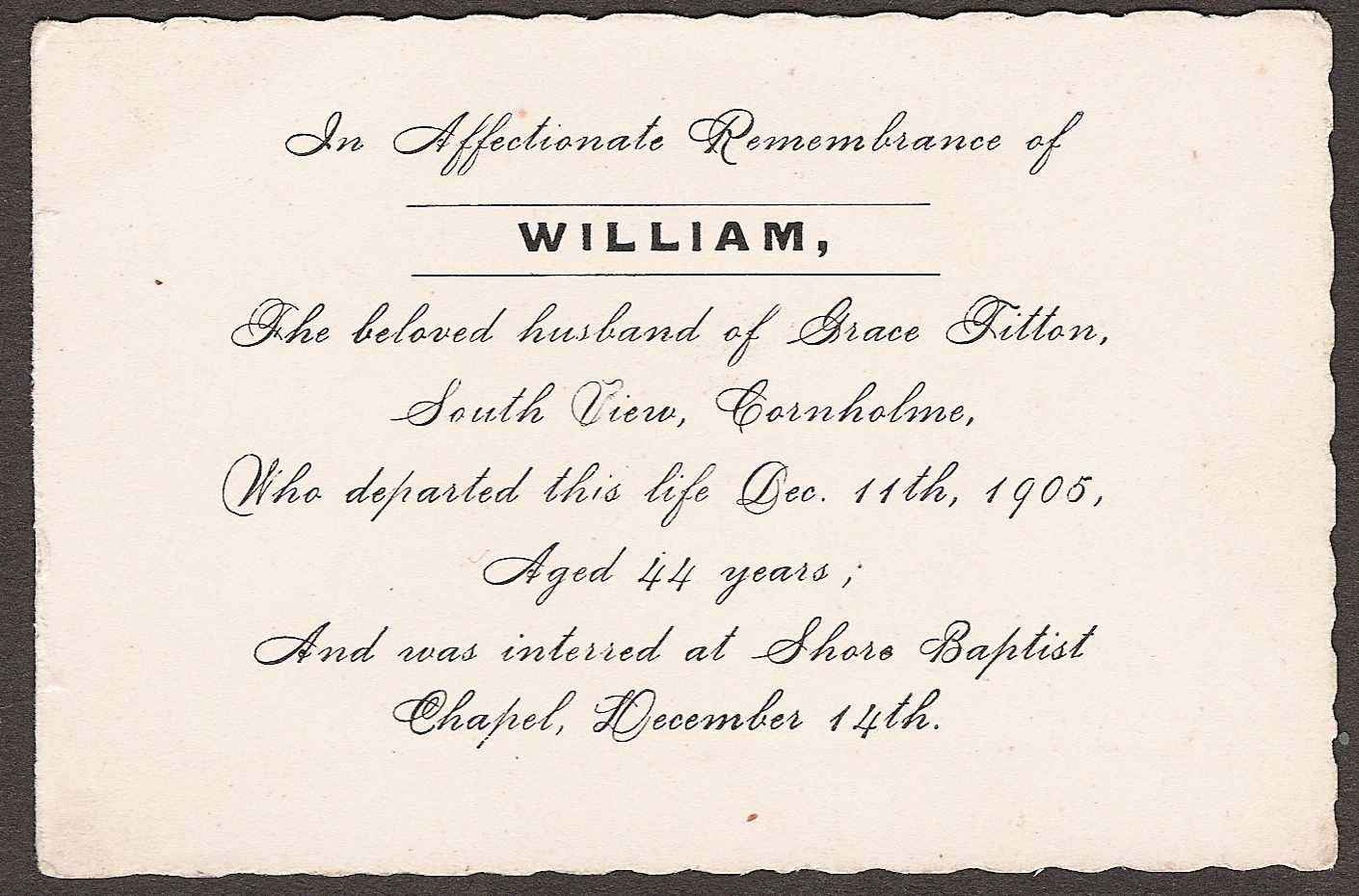 December 1905 - Bertha (6)
Today we went to the funeral of my Dad who died last week. He was just 44 years old. He was buried at Shore Chapel. We shall now go to live with Grandma up at Dundee.
William had been ill for 9 months with a kidney infection.
The death certificate and remembrance card have the address of 5 South View, Cornholme. This is shown on the map as being off Holme House Road and is very close to the cottage known as Dundee.


After the death of William Fitton, Grace and the younger children went to live at Dundee Cottage. This is the cottage where Nathanial Crowther – Bertha's grandfather – had lived from 1871 until at least the date of the 1901 census. Grace Crowther's birth, in December 1871, was registered at this address. Also at Dundee in 1901 were Nathaniel's son Sam and his family – but Sarah, Nathaniel's wife was absent. This may have been just a temporary absence as Bertha told of 'Grandma' looking after the children but Sarah died in March 1906 so Grace would have lost her 'childminder' when Mabel was only 2/3 years old. Perhaps Sam's wife Emily looked after Grace's children, alongside her own, so that Grace could work?
William's daughter Ellen (Nell) may have left home at this time - she would have been 19 years old. She was certainly living in digs at some time as that is where she met her husband-to-be. There is some further information about her in the footnote at the end of this page.
1906 - Bertha (6)
It is too cold and damp in our house to dry my black wool stockings over night so this morning I had to put them on wet again. Mam has always gone to work by the time we get up in the morning so Walter, Cissy (Ada) and I have to get the fire lit and take ourselves off to school. We get dressed quickly because it is so cold and run off down the track with a slice of bread for our breakfast. Since Dad died we have not been able to afford any jam to put on it. The walk to school takes us about half an hour but at least it is downhill all the way. Today the path was so muddy and when we got to school I got in trouble again for having dirty clogs.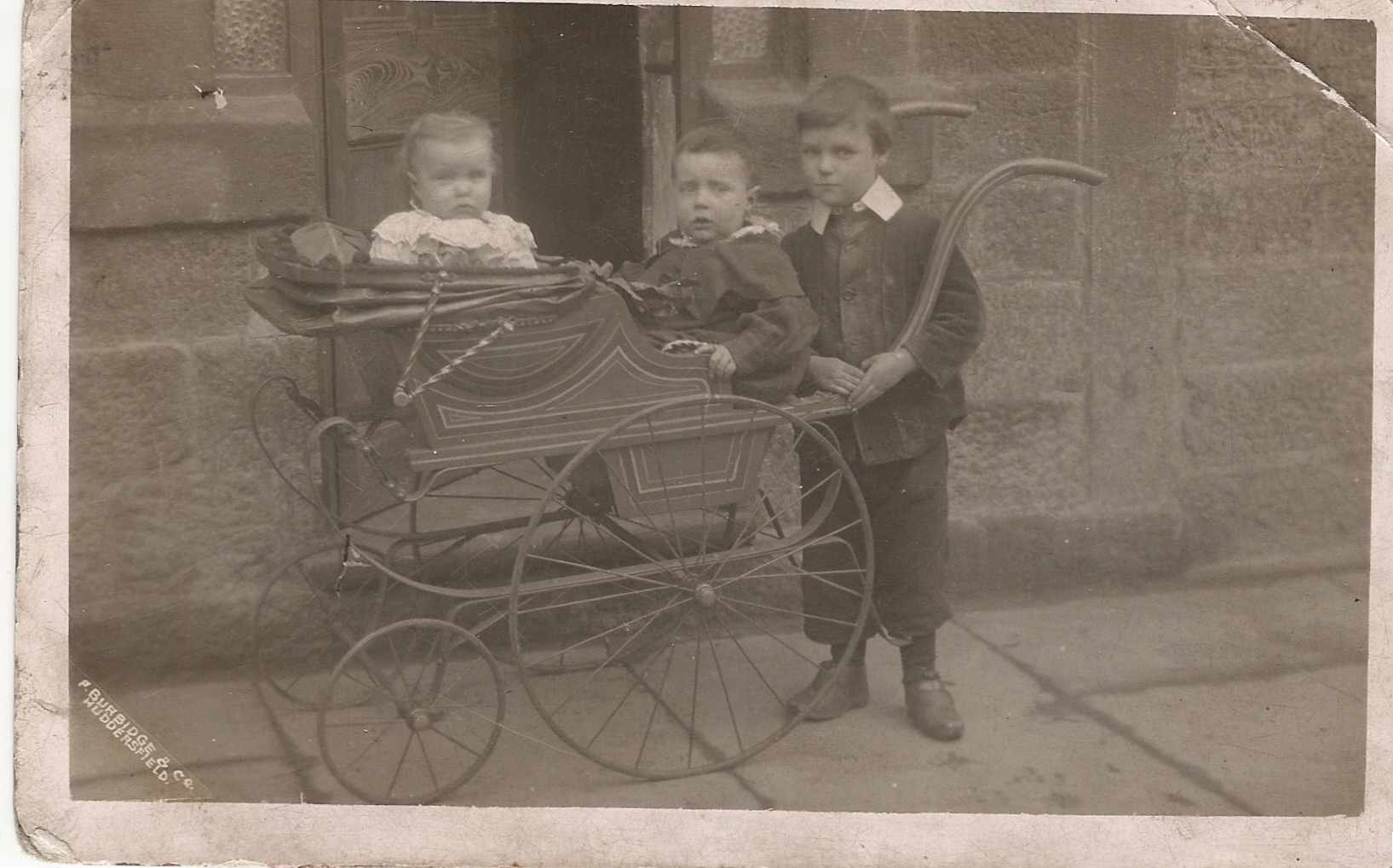 The children in the photo with the pram are unknown but there is a rough message on the back of the original addressed to Ada Fitton, 7 Southview, Cornholme. The Southview address accords with that on the William Fitton Remembrance Card - which dates the postcard to around 1905.

After Bertha's father died the family experienced great poverty. Bereft of any financial support and too proud to accept charity, Grace sent the stepchildren away to William's relations or to make their own way in the world. Grace returned to work in the factory spinning cotton, a job considered inferior to weaving and with meagre wages. Bertha attended Vale Council School and from a very early age took responsibility for getting herself there as her mother began work at 6am.
Bertha Fitton (11) - 1911 Census
The census record for 1911 shows that Bertha's mother Grace has remarried in 1908 to someone called Wilson Dixon. Unfortunately the record is damaged at the bottom so the address is missing. The family would have been a bit better off at this time as Grace's eldest two children, Walter and Ada, were now working in the mill.

Here is the record of Grace's marriage on 13th May 1908 to Joseph Wilson Dixon. At the time of the marriage Grace was living at Dundee. It is notable that Joseph made his mark and thus was presumably illiterate.

This raises the question of where Joseph was in 1911 - as he is not listed in the household with Grace and the children. He seems to have survived until 1931 - see below - but I cannot find any evidence of him in 1911. Muriel told me that he left Grace and the children and gave her no financial support - see the entry for August 1941 in The Boothman Family Story.

7th January 1912 - Bertha (12)
We had a photograph taken at school.
The original of the school photograph has the date 7 Jan 1912 written in ink on the back. Bertha is first left in the second row from the front - directly in front of the teacher.

By the age of 12 Bertha would have only attended school part time as she would have been a 'part-timer' - working for half the day as a weaver in the cotton mill. The same is doubtless true for many of these children. (One thing I never knew about Bertha's childhood was that they had a dog - an Airedale. This information came from one of Edwin's letters written in 1986.)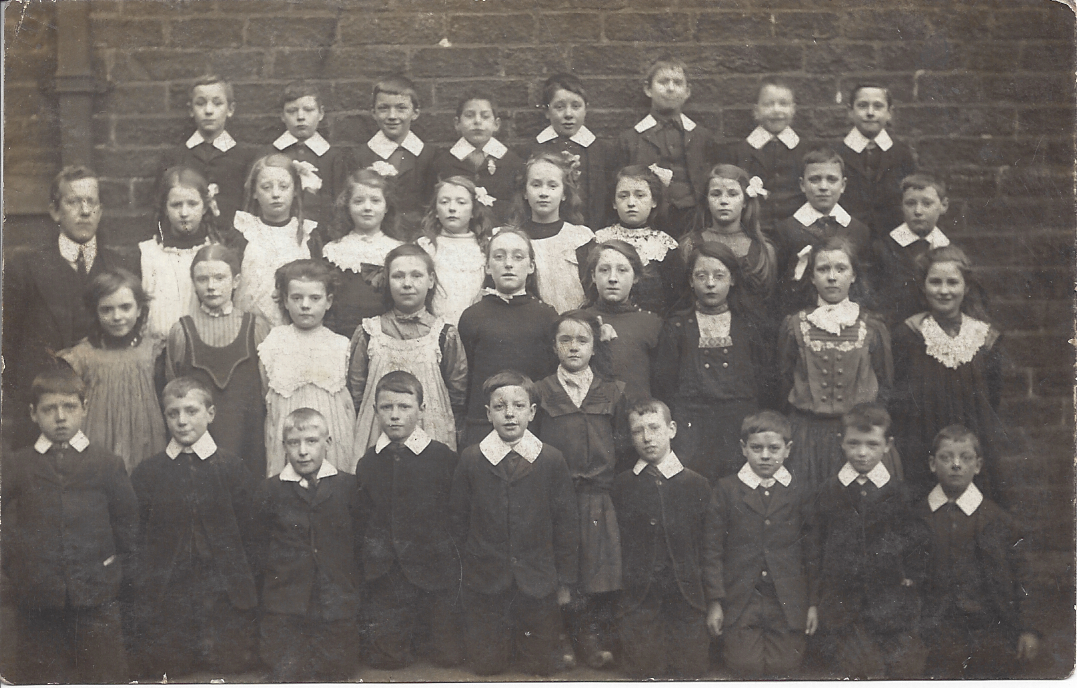 1912 - Bertha (13)
I work as a part timer working in the weaving shed at Vale Mill. I will go full time when I am 14. My mother was a weaver there and my grandparents and great grandparents also worked at Vale Mill. Almost a hundred years ago before the Mill was built, my great, great grandfather had a loom in his own house and he used to weave the cloth there. There is a story in the family that one day the candle fell onto the loom and it was all destroyed by the fire. That was a great tragedy for my family because they lost their livelihood and became very poor. This week I am working mornings at Vale and I will go to school in the afternoon. Next week it will be the other way round. The weaving shed is hot and noisy but I am with lots of friends and the money will be a help to Mam.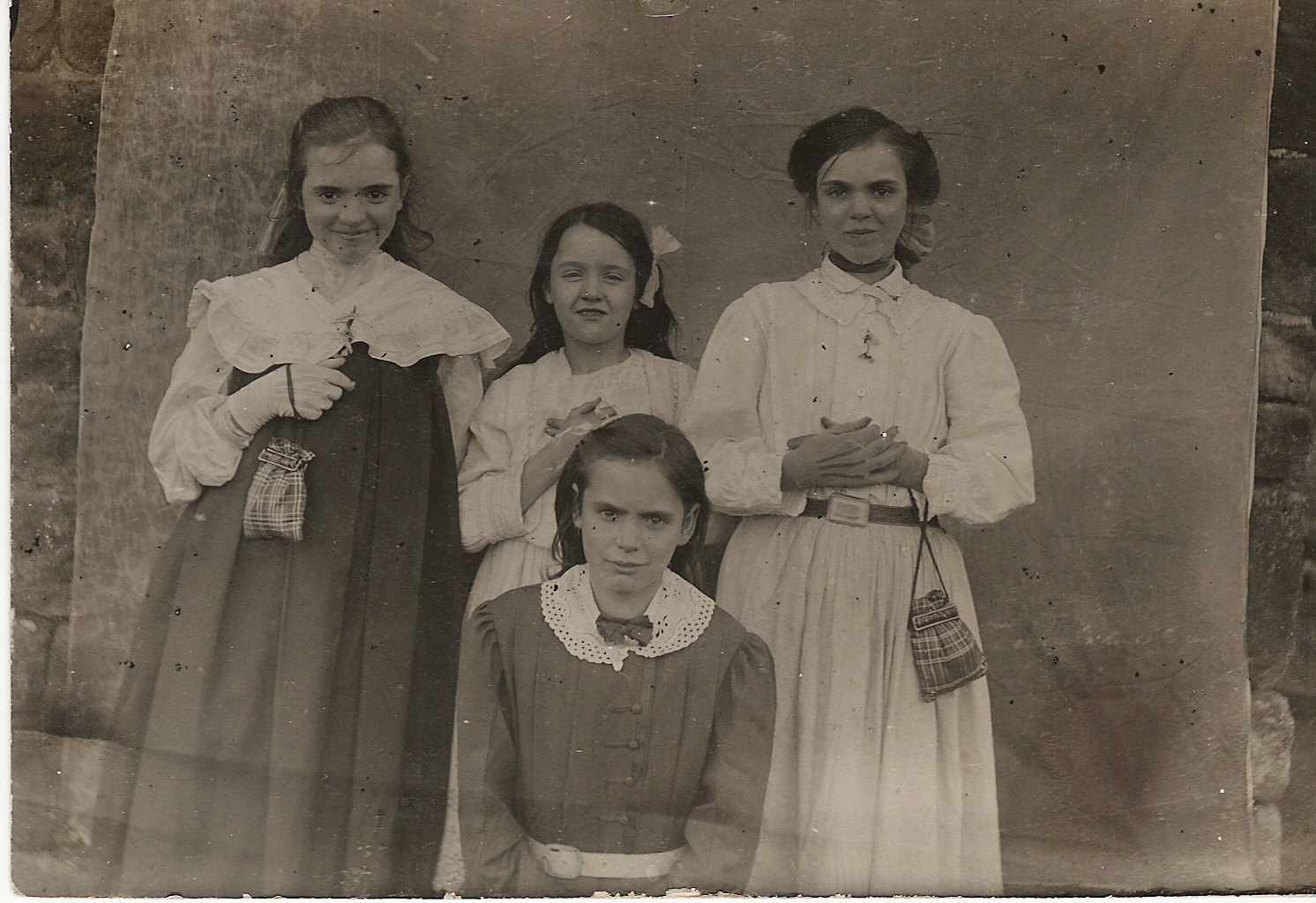 The 1911 census (see above) shows that Ada was working in the mill as a 'part-timer' at the age of 13 and the pre-1900 ancestry diary has many examples of children even younger than this working in the mills. However, I understand that 12 was the usual starting age at this time. At 14 Bertha left school and started full time work in the mill.
The photograph of the four girls dates from approximately 1914. The girl in the front is Mabel and Bertha (left) and Ada (right) but I have no idea who the young girl in the middle is. There is a suggested date on the back (1914) but I think that is in my Dad's handwriting so is a guess made long after the event.
1915 - Bertha (16)
On Sundays I go to Vale Sunday School where I am learning the psalms so that I can win a Lord Wharton Bible.
The bible has the plaque in the front showing it was given to Bertha Fitton on 23rd May 1915.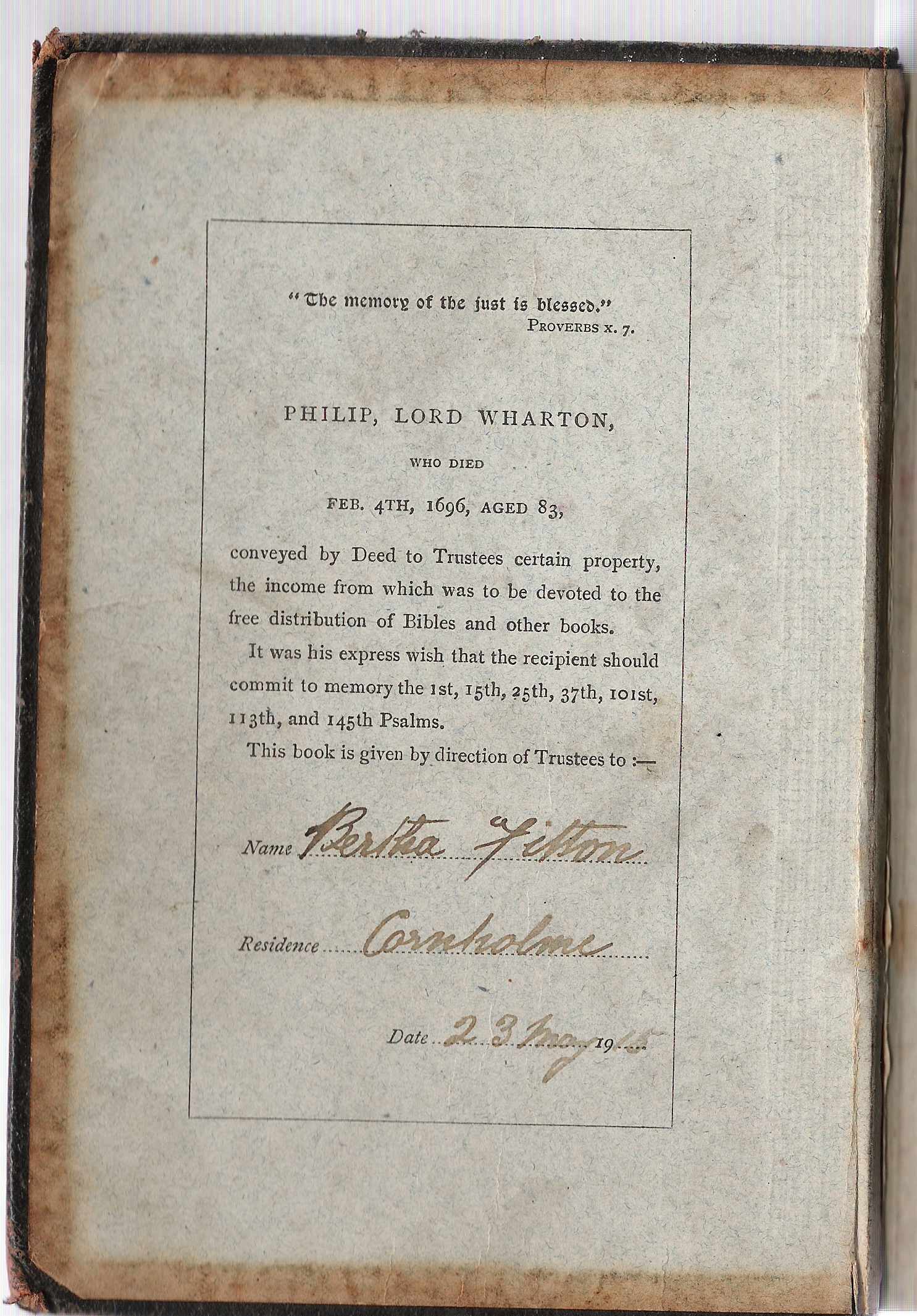 The photograph of the three sisters shows from left to right Ada, Bertha and Mabel. There is a suggested date on the back - 1917.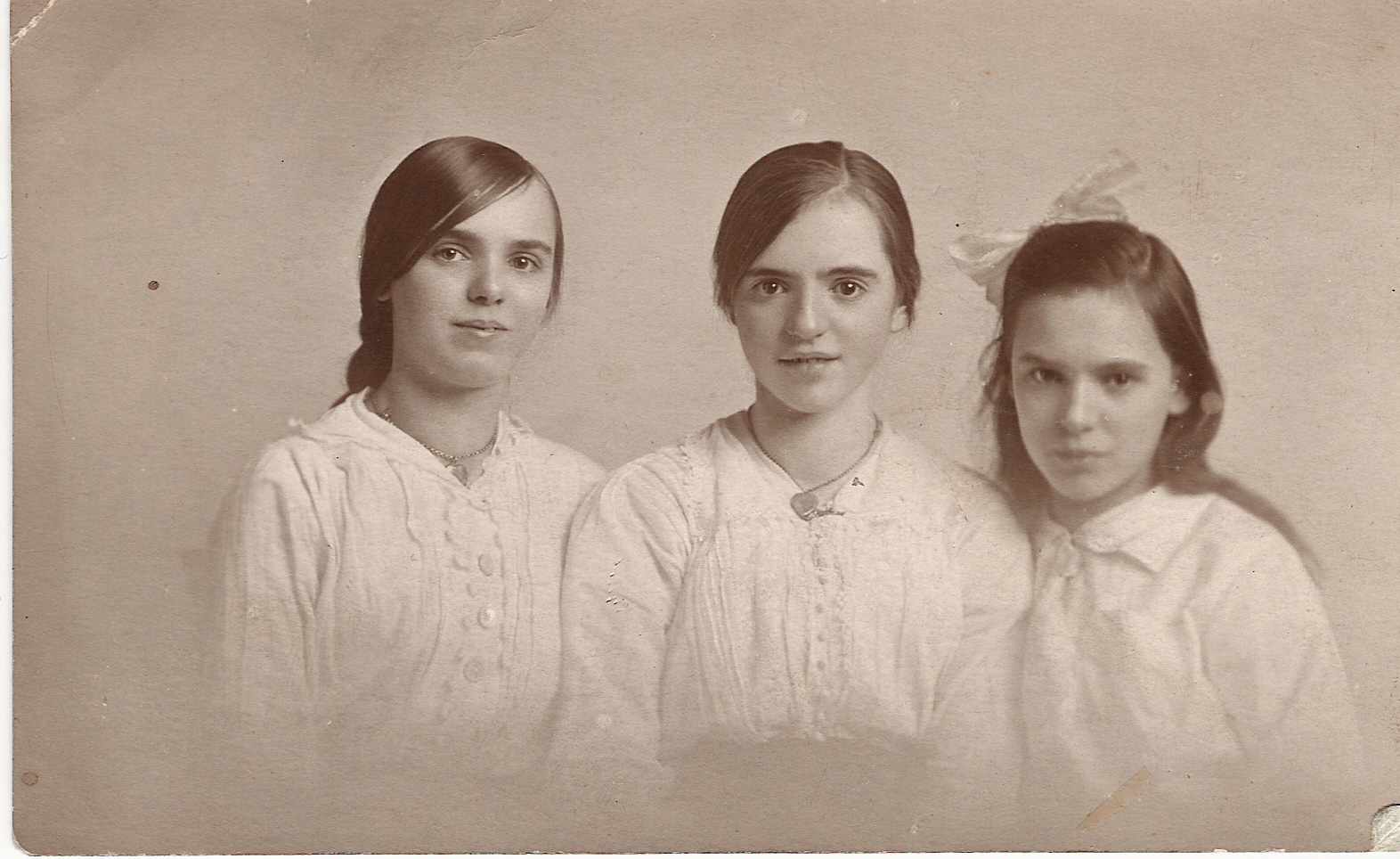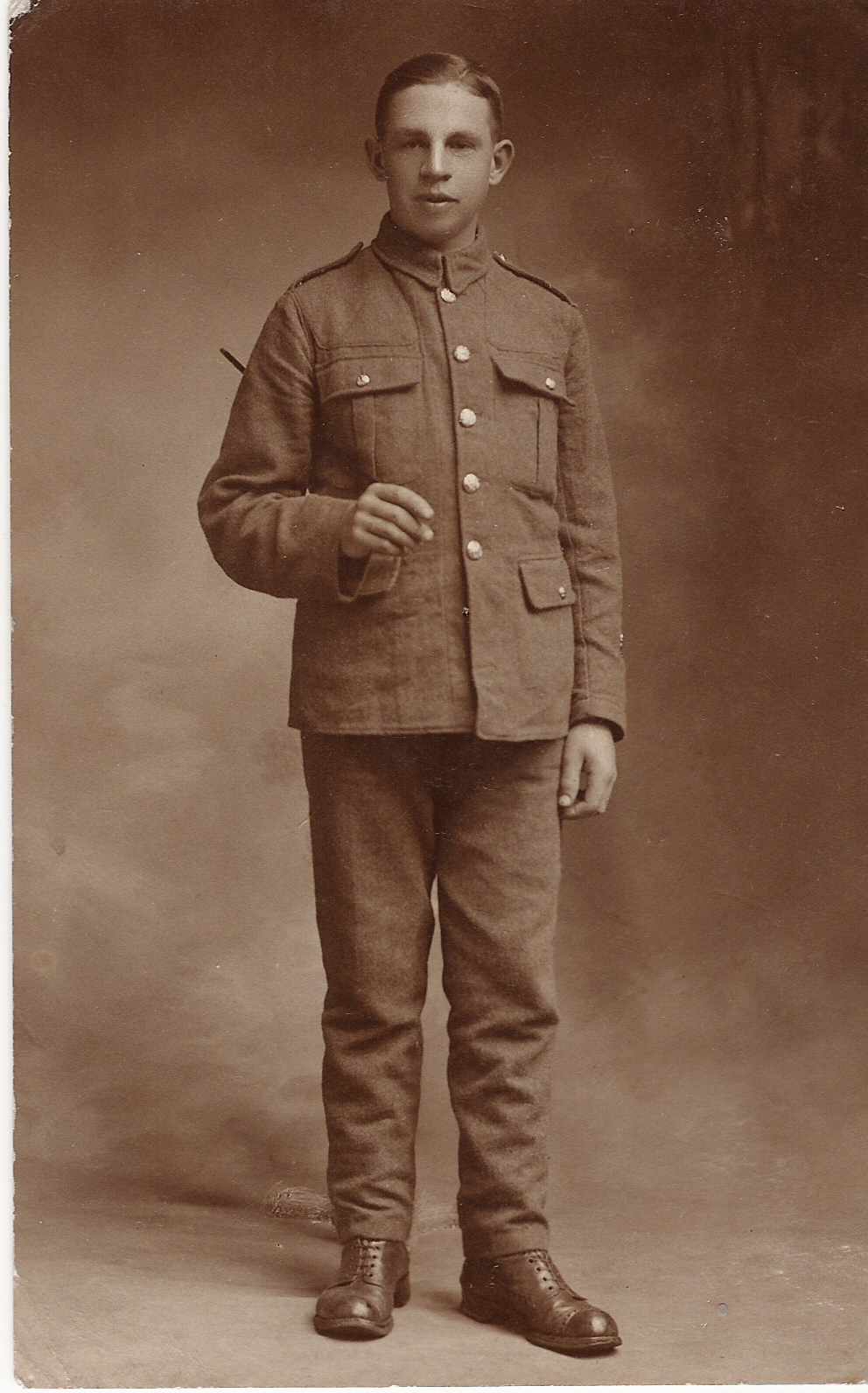 1921 - Bertha (22)
There is a new manager at Duckworth's shop in Cornholme today. He is about my age, called Edwin and he is ever so nice. He has just started there after coming out of the army and he has lots of interesting stories to tell about the places he's been.
I do not know for sure when Bertha and Edwin met but he did start work in the shop in Cornholme soon after coming out of the army. See the separate section - Edwin's Story for details of Edwin's life to 1922.

This photograph shows Edwin around 1918 when he was 18 years old.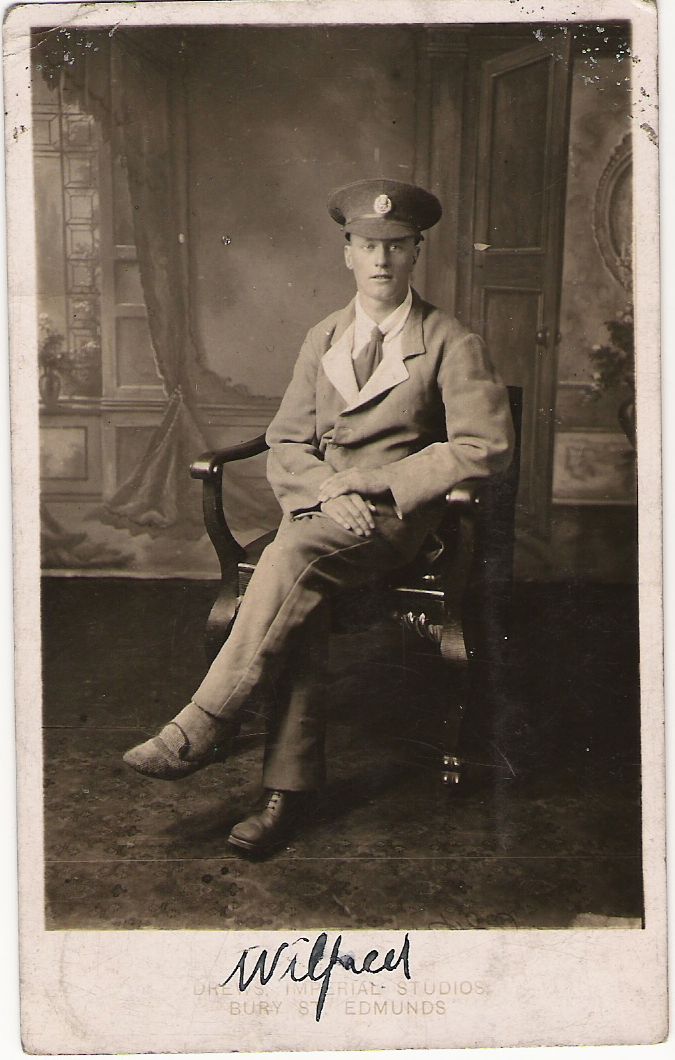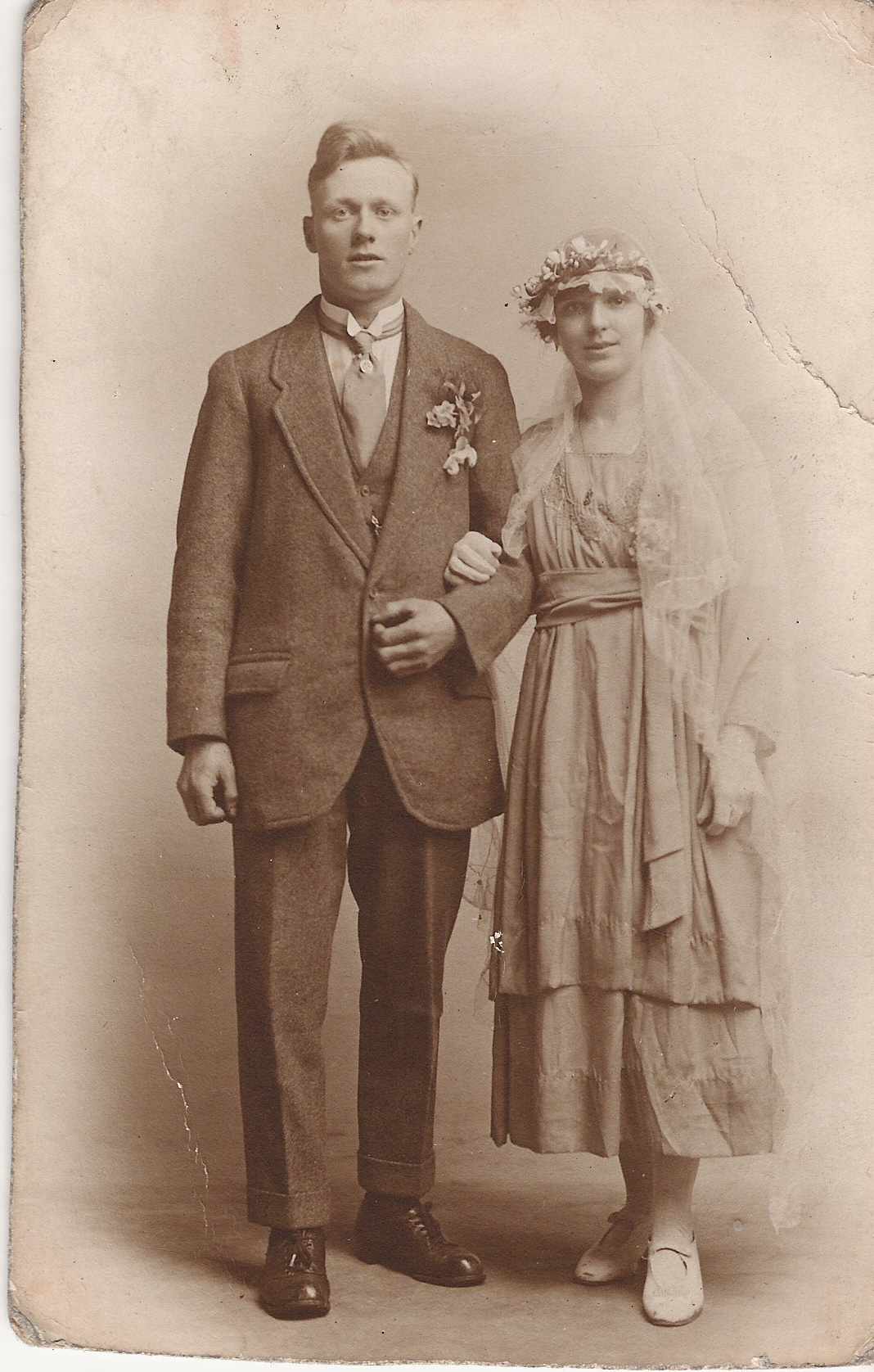 February 1st 1921 - Bertha (22)
This is a picture of our Cissie's wedding (Cissie is the name we give to my sister, Ada). She has married Wilfred Marshall and the other photograph shows him in his military uniform. He came out of the army at the same time as Edwin.

The record of this wedding at Shore Baptist Chapel is shown below. Bertha has signed the register so may have been a maid of honour. I have a copy of William Marshall's army record which shows that he was discharged in December 1920. The quality of the reproduction on this is poor so it is not shown here.
The signed photograph of Wilfred in a military cap is addressed (on the back) to Mrs Fitton, 7 Holme House Road, Cornholme, Todmorden.

1921 - Bertha (22)
Our Cissie got a letter from Canada with a picture of Nell (Ellen) and her family. Nell is our stepsister - she was Dad's daughter from his first marriage before he married Mam. She went to Canada and married a man called Albert (Bert) Saville. The picture shows them with their first two children Flo and Albert in their car.

As far as we know Nell was the first of the family to emigrate to Canada - a path later followed by Bertha's two sons. An outline of Nell's story is given in a footnote at the end of this page.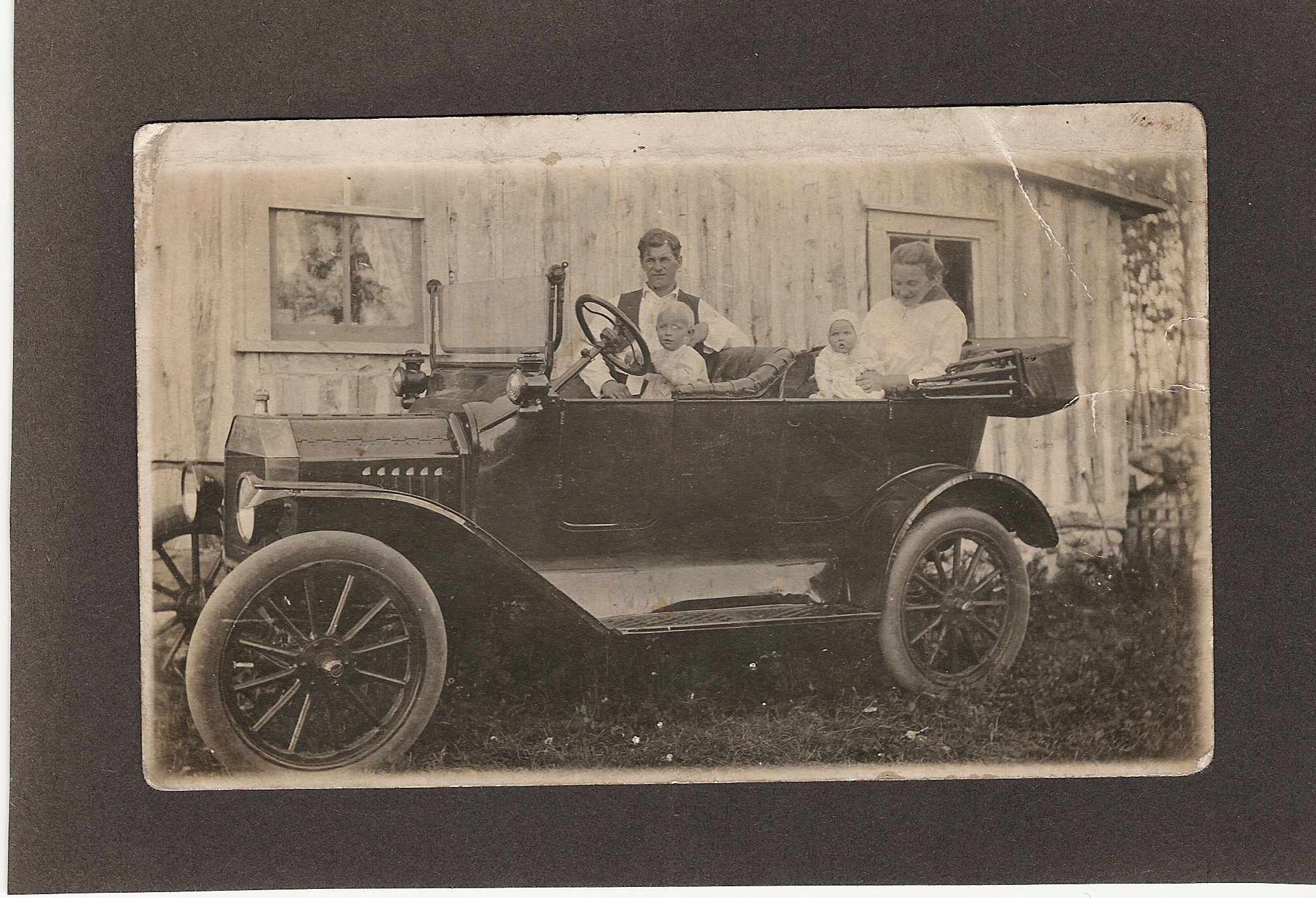 The old photograph shows Nell, Bert and the children in a Model T Ford circa 1912-1914 probably in front of their home in Kelliher, Canada. It is on a post card (date unrecognisable). The text as follows was written by Grace Fitton to her son Walter in Barrow in Furness where, presumably he was in digs.
Dear Walter
it will soon be Saturday now - bring this card down with you back it is our Cissies
do you know the swells folks on it is your little nephew & nieces from Canada
we are all well at home and looking for Saturday
with Best Love Mother - this is their own Car a new one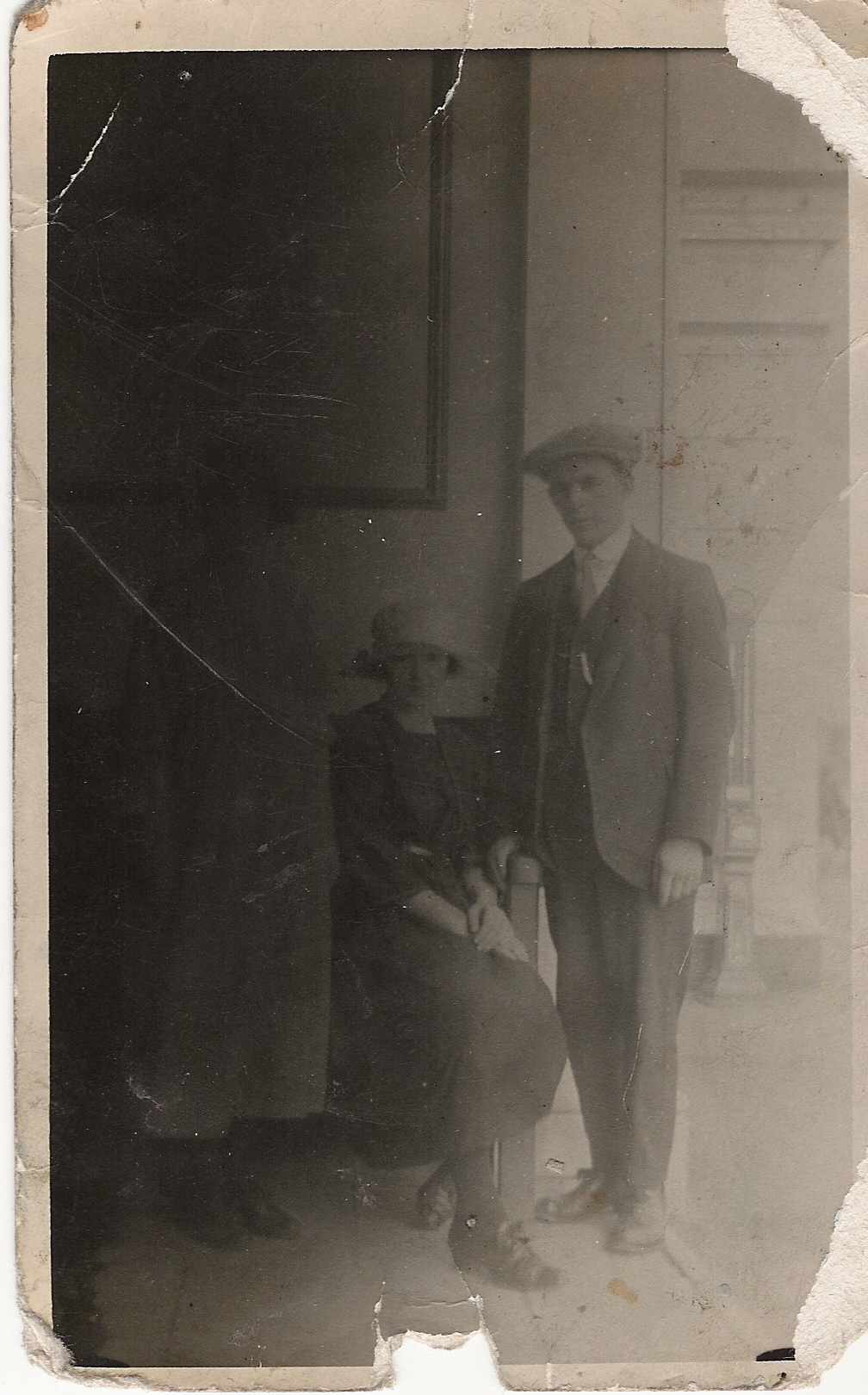 30th April 1923 - Bertha (24)
Edwin and I were married today at Shaw Chapel. We have come to Blackpool for our honeymoon. The train we came on was packed with jubilant Bolton supporters who had been to the F A Cup match.
The wedding was a low-key affair – probably because Bertha was pregnant with Muriel born 23 November.

There are no real wedding photos but I have always understood that this one was taken on their way to Blackpool for the honeymoon.However, there is clearly a woman standing to Bertha's right, which perhaps makes this unlikely. The original photograph is very degraded but the standing woman could be Grace, Bertha's mother. Neither Bertha nor Edwin look very happy!

The 1923 FA Cup Final was between Bolton Wanderers and West Ham United and was played on 28 April 1923. It was the first football match to be played at the new Wembley Stadium and King George V was in attendance to present the trophy to the winning team. The event was dramatically popular with an official attendance of 126K (unofficial figures are double this) with an estimated further 60K locked outside the gates. The FA were forced to refund 10% of the total gate money to fans unable to reach the terraces. So many spectators spilled onto the pitch that the match could not be played until Constable George Scorey and his white horse, Billy, slowly pushed the masses back to the sides of the field allowing the FA Cup Final to start, just 45 minutes late. In honour of Billy, the game is known as The White Horse Final and the footbridge outside the new Wembley Stadium (opened 2007) has been named the White Horse Bridge.The match was a 2–0 victory for Bolton Wanderers, with David Jack scoring the first ever goal at Wembley.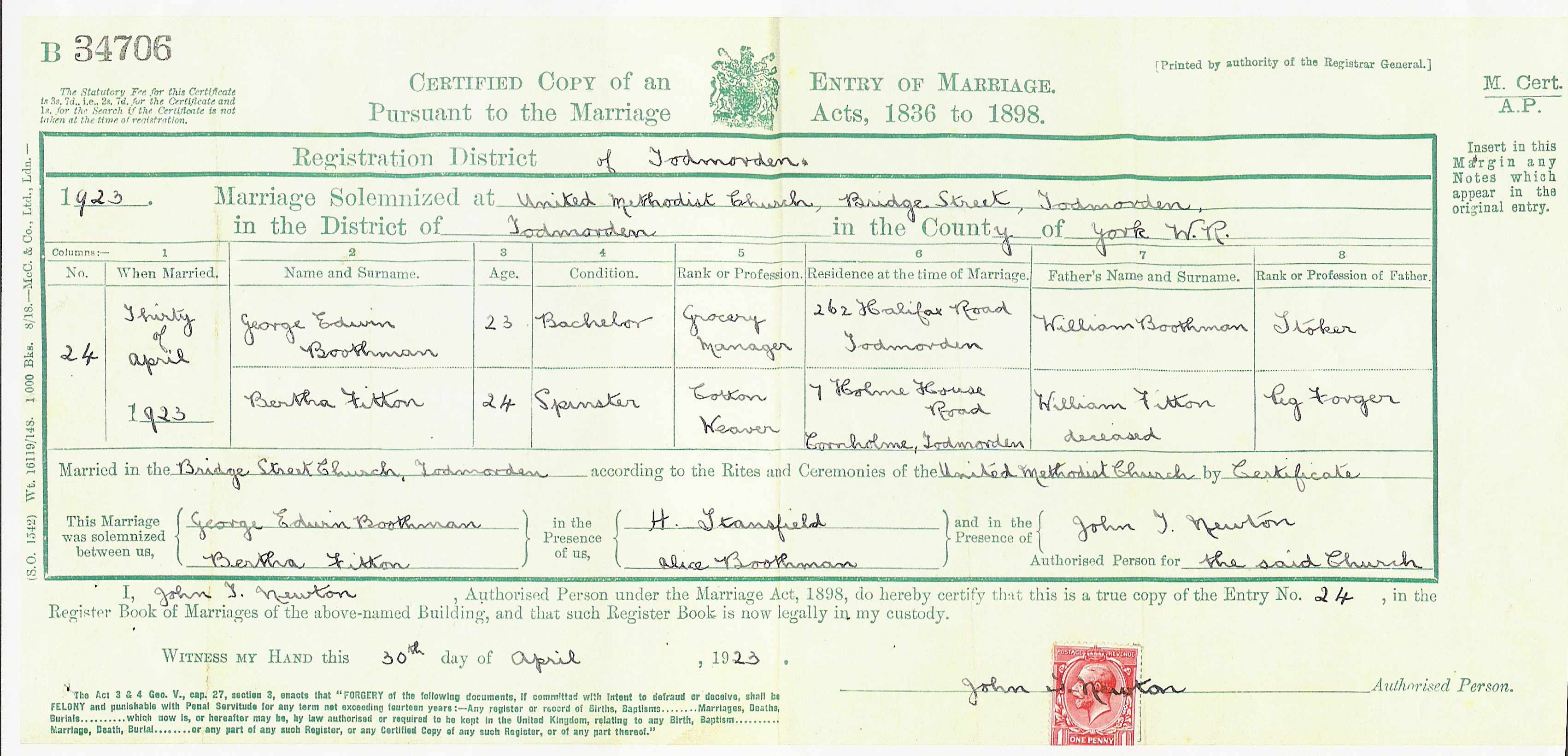 For the continuing saga see Boothman Family Story
Footnote 1 - More information about Nell in Canada
Information received in 2003 from Flo's third husband gave some more of the story.
Nell met Bert in England when they had digs at the same place. The Saville family including Bert went out to Canada and took up a homestead near Kelliher, Saskatchewan. Bert moved into town and set up a dray-cartage business and also became an Imperil Oil Agent. He sent for Nell and they were married and started a home in Kelliher. They had 3 children - Albert, Flora and Ethel. Albert contracted polio quite young and walked with a limp. He stayed in Kelliher where he died in the late 70s. Flo became a teacher and married a farmer (Norman Jordan). They had one son but then Norman died after only 4 years of marriage. Flo sold the farm and moved to Penticton where she obtained a teaching post. She taught Grade 1 for 27 years and enjoyed it very much. In 1960 Flo remarried – Graham Knight. He died in the early 70s. Flo's parents moved in with Flo in their later years and stayed with her until they died - Bert in the 60s and Nell in the 70s. In April 1980 Flo was married for a third time and Flo's son moved to Calgary where he still lives. Flo's sister Ethel married Anthony Stubbs and went to live in Vernon where she had two sons, neither of whom ever married. Ethel died in May 2001. It is not known if Flo still survives. In 2003 she had dementia and could remember very little of her story.

Footnote 2 - Bertha Fitton full Biography 27 April 1899 - 14 May 1965

Bertha Fitton was born on April 27th 1899, the third child of two Yorkshire cotton mill workers. Her father, William Fitton was a shuttle maker, a skilled job, and her mother Grace (nee Crowther) was a weaver. During her childhood, Bertha lived in a remote cottage called Dundee Cottage in the hills above the village of Cornholme, Yorkshire. This cottage had been home to the Crowther family for a number of generations but life there was harsh, even in 1900, with no gas or water supply and a long walk along farm tracks providing the only route to school, work or shops.
When Bertha was only 6 her father died leaving Grace with four young children of her own and two teenagers from William's previous marriage. Bereft of any financial support and too proud to accept charity, Grace sent the stepchildren away to William's relations or to make their own way in the world. As soon her young children were old enough to be left, Grace returned to work in the factory spinning cotton, a job considered inferior to weaving. The meagre wages from this work meant that the family was very poor. Bertha attended Vale Council School and from a very early age took responsibility for getting herself there as her mother began work at 6am.
At least four generations of the family had worked in the cotton industry and Bertha continued in this tradition becoming, at the age of 12, a 'part-timer' working half a day in the weaving shed and attending school for the other half. On leaving school at 14, she worked full time until her marriage on April 30 1923 to George Edwin Boothman, manager of the village grocer's shop. When Bertha gave up work as a weaver, preparing for the birth of her daughter, Muriel, in November 1923, the family association with the cotton industry came to an end.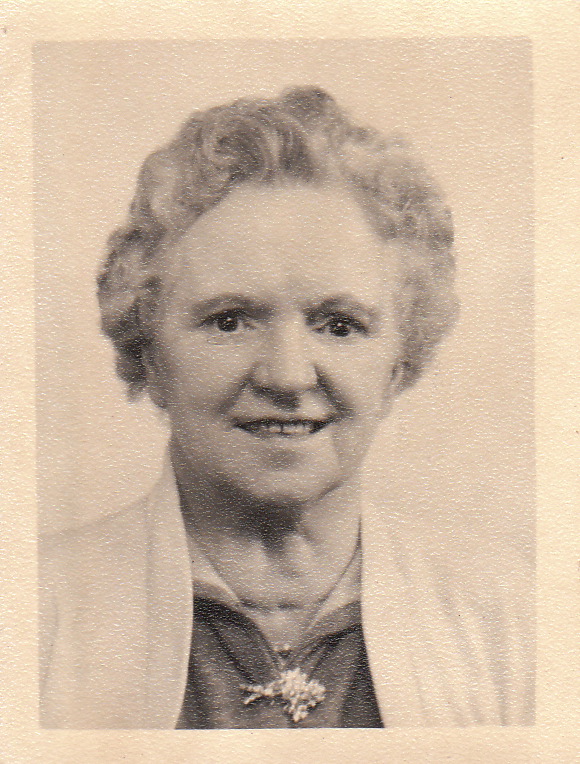 The young couple set up home in Back Holme House Road, Cornholme in a small back-to-back terraced cottage. They moved two years later to 688, Burnley Road, an end of terrace back-to-back with an attic, which provided more room for their growing family. Bertha bore three further children in that house, Harry in 1928 and twins, John and Shirley, in 1933. Sadly, Shirley failed to thrive and died within a week of birth. In 1940 the family moved to 3 Oakleigh Terrace, Cornholme where Bertha lived until her death in 1965.
A highlight of Bertha's life was the year 1950 when her husband Edwin was Mayor of Todmorden and she officiated as Lady Mayoress. During that year she was an active public figure, opening shows, judging baby competitions and even planting trees.
Perhaps because of the privations of her early years, Bertha did not enjoy good health for much of her life. As a young woman she suffered from goitre or Derbyshire neck until she had her thyroid gland surgically removed. Later in life she had severe rheumatoid arthritis, which deformed her hands and gave constant pain. She also suffered from numerous episodes of angina eventually dying peacefully in her sleep of heart failure.
Bertha was sweet, loving and even-tempered, bravely bearing the pain and alarm of her rheumatism and angina with never a harsh word. She is remembered with great affection as a selfless and gentle woman who was dearly loved by all her family.
The photograph shows Bertha aged 65.