Brown Line
The starting point for research into Tom Swinburn's maternal line is the marriage certificate of Alfred Swinburn and Annie Brown dated September 5th 1885 - and the 1891 census for Alfred and Annie.
According to the MC, Annie Brown's father was Samuel Brown, a Tailor.
One of the witnesses on the MC was Matilda Brown - possible sister to Annie.
Annie was 32 at the time of her marriage which suggests a birth around 1853.
On the 1891 census Annie's place of birth is given as Uttoxeter, Staffordshire.
These 4 facts provide starting points for research into Annie's lineage.
A search for Annie Brown in the 1861 census provides the following which is an excellent match:

This gives the names of Annie's parents and places their home in Uttoxeter, Staffordshire.
In the 1871 and 1881 census there are references to Ann/Annie Brown in service. This is quite likely but there are no other names with which to validate these records as being our Annie. It is notable that in the last 1881 census she is calling herself Annie whereas before that she was Ann.

Annie's parents, Samuel and his wife Fanny Brown continue to live in Bradley Street in 1871 and 1881 and are in Burton Road, Babbington in 1891 (aged 64 and 54 respectively) with only their 20 year old daughter Nellie still at home by this time
I cannot find Samuel in 1901 and this 1895 death in Derby is the best fit for age.

A widowed Fanny Brown (aged 64) is head of household in Derby in 1901, and in 1911 (aged 74) she is living with her daughter Matilda (now married to George James) at 37 Douglas Street Derby. This 1920 death (above) is the best fit although the age is not right - she would have been 83.
Taking the line further back
Searching for a likely marriage for Samuel and fanny and birth for Ann provides the following entries on FreeBMD:
This gives Ann's mother name as Fanny Byrd. The marriage in the September quarter suggests that the second birth (also in the September quarter) is our Ann. They left it a bit late!!!

I have a precise date of birth for Annie (17th August 1853). I am not sure where this comes from but it fits. A BC would be necessary to confirm this and a MC to confirm the precise date for the marriage of Samuel & Fanny,
The 1861 census gives Samuel Brown's age as 34 which suggests a date of birth around 1827 and Fanny's age as 24 suggesting a date of birth around 1837. Fanny's birth might just have fallen within the dates for National Registration but cannot be found on FreeBMD.
Samuel Brown ancestry
The best fit for Samuel Brown's birth is in Lakenheath, Suffolk which is about 25 miles from Needham Market (given as his birthplace on the 1961 census - see above). The document available via Ancestry from England & Wales, Non-Conformist and Non-Parochial Registers, 1567-1970 is very rich in detail - as good as a birth certificate - and gives Samuel's parents' names as John Brown and Mary (nee Watts). John signed the certificate but Mary made her mark (ie was illiterate).

Census records for Samuel Brown in 1841 and 1851 are a good fit and give ages for his parents.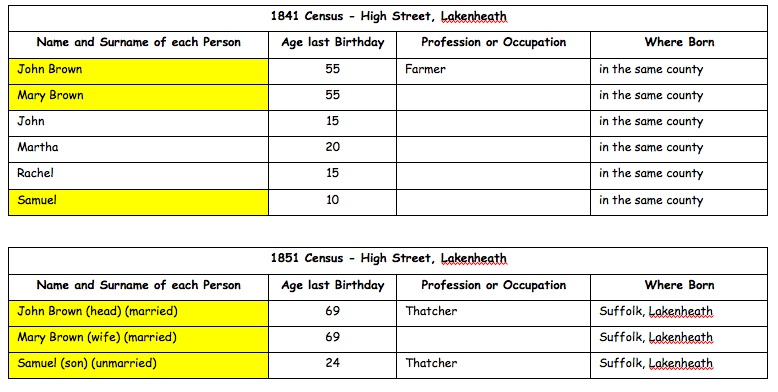 The 1841 data is often somewhat unreliable so the 1851 ages are more likely to be correct. This gives a year of birth for John and Mary as around 1782 and a marriage perhaps 20 years later around 1800. I have found a marriage in Family Search on 2 May 1805.

The name John Brown generally marks the end of a line for an amateur family researcher! There are numerous births of John Browns in Suffolk around 1782 so it is not possible to trace this lineage any further back.

However, I have found a single Mary Watts born in Suffolk around the right date and a matching marriage of Thomas Watts to Elizabeth Kent so this is a possibility.

I can find no further references for Thomas Watts or Elizabeth kent but 1785 is a good time ago and further back than most lineages on this site have gone.

Fanny Byrd Ancestry
I have found a christening for Fanny Byrd in Family Search in April 1837 with parents' names Anthony and Fanny but note the different spelling Bird. There is a matching marriage of Frances Smith to Anthony Byrd:

This record has no matching image and lacks the detail of the record for Samuel Brown but is a good fit with the rest of the data.
The 1841 and 1851 census for Fanny Byrd (junior) support the idea that her father, Anthony, died in 1839 as he is not present on either and the 1851 census has her mother designated as 'widow'. There is a corresponding death for Anthony Byrd in Uttoxeter in the first quarter of 1839. (I have no idea who the infant is in the 1851 record or what this relationship could mean.) The age of Fanny (senior) suggests a birth year of around 1805 and we might suppose that her husband, Anthony, was of a similar age.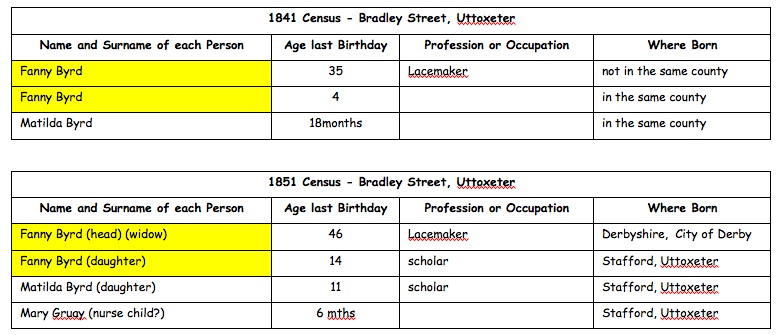 I cannot find a birth for Frances/Fanny Smith but have found two possible births for Anthony Bird with no way of separating them and I cannot find a matching marriage of either Thomas and Hannah or Thomas and Sarah so cannot ascertain the maiden name of either.

I also have a birth of Thomas Byrd in 1781 which fits but I can find nothing further back.


The best family tree that I can authenticate is thus: