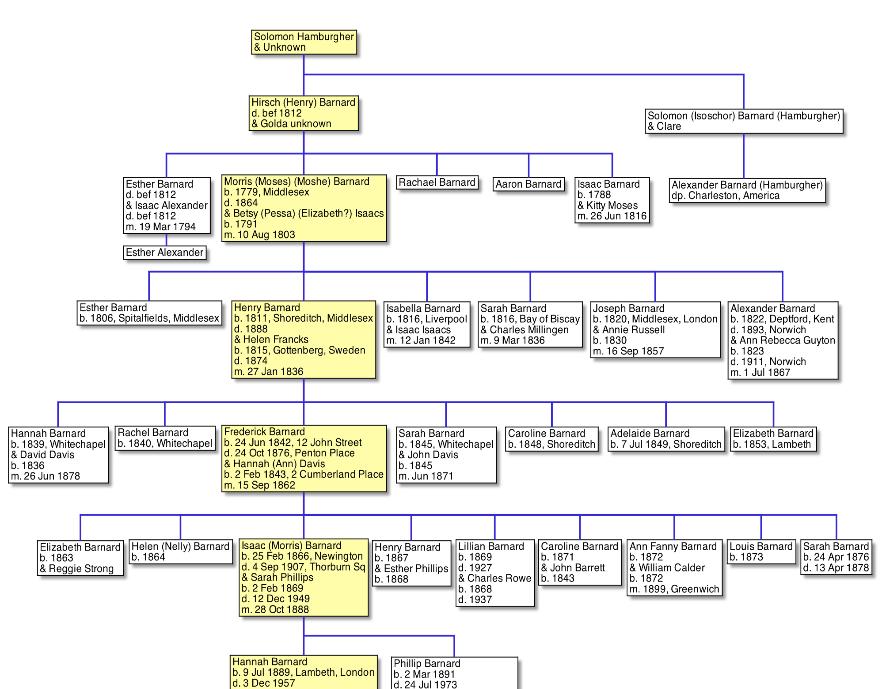 Frederick Barnard Birth 24th June 1842

Frederick Barnard 1851
In 1851 Frederick is in Edinburgh staying in a lodging house. We do not know of a family connection with anyone else on this record. It is interesting that he is given as Visitor not Lodger - suggesting that he is not lodging there while at school (for example) but just visiting short term. 1851 Frederick Barnard
The only other family connection with Scotland that we know of is that Alexander Barnard (uncle to Frederick, brother to Henry) was also in Scotland at this time - but in Glasgow not Edinburgh. See Appendix 2 for more information about Alexander.
Tony Barnard has found another Scottish connection in the form of a Henry Barnard from Scotland lodging at a Coffee House in Surrey Place in 1851. 1851 EnglandCensus HB in Surrey Place. The connection is that Henry Barnard's Umbrella shop was at 6, Surrey Place in 1856 and 1861 (see pp 15/16). However Henry from Scotland is at number 4 in 1851 and, in that same year, number 6 is occupied by Richard Hyde, a Whip Maker, and his family so our Henry has not yet set up shop here 1851EnglandCensus 6 Surrey Pl Newington. I am not persuaded that Henry Barnard from Scotland is anything to do with our family but Tony's reasoning is given in purple text below.

The mystery arises from something my great aunt told me twenty or thirty years ago. She said that her father, Henry (younger brother of Isaac Barnard), had told her that the Barnard generation before his father (Frederick) had been bankers in Scotland. I have never been able to find anything that corroborates this, but there have been three things which could possibly relate to it.
(1) Henry Barnard (father of Frederick) had umbrella shop (or factory) premises listed in the trades directories at 6, Surrey Place for the years 1850 to 1862 (at least). The 1861 census gives this address as being an umbrella shop at which no-one was sleeping. However the 1851 census for 4 Surrey Place (presumably next door to one of the 'family' umbrella shops) lists a Henry Barnard (aged 29), a lodger, who was born in "Scotland, Fifeshire". (I think it also says that he was a linen draper, but I couldn't make out the writing properly here.) So one wonders if this Henry (aged 29) might be a cousin of 'our' Henry (aged 40 in 1851)?
(2) In a Scottish census of 1851, Frederick Barnard (then aged 8) was living at 42 Elm Row, South Leith, Midlothian, Scotland (as a 'Visitor'). His parents and four sisters were living in Newington at the time. In fact, it wasn't long before then that Henry and family had moved south across the river. So did Frederick initially go with another family member to Scotland (at the time of the family move)?
(3) Alexander Barnard (Henry's younger brother) was also up in Scotland in 1851, but not in the Edinburgh area. He is listed as being at 66 Trongate, Glasgow (as a Professor of Music) and was there with his first wife (?) Mary Ann.They were also registered as 'visitors'.
So I'm now wondering if Morris may have been in Scotland in 1851. If it turned out that he was up there somewhere and in some banking related capacity, that would solve two mysteries in one!
Frederick Barnard 1861
In 1861 Frederick is back home with the family. He is unmarried and working in the family business as a parasol maker. 1861 Frederick Barnard

Frederick Barnard & Hannah Davis Marriage 15th September 1862
In 1862 Frederick married Hannah Davis. It is interesting that there are two marriage certificates - one for a marriage in the Parish Church of St Mary Lambeth according to the rites and Ceremonies of the Established Church after Banns (on 24 August 1862) and the other in the Great Synagogue according to the Rites and ceremonies of the Jewish Religion (in November 1862). In the first, September, Christian wedding Hannah is given as 'minor'. Her date of birth is 2 February 1843 so she would have been 19 at the time of the wedding (see Davis Line in Appendix 3 for her BC). However, the ages of both are incorrectly given as 21 on the Jewish certificate.

The witnesses for the Christian wedding are Hannah's sister Fanny and her husband Philip. They will in 1869 have a daughter Sarah Phillips who will grow up to marry her cousin Isaac, the son of Frederick and Hannah Barnard.
Frederick & Hannah Barnard 1871
In 1871 Fred and Hannah have their own family of 6 children and are living at 142 Lower Kennington Lane. They are in relatively comfortable circumstances with a general servant and a nursemaid.

Their eldest daughter, Elizabeth - aged 8, was not at home as she was staying with her grandparents Henry and Helena - see Henry Barnard 1871. 1871 Henry Barnard
The couple would have three further children before the brutal murder of Frederick on 24th October 1876: Fanny born in 1872, Louis, born in 1873 and Sarah, born in 1876.

Sadly Sarah did not live until the 1881 census. At the age of 2 years, on 13th April 1878, she tragically died in an accident when she fell into a tub of hot water. (Presumably the '14 hours' means that she died 14 hours after the accident.) 1878 Sarah Barnard DC. How devastating this must have been for Hannah and her family - especially coming only 18 months after the murder of Frederick - see below.

Frederick Barnard - Death by murder 24th October 1876
On 24th October 1876 Frederick Barnard was shot dead by Isaac Marks following a dispute over money. Marks handed himself in and was tried and hanged.
The murder of Frederick is documented in the Old Bailey records at:
http://www.oldbaileyonline.org/browse.jsp?id=t18761211-name-203&div=t18761211-142#highlight
1876 Frederick Murder trial transcript
A synopsis of the murder story was sent to me by Ian Rooston on 3/3/12. His sources were Times Newspaper reports from 1876:
The Times: Thursday October 26th 1876 - Page 10
The Times: Thursday November 2nd 1876 - Page 11
The Times: Thursday December 14th 1876 - Page 11
The Times: Friday December 15th 1876 - Page 11
I have developed and edited his synopsis using the trial transcript as my evidence removing some errors and cross-referencing to the trial transcript (text in blue). Click here for the full story.

Hannah Barnard 1881
In 1881 Hannah was living with 4 of her children at 159 Manor Place and she had begun work in the fish trade - assisted by her two older sons. Her son Isaac would remain in this business for the rest of his life. Hannah's involvement in the fish trade may have come about through her relationship with John Barrett - see 1891.
Helen (16), Lillian (11), Caroline (10) and Fanny (8) are missing from the family. Caroline was staying with her grandfather - see henry Barnard 1881. For news of Helen, Lillian and Fanny see below.

The rest of the Barnard Family 1881
In 1881 Helen - now called Nelly - is living with her sister Lily at 142 Lower Kennington Lane. This had been the address of Frederick & Hannah and family in 1871. The occupation for both girls is given as 'Serve in a Shop'. Their relationship to Head of household is given as Daughter, although no 'Head' is listed. (I did check the previous page.) Moreover, there appear to be two other families living at the same address. A probable scenario is that Hannah now owns the house and parts of it are let out to the Step and Bird families while Hannah herself with 4 of her children lives above the fishmongers shop in Manor Place.

However, I could not find Fanny Barnard in the 1881 census.
Tony Barnard told me that Fanny grew up (perhaps from the age of about 3) with her aunt Fanny (her mother's sister) and uncle Philip Phillips. I understand that he learned this through correspondence with Fanny's granddaughter, Ann. I have found Philip and Fanny Phillips in 1981 and they do have an 8 yr old Fanny with them but she is recorded as their own daughter Fanny Phillips. However, I understand that, according to Jewish tradition, children are not named after living relatives so it is unlikely that this 8 year old is really their daughter. More probably the census enumerator just made this error when recording and this is indeed their niece, Fanny Barnard.

I have found an 18 year old Fanny Barnard in 1891 - with Joseph & Elizabeth Phillips - but recorded as 'servant'. This is annoying as no family connection is established and I thus cannot be sure it is our Fanny. However, Tony Barnard told me that Joe and Lizzie Phillips were actually related to Fanny. Lizzie was her first cousin (via their mothers), but Joe was not (blood) related so there was no family relationship to the head of household to be entered in the census. In 1899 Fanny Barnard married William Calder.
It seems reasonable to

conjecture that after
the lives of Hannah Barnard and her many children were tragically disrupted in 1876 Hannah's sister, Fanny Phillips and her husband Philip took in the 3-year-old Fanny Barnard to ease the strain for Hannah.
Hannah Barnard (Hannah Barrett) 1891
In 1891 Hannah is living with John Barrett - supposedly his 'wife' although I can find no evidence of a marriage. She has taken his name but this is clearly our Hannah as two of her children Caroline and Louis are with them - designated as stepson and stepdaughter of John. John's occupation is given as 'Haddock Curer Fish'.

I have tried to find something of the earlier history of John Barrett but I cannot find anyone of this name in the fish trade in 1881 or 1871. Without a link to this occupation there are far too many options.
It seems likely that Hannah's association with John Barrett came about through the fish trade, into which several members of the family would follow. Two years before this, in 1889, Hannah's son Isaac married into the fish trade when he wed Sarah Phillips whose father was a retired fishmonger. Perhaps Hannah and John met chez Phillips.
Hannah Barnard (Hannah Barrett) 1901
In 1901 these four are still together but the quality of the document is even poorer. They were hard to find because of some mis-transcriptions but I found them though Caroline. The address looks like Dalbiac Street but I cannot find a street of that name in London today. 1901 Hannah Barnard (Barrett)

Hannah Barnard (Hannah Barrett) Death 18th June 1907
I failed to find Hannah in 1911. I looked for her with her children. I located Louis and Henry and Isaac's widow (Isaac died in 1907) and she was not with any of them. So I looked for a death between 1901 and 1911 and found one recorded in the name of Hannah Barrett - so I sent for the death certificate.
This death certificate tells an interesting story.
The original certificate is in the name Hannah Barnard Barrett and the death was registered by Jack Barrett on 19th June 1907. But look at the correction in the right hand margin (shown in the bottom box in the transcript below). It looks as though Caroline made him go along to change the certificate to show that he and Hannah were never married! One wonders why it mattered to her - a marriage between her and Jack would have been perfectly OK as he was a widower anyway. Perhaps there was an inheritance issue?

John (Jack) Barrett 1911
Tony Barnard told me that John Barrett later married his step-daughter Carrie (Caroline). He had learned this from Betty, a family member, who told him she remembered visiting "Uncle Jack and Aunt Carrie" and their two boys in their home in Annerley.
The 1911 Census verifies this story. Here are Jack and Caroline (almost half his age) with their two children. They did not waste much time after Hannah's death as they married in 1907. Cassie Rowe, who is living with them, is the daughter of Caroline's sister Lillian who was married to Charles Rowe.
1911 England Census for Caroline Barrett
The name John or Jack Barrett is too common for me to find a safe bet for his death.