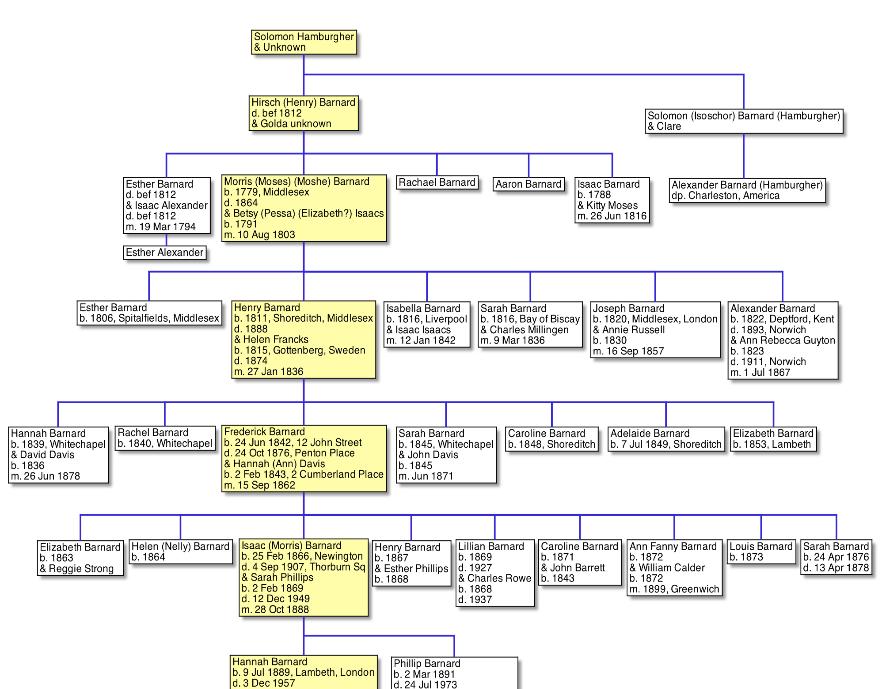 Henry Barnard Overview
Ancestry.co.uk has Henry Barnard (b about 1811) already well researched in the Roostan family tree. This overview shows Morris and Betty as his parents and lists his 7 children. The residences listed are consistent as Newington was part of Surrey in 1851/61. This Roostan tree has no further evidence about Henry's parents or grandparents.
The overview shows:
Birth abt 1811 at London, Middlesex, England (before BMD registration) Father: Morris Barnard - 1780
Mother: Betty Isaacs - 1780
Timeline evidenced by census data: Spouse: Helena Franks - 1813
1841 - aged 30 - St James, Clerkenwell, Middlesex, England Children: Hannah Barnard - 1840
1851 - aged 40 - Newington, Surrey, England Rachel Barnard - 1841
1861 - aged 50 - Newington, Surrey, England Frederick Barnard - 1842
1871 - aged 60 - St Mary, Newington, London, England Sarah Barnard - 1845
1881 - aged 80 - Newington, London, England Caroline Barnard - 1846
Adelaide Barnard - 1850
Elizabeth Barnard - 1853
Occupation: Umbrella Manufacturer
Henry Barnard - aged 23 1834
The first historical record of Henry Barnard is his evidence in the trail of Samuel Samuel (see above). He would have been 23 at the time. The trial is to be found in the Proceedings of the Old Bailey:
http://www.oldbaileyonline.org/browse.jsp?id=t18340703-169-person1037&div=t18340703-169#highlight
HENRY BARNARD. I was present on the 25th of May, when the prisoner came. He opened the silk, and asked my father 5s. a yard for it. My father said he was buying regular silk in the trade for that. My father measured the silk - there were twenty-two yards of it; and he offered him 4s. 9d. which he took. My father asked if I had any money - I said, "No" - he called Mr. Millingen, who lent him 5s.
Cross-examined. Q. You had known the prisoner before? A. Yes, seven or eight years - I have met him at sales, and he has bought things, and brought them round to the trade. I did not examine the silk very minutely - my father knew the prisoner - we have other samples of silk at the same price - we did not examined the silk particularly - this is the silk - my father measured it, but he did not take notice whether there were any defects in it - this was on the 25th of May - the prisoner has been lame ever since I can recollect him.
...
COURT to HENRY BARNARD. Q. How long have you known Millingen? A. About four years.
Cross-examined. Q. Were you at the police-office on the Thursday with your father? A. I went there, but I could not speak to my father - I did not go with my father - I do not recollect whether I was sworn - I believe I said the silk had been sold to my father on the Monday - I did not recollect at the time - I did swear to Monday, but I did not think of it till I was reminded, when I got home, by Millingen and our foreman - I really cannot say whether I swore to the magistrate Sunday or Monday - I heard my father sworn - he said it was Monday - I was in the shop when this silk was bought - it was between twelve and one o'clock - I had not breakfasted with my father that day - I came in at the moment the prisoner was there, and he asked my father about the silk, which he had under his arm.
Q. What do you mean by "the moment?" A. The moment I entered my father's shop, I found the prisoner conversing with my father - I came in from our factory - I am sure I found the prisoner conversing with my father when I went in.
The interesting information about the family in this evidence is the reference to 'our factory' and 'my father's shop'. Henry is clearly working in the family business and seems to be more involved in the manufacturing side while his father, Morris, keeps the shop. Mr Millingen, mentioned in the evidence, was Charles Millingen, 'paying addresses' to Sarah Barnard who he was to marry around 1839. The lives of Sarah and Charles and the family they raised are well documented in census records - see Appendix 1.

Henry Barnard & Helen Franks marriage 27th January 1836
I have found the marriage of Henry Barnard & Helen Franks on Synagogue Scribes. These records have the fathers' names but none of the other details that would be on a marriage certificate - such as age, address or occupation. (BMD registrations did not start until 1837 so there is no marriage certificate.)
A search for the first two daughters of Henry and Helen finds Rachel - born in Whitechapel in 1840 - but the only Hannah I can find was born in Chelmsford so this may not be the right one.


Henry & Helen Barnard 1841
In 1841 Henry Barnard was living in John Street, Tower Hamlets with wife Helen and daughters Hannah and Rachel. Also in the property is Levy Nash. Note Henry's profession is Umbrella maker - he has gone into the family business.

Although the house number in St John Street is not clear on the 1841 Census record there are 2 trade directory entries for Henry in the decade, the first of which puts him at 12 St John Street.
1843 Barnard Hen. umbrella & c. ma. 12 St John St, Whitechapel 1843 Henry Barnard Commercial Directory
1848 Barnard Hen. umbrella ma. 15 White Lion St, Norton Folgate 1848 Henry Barnard Trade Directory
Tony Barnard found the following report in The Times of 28th October 1847
Robert Smith, a young man of respectable appearance, was brought before Mr Alderman SIDNEY for final examination, charged with stealing three umbrellas from the shop-door of Mr Williams, a manufacturer on Ludgate Hill. Henry Barnard, a shopkeeper, near the Elephant and Castle, was also put to the bar, on suspicion of having purchased them knowing them to be stolen.
Another person was apprehended on the spot as the thief upon the testimony of a stranger who was passing, and he would have been in great peril of being committed for the offence had not the real thief surrendered himself to the police on the following evening, not because he was aware some innocent person was in jeopardy, but because he had failed in the object with which he committed the offence. The innocent man was discharged.
Mr Elliot, a medical student, of North-place, West-square, identified the prisoner as the person who snatched up some umbrellas from Mr William's door and ran off with them. The shopman speedily rushed out, but he seized the wrong man, and this so engrossed his attention that the prisoner got clear off.
The shopman proved that the three umbrellas were stolen, and now one produced was one of those three. It occurred about a quarter after 7 o'clock on Saturday evening.
Henry Mills, a City policeman, stated that the prisoner came up to him on Sunday evening, and asked him if he was on duty the night before, and he heard of three umbrellas being stolen. Witness told him he had. The prisoner then said he was the person who stole them, and he wished to surrender to justice. Witness said he might then walk with him to the station. Going along witness asked him what was his motive in surrendering. The prisoner said he hoped to be sent out of the country, as he found he could not get a living here. Witness asked what he had done with the property. The prisoner described Mr Barnard's little shop in Surrey-place, and stated that he sold three to him for 5s. Witness went over to the shop, and Mr Barnard stated that he had only purchased two for 3s. 6d. He produced one, and said he had sold the other. On account of this discrepancy in their statements, and the low price he had given, witness took him into custody also.
Barnard protested he bought only two, giving 2s. for one, and 1s. 6d. for the other, which had been used. He put one at the door and one in his window. Mr Alderman SIDNEY inquired what was the wholesale price, and whether journeymen did not occasionally make up goods and hawk them at lower prices. Mr Williams said the wholesale price would be 3s. each, but they might be hawked at a lower price in the mode the alderman had supposed. Barnard said he could get them up at 2s. himself.
Mr Alderman SIDNEY said he should discharge Mr Barnard. The price given was not so low that a guilty knowledge must be inferred, and the fact that the umbrella was exposed in the window without the least attempt to alter or disguise it was opposed to the presumption that Mr Barnard was conscious he had bought stolen goods. Mr Barnard was then examined as a witness, and confirmed on his oath the statement he had made before.
The prisoner re-asserted that he bought the three umbrellas for 5s.
Mr Alderman SIDNEY questioned the prisoner as to the cause of his singular conduct.
The prisoner said he was a single man. He was a tailor. He came up from Birmingham a fortnight ago to find work, but he found it impossible to do so, and he had no friends who could help him. Mr Alderman SIDNEY said there was sufficient evidence, without his confession, that he had committed an impudent theft in a great thoroughfare, and he therefore committed him for trial.
Tony Barnard writes (4/11/12 I wonder what made the umbrella maker, Henry Barnard, move south of the river. The family home seems to have still been in Whitechapel (15 White Lion Street) as late as 1848 or 1849, but he had acquired the "little shop" near the Elephant and Castle (6 Surrey Place) by 1847. The centre of gravity of the Barnard family was then to be in that part of the world (just south of the river) for a hundred years and through six generations - the last being me, when we lived over a shop in the Old Kent Road in the late 1940s. There would usually be some event that brings about change like this (especially in those days). Could it have been related to the imprisonment of Henry's father?

Henry & Helen Barnard 1851
By 1851 the family of Henry and Helen (here called Helena) was almost complete - with only Elizabeth to come in 1853. We can see from this record that Henry's wife, Helena, came from Gotenberg, Sweden. It is believed that she was born there but later took British Nationality. The 'visitor' Caroline Franck, is in fact Helena's mother - Henry's mother-in-law. The name is written as 'Franck' on this form but Synagogue Scribes has 'Franks' see above.

Neither Rachel nor Frederick appear with the family in 1851 - although both are back in 1861.
Frederick is visiting in Edinburgh although we do not know of a family connection with his hosts (see Frederick's story below for the census details). However, Rachel cannot be found.
The Street Directory for 1856 - puts Barnard, Henry, Umbrella Maker at 6 Surrey Place, Newington Butts (East side) with tobacconists at numbers 4 and 5.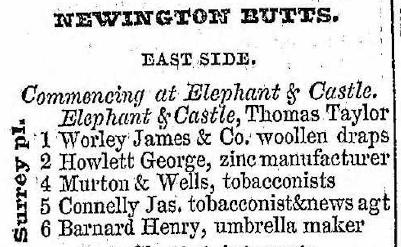 Henry & Helen Barnard 1861
In 1861 the whole family is together - and all working in the family business.
Also living with them is Henry's sister, Isabella. She had married Isaac Isaacs in 1842 but here she has given her name as Barnard not Isaacs. She is not listed as 'Widowed' though - perhaps she and Isaac are separated? It is this census record that shows that Isabella was born in Liverpool - one of a number of indications that her parents Morris and Betsy may have travelled (see above).

There was an indication (from Henry's evidence in the trial - see BOVE) that even in the 1830s the Barnard family did not live at the same address as the business. That is clear now as the 1861 census also shows 6, Surrey Place as 'An Umbrella Shop - No one sleeping there. This is the same address listed for Henry's business in the 1856 trade directory (see above).
Henry & Helen Barnard 1871
In 1871 the family are at 91 Newington Butts. The girls are still all unmarried and living at home but Fred has now left and has a family of his own (see Frederick's story). Granddaughter, Elizabeth is almost certainly Fred's eldest as Fred was married in 1862 (and she can be found back with her mother in 1881).

Helen Barnard - Death April 16th 1874
Helen does not appear on the census record for 1881 (see below), nor in any census thereafter, suggesting that she died in the years between 1871 and 1881. This is confirmed by the evidence given at the trial of Isaac Marks for the murder of Frederick Barnard in 1876 - see below. Isaac Marks had become engaged to Caroline Barnard in 1874 but after a financial disagreement with Frederick he broke off the engagement and Caroline sued for breach of promise in 1875. In her evidence, Adelaide says:
My brother was not a witness on the trial of the breach of promise. He was there ready to be examined if wanted, but was not called. My mother died since the engagement, and according to the Jewish law there can be no marriage between the parties for twelve months—our family is Jewish.
This suggests that Helen died around 1874-5. The record of her death was tricky to find as it had been transcribed as Bernard but the DC confirms that this is indeed our Helen.

Henry Barnard 1881
The record for 1881 is wildly inaccurate with regard to ages - most people being listed as only a few years older than they were 10 years previously. However it is interesting that 5 of Henry's daughters are still living with their father - one of them married and 4 still single. Sarah has left - now married to John Davis - see below.
Granddaughter, Caroline, is one of Fred's children - shown as 3 months of age on Fred's 1871 census.

The interweaving of the Barnard and Davis families has continued. By 1881 3 Barnard siblings have married 3 Davis siblings:
1) On 15th September 1862 Fred Barnard married Hannah Davis (see Frederick's story on p22 for details).
2) In June 1871, Fred's sister, Sarah Barnard, married Hannah's brother, John Davis - see below. I have not sent for this MC - Tony Barnard assures me the John is from the same Davis family.
3) In June 1878 Fred's sister, Hannah Barnard, married David Davis.

One striking thing about this is that the wedding actually took place at 91 Newington Butts. I had never seen this before - a wedding actually in the house where the bride and groom were living. Presumably this was an exemption for Jews - Tony Barnard said that it wasn't uncommon for the rabbi to perform the ceremony at the home of the family.
However in 1881, here is Hannah Davis (nee Barnard) living back with her father Henry not with her husband although her condition is given, as 'married' not 'widowed'. She is still at the same address in 1891 - see overleaf. Again David Davis is missing but again Hannah is still designated 'married'. So where is David - see below?
This Hannah Davis should not be confused with Fred's widow, Hannah Barnard, (whose maiden name had been Hannah Davis!) who is living with her children in 1881 at 159 Manor Place Newington - see below.
Henry Barnard - Death 6th February 1888
Henry Barnard died of Liver Cancer on 6th February 1888 at the age of 76.