Holmes Line pre 1900 - Starting Points
On the 1859 BC of Fanny Holmes her father's name was given as Thomas Holmes (2) and his profession as Bricklayer. He is shown as aged 20 in the 1861 census (see below) and was thus born around 1840 and his place of birth on census records is given as Derby.
There are only 2 records of births that fit and the first of these is a little early to match with the ages given on census records from 1861 and a death later in 1839 may mean that this child did not survive.
Family Search has a christening on 30th August 1840 to parents Thomas (1) and Eliza at All Saints, Derby.


This marriage of Thomas Holmes (1) & Eliza Perfect in 1838 fits nicely and this parish record from Family Search gives all the key information.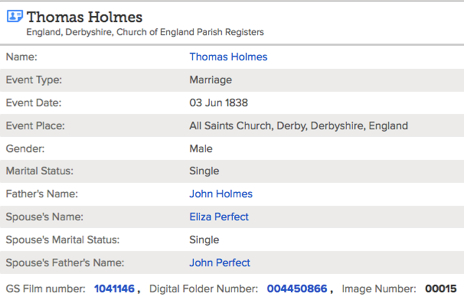 I have also found the possible births of 5 children: Thomas (1840), John George (1844), Eliza (1845) Ellen (1847) and Fanny (1848).
The names Thomas and John are both very common so there are several possibilities but one possible christening for Thomas Holmes (1) is this in Belper - parents John Holmes and Anne.

There are numerous possibilities for John Holmes and Ann so I cannot progress this line any further back.
And here is Eliza's christening - her parents are John & Anne Perfect!


I cannot find a marriage record for John Perfect & Ann so I do not know her maiden name. Nor can I find a birth record for John Perfect so this is as far back as I can get.
However I am not very confident of the predecessors of either Thomas Holmes (1) or Eliza Perfect as the 1841 census (see below) records both of them as not born in Derbyshire. There do not seem to be any other close matches for Eliza Perfect but there are several options for Thomas (1). The top end of this line should thus be seen as tentative.
Thomas Holmes (1 & 2) - 1841 Census
I have found Thomas with his parents Thomas (1) and Eliza in 1841.

The other siblings I have found through family search are:


I cannot find the family in 1851 but I have found possible dispersed records for the children:-
· Fanny Holmes aged 2 - "niece" in the household of 29 year old Catherine Jones (wife) in All Saints, Derby
· Ellen Holmes aged 4 with the Hill family in Hulme, Manchester recorded as "relative". However the place of birth does not match and I can find no link to our family
· Eliza & Sarah Holmes aged 9 in Mickelover with the Ayre family listed as "niece". These two appear to be twins and in any case the age is wrong for our Eliza.
· John George Holmes I cannot find
· Thomas Holmes (2) (possible) aged 11 listed as "boarder" in a charity school, Bluecoats in Chester. This is consistent with the fact that he appears to have signed his own name on his MC (see below) when all other participants just "made their mark". This could be due to his charitable education. However this Thomas is recorded as having been born in Chester so the fit is not ideal.
All this could be explained if the parents, Thomas and Eliza had died in the period between their last recorded birth in 1848 and the 1851 census. There are several possibilities for Eliza and even more for Thomas. A March 1848 death of Eliza Holmes proved to be a 24 year old Mill Hand with TB and the December 1848 death proved to be an 81-year-old woman. I do not think it is worth investigating further.
One confirmation of this theory would be if either Thomas (1) or Eliza had had a sister named Catherine who married someone called Jones. I cannot find any sign of Catherine Perfect but I have found a Catherine Holmes aged 22 in the 1841 census in St Alkmund - with a family of a different name - possibly in service. I have also found a marriage of Catherine Holmes in Derby in 1842 with John Jones one of the possible spouses.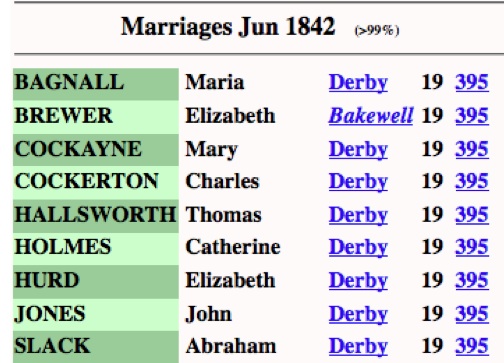 All of this fits suggesting that Catherine is indeed the sister of Thomas (1).
Options for the parents of Catherine are John Holmes and Mary in Spondon, Thomas Holmes & Grace in Quarndon, John Holmes & Hannah in Darley and Joshua Holmes & Mary in Beeley. We know that the father of Thomas Holmes (1) has the name of John Holmes (see the marriage of Thomas Holmes (1) to Eliza Perfect above), which suggests the Spondon or Darley parents. However neither pair seems to have a child called Thomas.
Nor can I find a Catherine with parents John and Ann (cf the Belper birth for Thomas (1) above.

However, Thomas Holmes & Grace have a child called Thomas so they could be our ancestors if the father's name on the MC for Thomas Holmes (1) is an error. There is however a mismatch in the spelling of Holmes/Holms and Quarndon is on the opposite side of Derby to Aston upon Trent so this hypothesis is not very strong.

Neither the Ayre nor the Hill connection proved fruitful and I was not able to identify deaths for Thomas or Eliza Holmes. So this hypothesis is very tentative.
Thomas Holmes (2) & Ann Ashley - Marriage 31st July 1859
Thomas Holmes (2) married Ann Ashley in Wolstanton in the third quarter of 1859. Wolstanton in Staffordshire includes the parish of Chesterton, which is recorded as the birthplace of Fanny in the 1861 Census. Family Search has the exact date 31 July 1859 and also the names of the fathers of both partners.



The ages of Thomas & Ann are not given - they are both simply noted as being "of age". According to the census records though Ann Ashley was a very young bride - only 16/17 years old and very probably already pregnant with Fanny.
Ann's father Richard Ashley is described as "Collier". This is curious, as it does not accord with any of the census data. I cannot read his profession in the 1841 census but it does not look like Collier.
Another interesting feature of the certificate is that of all participants only Thomas himself actually signed the marriage register. The section at the bottom of the form notes the names of those who signed and the bride and both of the witnesses are recorded as having made their mark. They were all thus illiterate except for Thomas. That fits with the theory of his education at a charitable Bluecoats school after the death of his parents (see above).
The witness David Ashley is Ann's brother who was 4 years older than her and probably serving as Best Man. Mary Ann Timmis (bridesmaid?) is his girlfriend - or did they meet at this wedding? I found her in Wolstanton in the 1851 census (p25) aged 12 and then a record of her marriage to David Ashley in Chesterton on 28th December 1861.
Ann (2) Ashley - Ancestry
In the censuses (apart from 1861) Ann's place of birth is given as Audley, Staffordshire. There is only one person of the correct age & place of birth in the 1851 census. The quality of the original is poor but seems to match the following. Ann's parents are thus Richard Ashley (c1805) and his wife Ann (1) (c1810). The 1851 Census record splits over 2 pages.


This christening record of Ann Ashley (2) fits

In 1841 (before the birth of Ann) the family is living in Audley. The quality of the original form is again very poor and I cannot make out the profession of Richard.

Family Search has the birth of Richard Ashley in Audley on 12 December 1805 with parents' names given as John Ashley and Mary. I cannot find the marriage of John Ashley and Mary so am unable to progress this line any further back.

Also in Family Search is Richard's marriage to Ann Newton. I cannot trace Ann (1) further back as there are several matching births in Cheshire.

Family search also has the christening records of all their children - all christened in Audley, Staffordshire.

Birth of Fanny Holmes - 15th December 1859
The birth of Fanny Holmes was registered in Wolstanton in the first quarter of 1860. She was born on 15th December 1859 to Thomas & Ann Holmes and her illiterate mother registered the birth.


Thomas & Ann Holmes and Fanny - 1861 Census
In 1861 Thomas and Ann Holmes, with their 1 year old daughter Fanny, were living 20-25 miles away from the Sparkes family in Longton, to the south of Stoke on Trent.

Chesterton, where Ann and her daughter Fanny were born is about 5 miles away to the West of Stoke on Trent. The fact that both were born in the same place suggests that Ann may have been living with her parents at the time of the birth.

Richard & Ann (1) Ashley - 1861 Census
Ann's parents were still living in Chesterton with several of their children including Elisha now married to Mary with a son George.


Ann (1) Ashley - Death before 1871

There are a couple of possible deaths for Ann Ashley in Wolstanton - one in 1863 (age unspecified) and one in 1867 (age 60) which is close. Either would fit with the designation of Richard as "Widowed" in the 1871 census record.

Richard Ashley - 1871 Census
In 1871 the widowed Richard, aged 65, was lodging in Longfold, Elton, Cheshire working as a bricklayers labourer.

Thomas & Ann Holmes and Fanny - 1871 Census
In 1871 Thomas and Ann Holmes, now with 3 children, were living in Congleton (Stapenhill). The quality of this printout is very poor but appears to be that shown below.
The third child listed is Ann Redfern. I looked for a record of her in 1881 to try to find out more about her but could not find any matching record of an Ann Redfern born in Macclesfield.
Richard Ashley - 1881 Census & Death in 1885
In 1881 Anne's widowed father Richard, aged 75, was now described as a visitor in the home of William and Mary Barnett in Wolstanton, Cheshire.

I cannot find Richard thereafter. There is a death in Wolstanton in 1885. The age does not match but it is possible that the people Richard was living with may not have known his true age.

Thomas & Ann Holmes - 1881 Census
By 1881 Fanny is married to Arthur Sparkes with 2 children. Thomas and Ann Holmes are now living in Pickering Street, Slapenhill with son Thomas still at home and apprenticed as a Bricklayer - presumably to his father. There is a new child - an adopted daughter - who is different from the additional child in the 1871 census. Is there a story to be found here too?

The address is just a few doors away from number 11 Pickering Street where Fanny & Arthur are living (see Sparkes line).
Thomas & Ann Holmes - thereafter
I am unable to find Thomas or Ann after 1881 - but I cannot find any likely deaths either.
The Sparkes moved to Alveston around 1885 - could they have done so after the death of Fanny's parents?

***************

Summary of the lives of the Holmes Family throughout

the 18th & 19th centuries

(highlight shows the direct line ancestors)
The earliest known ancestors in this line are John Holmes and Ann who christened a son Thomas (1) Holmes on 8 August 1819 at Belper in Derbyshire.
On 3rd June 1838 Thomas (1) married Eliza Perfect at All Saints Church in Derby. Eliza was 20 at the time of her marriage having been christened on 22 October 1818 at St Alkmund's Church in Derby by her parents John Perfect and Ann about whom no more is known.

Thomas and Eliza seem to have had at least 5 children: Thomas (2) (1840), John George (1844), Eliza (1845), Elllen (1847) and Fanny (1848). However nothing can be found of this family in census records so this lineage is questionable.
However, the christening of Thomas (2) Holmes is recorded at All Saint's Derby on 30th August 1840 with parents' names given as John & Eliza Holmes.
On 31st July 1859 at Wolstanton in Stafford Thomas (2) Holmes married Ann (2) Ashley. She had been christened on 5th February 1843 at Audley, Staffordshire to parents Richard & Ann (1).
The marriage of Richard Ashley and Ann Newton is recorded on 21st July 1832 and the christening of Richard on 3rd August 1806 at St James', Audley Staffordshire is reported with parents' names given as John Ashley and Mary.
Richard and Ann Ashley had at least 7 children Sarah Ann (b and d in 1832), Elisha (1835), John (1837), David (1839), Thomas (1842), Ann (2) (1843) and Daniel (1845) - all christened at Audley, Staffordshire.
Ann (1) Ashley died in 1863 in Wolstanton, Staffordshire and Richard Ashley in 1885 also in Wolstanton.
Thomas & Ann Holmes lived in Congleton until 1881 - I am unable to find either of them thereafter.

Arthur Sparkes married Fanny Holmes on 24th December 1876 in Audlum Cheshire. They had 11 children, including Margaret May Sparkes born on 17th April 1895 1876.
For the continuation of the story into the 20th Century see Margaret May's Story.