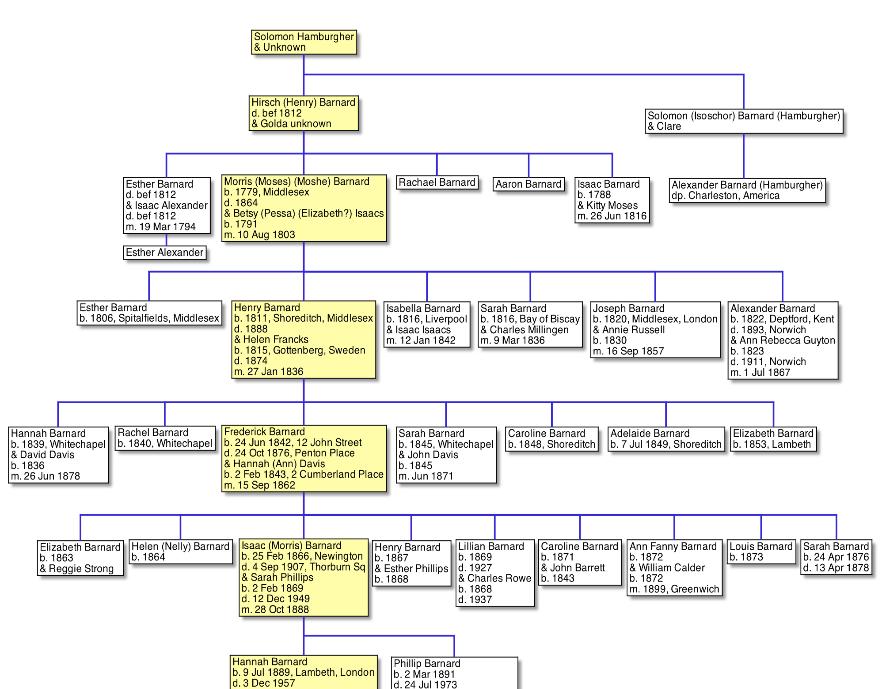 Isaac (Morris) Barnard
Birth 25th February 1866
Although he appears as Isaac on all subsequent documents, on his birth certificate Isaac is called Morris Barnard. He may have been named after his grandfather who died in 1864.
1866 Morris (Isaac) Barnard BC
The photograph shows Hannah with baby Isaac.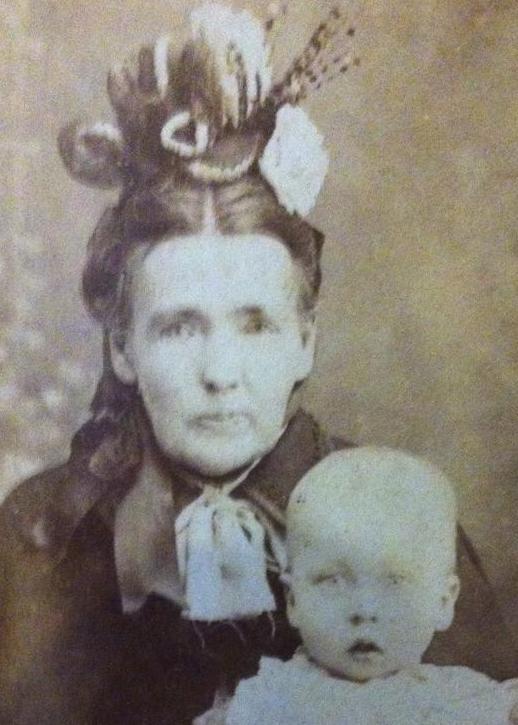 Isaac Barnard 1871
In 1871 the 5-year-old - now called Isaac - is living with his family at 142 Lower Kennington Lane.

Isaac Barnard 1881
Having lost his father at the age of 10 (murdered by Isaac Marks) in 1881 the 15 year-old Isaac is living with his mother and 3 siblings at 159 Manor Place. He has started work in the fish trade with his mother and will remain in this business for the rest of his life.

Isaac Barnard - Marriage to Sarah Phillips 26th Mar and 28 Oct 1889
Like his parents before him Isaac married twice - once in the Borough New Synagogue on 26th March 1889 and later at Southwark Registry Office on 28 October 1889. Isaac married his cousin - Sarah Phillips.
1889 Synagogue Wedding Isaac Barnard & Sarah Phillips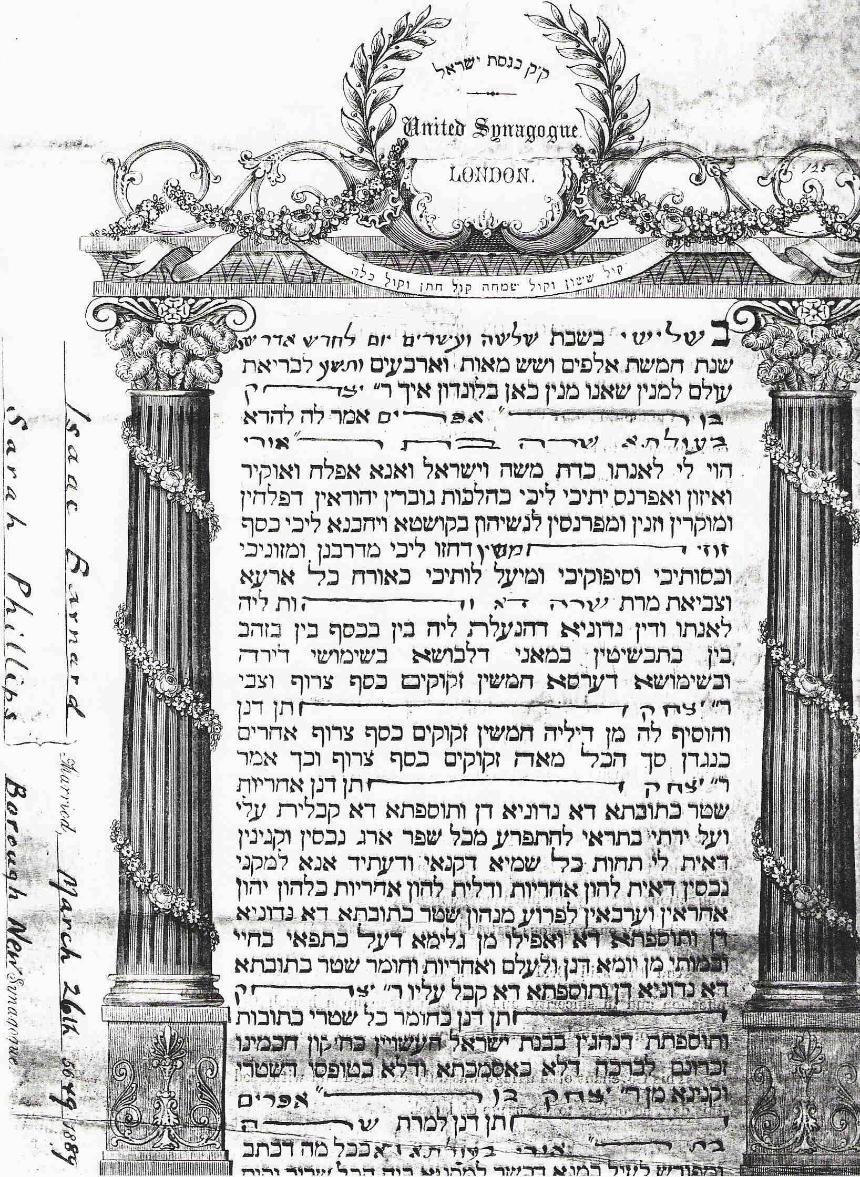 Hannah Barnard Birth 9th July 1889
Sarah & Isaac's first child, Hanna was born. This birth was only 4 months after the Synagogue wedding and before the Registry Office Wedding.

Phillip Barnard Birth Birth 2nd March 1891
Sarah & Isaac's second child, Philip was born.

Isaac & Sarah Barnard 1891
The 1891 Census data shows Isaac and Sarah with their two children living with their extended family at 119 New Kent Road London. The head of Household is Sarah's father, Philip Phillips - a fishmonger - with his wife, Fanny. Philip's mother, the widowed 91 year-old Elizabeth Phillips is living with them, as is his unmarried sister Leah Phillips. Isaac is working as an assistant to his father-in-law in the fish trade.
They have an Irish maid, 54-year-old Harriet Smith, and a lodger, Frederick Baines, whose occupation is given as Act Comedian!

Isaac & Sarah Barnard 1901
In 1901 Isaac & Sarah and with their son Philip are living at 237 Lower Road, Bermondsey with Sarah's sister Elizabeth Phillips (listed as 'widowed' - she had married Joe Phillips).

The photographs show Isaac and Sarah Barnard c1907 (source - Tony Barnard)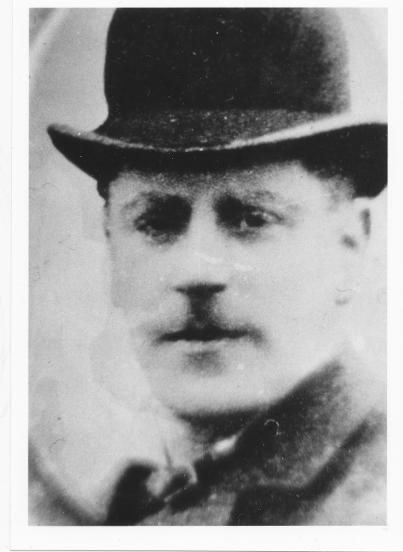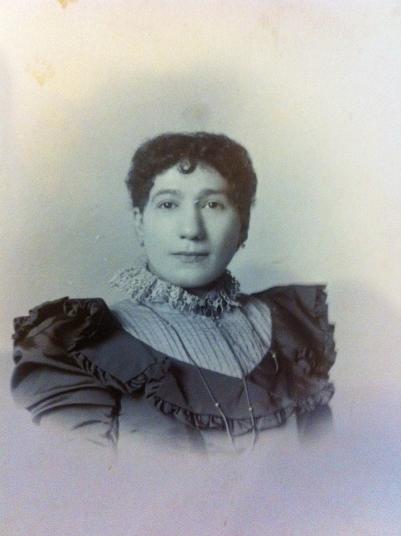 Hannah is living away from her parents staying with her widowed maternal grandmother Fanny Phillips in 2 rooms at 194 New Kent Road, London. Benjamin is Sarah's brother.

Isaac Barnard - Death 1907
Isaac died intestate at 23 Thorburn Square Bermondsey on 4th September 1907. Probate was given to his widow Sarah. Stuart Biellik supplied the photo of the graves at Plashet showing the grave of Isaac and in front of it that of Sarah who died in 1949. Twelve members of the family are buried in that Jewish cemetery – including Rosie Biellik buried in 2010. As I have the Probate record I have not sent for the Death Certificate.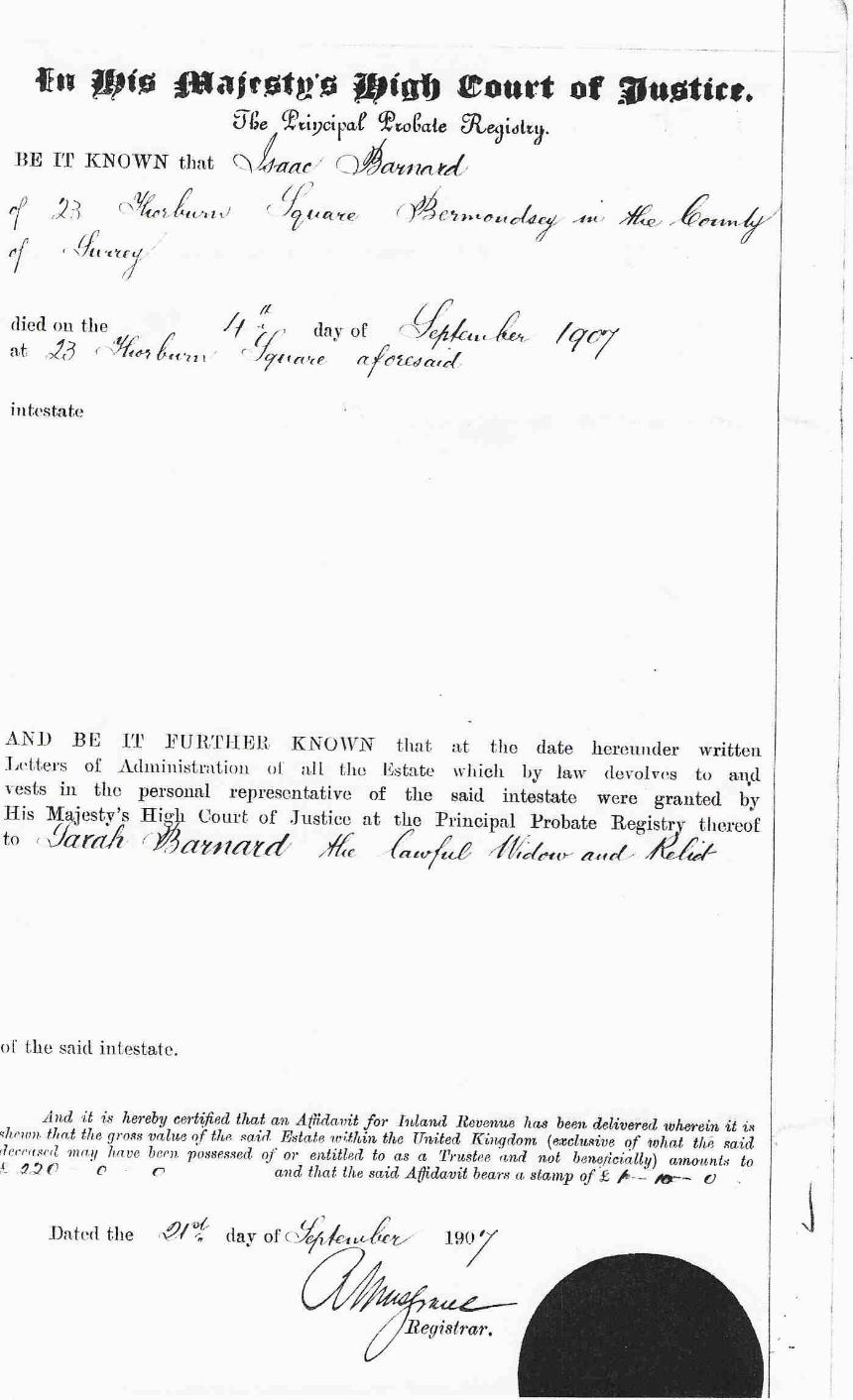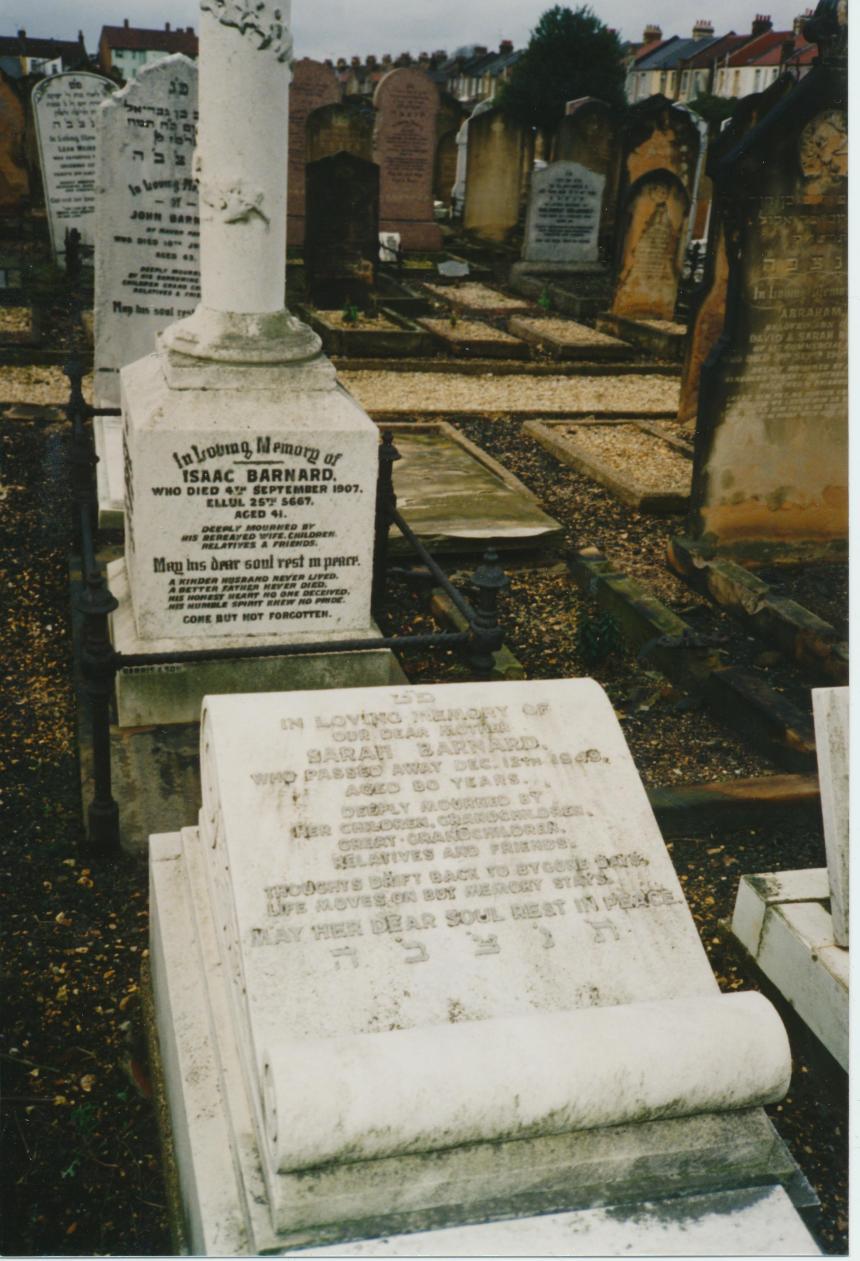 Sarah Barnard 1911
Sarah outlived her husband by 42 years living to the age of 80. In 1911 the widowed Sarah was living with her mother, 71 year-old Fanny Philips, at 28 Thorburn Square. Hannah's brother Philip is living with them. Strangely, the form does not give any occupation or profession for him. They have a lodger - Herbert Knott, a Railway Clerk.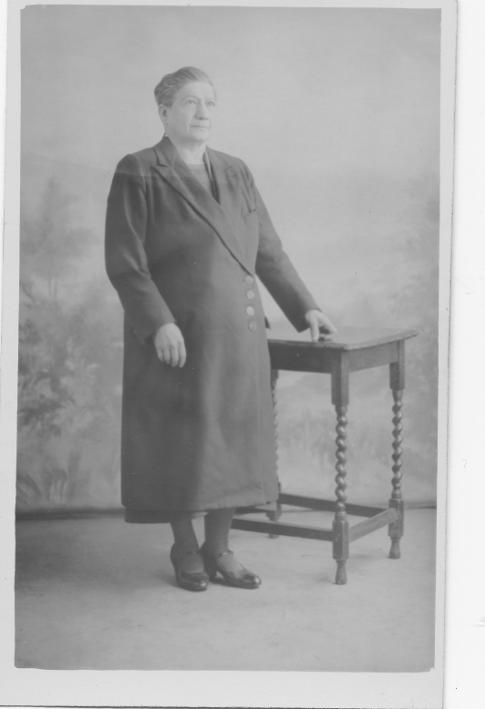 The Photograph shows Sarah Barnard - date unknown (source - Tony Barnard)
1939 National Identity Card Registration
At the outbreak of the war, National Identity Cards were issued to everyone resident in the United Kingdom and the information recorded was made available online in 2015. Information gathered for each person was their address, name, sex, date of birth, marital condition, occupation and whether a member of the armed forces or reserves. The decision was made to use similar methods as for the census (planning had started for the 1941 census but this was never completed because of the war). 65,000 enumerators across the country delivered forms ahead of the chosen day. On Friday 29th September 1939 householders were required to record details on the registration forms and then on the following Sunday and Monday the enumerators visited every householder, checked the form and there and then issued a completed identity card for each of the residents. The Identity Card was finally abolished in February 1952, but the identity numbers were used within the National Health Service to give everyone an individual number. People who had a national identity number during the Second World War or just after still have the same number as their NHS identity today.
Sarah Barnard 1939
In 1939 Sarah was living with her son Phillip (b.1891) and his family - wife Sophie (b. 1891) and children Rose (b.1918) and Maurice (b, 1920) whose records are closed. (All records of people who would be aged <100 in 2015 are closed although they can be opened on proof of death.)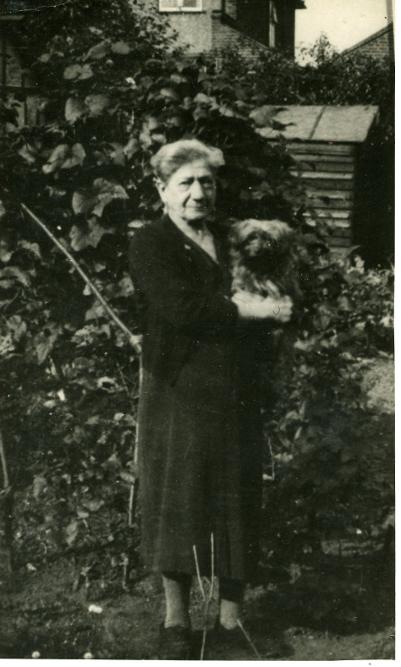 The photograph shows Sarah Barnard with her dog Queenie - the dedication below is on the back.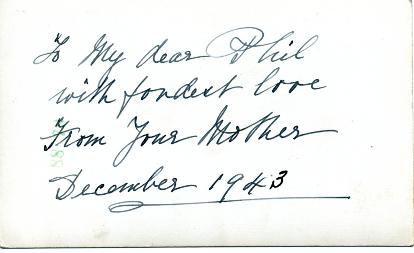 Sarah Barnard - Death 12th December 1949
Sarah Barnard was buried with her husband at the Plashet Jewish Cemetery on 14th December 1949 - see above for a photograph of their graves.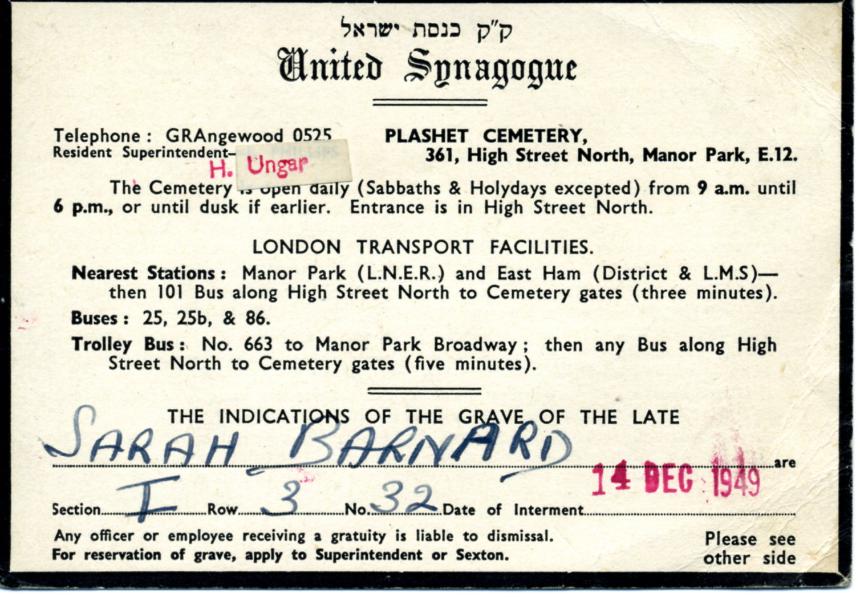 Two items from Tony Barnard's research (both - perhaps in a trade directory) that I cannot authenticate are:
Isaac and Sarah in 1898 at 66, Shepherdess Walk, City Road.
In 1910 Mrs Sarah Barnard (fishmonger) lived at 186, Southwark Park Road – a flat over the top of the fishmongers shop. Rosie Biellik had copies of the account books from the fish shop for 1901 and 1902. It is not known where they are now.
A story from Rosie Biellik: Hannah Barnard's grandfather was one of the founders of the synagogue in Heygate Street and his picture hung there I understand this synagogue is now closed so presumably the portrait has been lost. Not known which grandfather this was - one grandfather was Frederick Barnard who was murdered - the other was Phillip Phillips. Possibly research into the Phillips line might provide an answer.