The Great and the Greatest
I was disheartened by my costly errors but I was compensated by my next passenger. He was one of my favourite actors and a very erudite man with a wide-ranging knowledge as well as the ability to act, mimic, write plays and books and speak many languages. He was even awarded the prize for scientists called the Franklyn award. Although his father was a Russian noble man he affected no airs or graces. I only drove him for a couple of days but they are very precious to me. His name was Peter Ustinov. He was nice to everyone and he was perfectly at home with kings or servants. He couldn't help performing anytime and all the time. He had me in hysterics when I drove him. One of his favourite stories was about when he landed in Dublin and was met by an Irish driver who said, "Follow me sir, I am right behind you." I was very happy to get his autograph on one of his books and once I was even able to make him laugh. While signing the book he asked me if there where two Ls to my name or only one. I told him that there used to be two but one had joined Hades.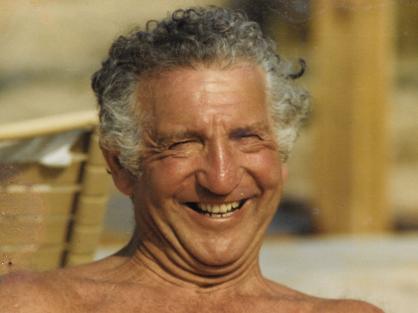 Jack in 1979 aged 63
Boca Rattan Beach Club, Florida
I had the pleasure of driving foreign actresses but only a few English so I was delighted to be asked to drive a famous one to the airport. I was surprised how sentimental she was. She had great ability. She could be serious or comic or mimic besides being a fine musician. She was leaving to fly to the USA where she was booked to play in a one-woman show in many theatres. At the door with her husband they were embracing and kissing each other passionately. She was crying. It was very emotional. Even as she was walking to the car they were waving goodbye and even in the car she kept waving until he was out of sight. They must have had a wonderful relationship. I thought that I had to take her mind off the farewell so I said I had seen the film, 'The Girls of St Trinians' and I thought she was great in it. She perked up a bit. The thought of some of the scenes made her chuckle. Suddenly she started to mime some of the characters and she said the whole cast had enjoyed making the film. I laughed all the way to the airport. I thought I had taken her mind off the farewell and she would be happy in the States. Her aunt was the well-known Lady Astor the first woman to become a member of parliament. But there was only one Joyce Grenfell. Her success in the USA brought many American fans to add to all her English ones.
My wife, Joan, and I often had supper in a favourite fish and chip restaurant with Joan's sister, Phyllis and her husband. The restaurant was well advertised in America and many came to eat the English traditional fish and chips. It had been there for many years and I don't know when it first opened. Unless you made a reservation most days you had to line up outside where a waitress would bring some chips as a taster. We were shown to a table and sat down but I got up again. At the table by the side of us was the Ex President of the United States, Richard Nixon, and his bodyguard. I walked over to him and said, "Hello sir, how are you?" He replied, "Fine" shook my hand and smiled. He was on his way to Russia for some discussions. I asked for an autograph and offered my pen and the table menu but he would not use them. His bodyguard offered his pen and Nixon used his own card. I mentioned that I knew the Attorney General of the Democrat Government. His eyes lit up. He said he was supported by him and asked how did I come to know him. I told him that I was a guide, took him on tour and became friends and I had been to his chambers of the Chief Supreme Justice. I could have continued the conversation but there was a large queue waiting for his autograph. Whatever his faults he excelled in foreign policy. He died soon after he returned from Russia. Many people in America thought that he was manipulated by Edgar Hoover the FBI chief and something else.
I had been to Oxford and was returning to London. It was pouring with rain in a thunderstorm but I managed to see a stationary car that had no roof, it was a sports car. I saw two people sitting with their coats over their heads. I stopped beside them and asked what was wrong. They said, first of all the roof had been blown off which they managed to get hold of and shoved it in the boot. Then the clutch wouldn't work. They couldn't move. I could tell by their accent they were Australians. I said, I would try to help them if I could get a tow-rope. They said that they were going to London. I don't carry a tow-rope in my car so I had to improvise. I found some string a strap and some cord, things I used to tie the boot down when needed. Somehow I managed to make something resembling a tow rope. I told the driver to be very gentle and never brake too hard. We started very slowly and I kept stopping to see if the tow-rope was holding up. I couldn't see very much from my mirrors they were low down and the mirrors were too wet. When we reached High Wycombe I examined the makeshift tow-rope and asked where in London they wanted to go. We continued and when we reached Beaconsfield I went to see how they were doing, but there was no car! I had no idea where I lost them. I was soaked to the skin. I didn't tie my Kangaroos down well enough.
It seems to me that fogs used to be much worse than they are today. I was driving one evening on my way home and the fog was very thick. The only way to keep driving was by watching the lights of the vehicle in front of you. You had to drive slowly and keep stopping, I was in a line of cars and lorries where nothing moved and we had stopped much longer than before. Drivers thought that there had been an accident. They were getting out of their cars to have a look. I got out and noticed just ahead were very bright lights on some building. I got there and found it was a cafe. I had followed everyone to a cafe. I couldn't move the car. There were vehicles in front and vehicles at the back. I just had to wait. The new fog lamps on cars are a great help.
My wife and I were friendly with one of Margot's secretaries. She had been divorced and was living with her boyfriend. He was an Italian, very unstable, gifted and peculiar. His mother had been raped by an Italian count and left to starve in the Italian recession after the war. Somehow he managed to come to England. He was a born sculptor but he only worked with clay. Many compliments were paid to him in the art magazines but when he received payment he spent every penny as quickly as possible. He had no idea of the meaning of economy. He was fortunate to have a partner who could afford to keep him. On one occasion something upset him and he tried to commit suicide. Some people laughed at him, thinking he was crazy but I got on with him very well in fact I played chess with him. I saw a couple of busts he made for prominent people and they looked good to me. One evening I got a call from the lady asking me to come urgently to her house. When I arrived he was lying on the floor. She told me that we must get him on his feet, which we did as he was struggling. Then she explained that I must hold him firmly and walk him around the room and keep talking to him until the ambulance arrived. Obviously, she knew what to do from experience. He had taken some drugs that he knew would kill him. He was taken to hospital where he was not a new patient. They cleansed his stomach by pumps and he was home the next day.I gathered that the reason for his attempted suicide was the cancellation of a contract with a dealer. He was supposed to make sculptures of six different animals. He did kill himself eventually.
There was an entirely different sculptor I drove a few times. He was also Italian, but was an art teacher as well. He was delightful to be with and although he was famous his attitude towards me was extremely friendly. Although much of his early work was in stone, marble and clay, he turned to metals and designed very modern art. Many of his sculptures are in British art galleries.
I am sure every driver regrets having done some jobs. I became an accessory to a very unpleasant connivance. We were friendly with our neighbours. The man was an ex headmaster of a grammar school. He was an old and delicate man. His first wife had died. They had a son and a daughter. His second wife was much younger. I drove them to a seaside hotel when they went on holiday. She was wealthy and he only had his pension but she was very mean with her money and a bit unpleasant at times. One day, she asked me to drive her husband to the usual hotel but told me he would be going alone. Then she explained exactly what I was to do. On the return journey, instead of bringing him straight to the house I was to take him to meet his daughter for tea at a house not far away. It all sounded fine to me.
When we returned, I took him to the house I was told. He was bewildered. I said there's a nice surprise for you. Your daughter will be there to meet you for tea. A lady came out, obviously waiting for us, grabbed his suitcase and rushed back in. I called out, "What are you doing?" She ignored me. She came out and took the old man by his arm and led him in shutting the door in my face. I went to my lady neighbour for her to pay me. She said that his son would pay me and soon after the lady moved away. A little later I met the headmaster in the street. He ignored me. I found out that the house was used as a kind of rest home for old people. The whole story soon emerged. The lady wanted to get rid of her husband and had arranged for him to be put in a home. She wanted to move to a nice boarding house with all the trimmings and sell the house, which was her property, while house prices had sky rocketed.
One small car hire service that used me sometimes had a large garage which was used for part of the business. They had a man there to take telephone calls. The man lived in the garage turning it to some kind of home. He was a bit scruffy but he was helpful at times. He didn't appear to be well educated but he had an unusual talent. His handwriting was superb. He had a blackboard which he used to record any bookings and a book for keeping records and phone numbers. His handwriting was really artistic. I only worked for the company occasionally so I might not see him for weeks. One day he called me - not from his little office but from a phone in prison. His boss would have nothing more to do with him and refused any kind of help. He was at his wits end with no money and no help so he called me because he couldn't think of anyone else. He asked if I could I come to court and vouch for him. I asked him what he was being charged with. He said they said that he was an accessory to a theft and concealing stolen property. He told me what actually happened. Two men had come by and they seemed to be looking for something. He had never seen them before. One was carrying a large holdall. They came up to him and told him that they were looking for somewhere to put the holdall for a couple of days. They had some business to attend to and couldn't carry the holdall with them. They said they would pay him five pounds. He thought that five pounds for nothing wasn't bad, so he said yes and put it in the garage under the table, out of the way. Two days later a police van drove up to the garage with one of the men. He was showing the police where the holdall was. The two men were thieves and pleaded guilty. The police took the holdall and arrested our fine writer, who now involved me. I told him I couldn't come to court as I was working but I would write to the Magistrate and try to help. The holdall held a valuable painting.
I wrote saying who I was and what I did and that I was surprised to see him mixed up with anything dishonest. From what I knew of him, I would have no problems employing him if I was an employer and then I mentioned his fine handwriting. His charge was dismissed with a warning. The thieves were sentenced to three years, which would have been much longer if they had not pleaded guilty and led the police to the painting. That same night he called me again. He said he had nowhere to sleep and no job and asked if I could put him up for the night. My wife didn't like the sound of him and we had no room for him anyway. I told him to ask the police but said I would see him in the morning. I met him the next day. He looked so forlorn and I had to help him somehow. I gave him ten pounds to buy some food and pay for the lodging house. I knew that some bookmakers had someone to write all the particulars on blackboards. I called an old school friend who was a bookmaker in a small way and asked him if he knew some company with many betting shops that might need someone. He said he would ask around. My old school friend was as good as his word. He called to tell me that some branch would give him a trial.
When I met the forlorn man I gave him the good news. He was delighted not only for getting a job, but being associated with bookmakers. I wished him luck and was about to leave him, when he said that he couldn't go on with his old and dirty clothes. I said that I didn't have money to keep giving him. He said he would pay me back every penny as soon as he was working. I know he got the job and the people at the branch loved the artistic style of their information. But I never saw him or my money again. Someone once said, "A good deed a day, often goes astray."
I was with two tourists who were keen on visiting art galleries and museum. They were very knowledgeable. I believe they were either teachers or dealers. They didn't need me to be with them. I just had to wait until they came out. I took them to the National Gallery. They went in and I parked as near as I could and waited. I saw two figures that looked as if they came from outer space. They had no head and no feet but they were moving. As they approached the corner they turned around and spotted me. They came to ask me the way to Windsor. They both had backpacks that were larger than they were. Having found they were human and Americans to wit I relaxed. I told them that to get to Windsor they would need to go to the railway station and take the train. But the railway station was some distance away and they couldn't get on a bus with the pack packs they had on.
I said I think I have enough time to take you there. I drove them to Paddington. They asked me how much I wanted for the fare. I said, "I have been paid. Seeing two outer space beings was an incomparable experience!" One of the lads told me that his parents were due to come to England in a couple of days. He said his dad would be driving a self-drive car but nonetheless he asked me for my card. I hoped the Queen would make them comfortable when they camped in Windsor Park. I got back in good time and took my tourists to the Portrait gallery, before driving to the Tate and other galleries the next day.
Three days later, I received a call from the young man's mother. She and her husband were staying at the Lygon Arms in the lovely Broadway. They wanted me to come up and drive them. I said that I thought they were driving themselves. She said yes that had been the plan but she would tell me all about it later. When I met them they told me that the husband who had planned to drive wasn't familiar with driving on the left instead of the right and they were afraid they could have a collision on a roundabout. They thought it would be best to have an English driver. I asked them what they wanted to see but they had no special requests so I said I would show them the best sites in the area before taking them back to London to leave for Boston where they lived.
They must have enjoyed it because they decided to stay for an extra week and the lads joined us for some of the touring. I took them to the usual London attractions. I found that the husband was an accountant. As my son was also a brilliant accountant, who one year became the accountant of the year, I took him to my son's office so he was able to get some idea of British methods. The lady was Principal at the local school in Boston at the time. They must have enjoyed their visit because they were hoping to return the next year. But the lady came alone. They had heard in the education departments that the British were adopting new procedures in some schools. As she was studying for a higher degree she came to England to visit schools and heads of education. I drove her to various schools, learning a thing or two. In my youth teachers were respected and appreciated and considered to be the best at knowing what to do and what was needed. Parents hardly ever came to the school. Now I found parents were encouraged to form parents associations and encouraged to participate in school activities.
Being together a lot, we learned a lot from each other's family. One must learn not to take things for granted. The lady Principal was full of fun and always cheerful and yet she had more than her share of tragedies. Members of her family lost their lives from the curse of cancer. All were taken at an early age and she herself had operations. Her children are bright and clever. She loved little children and when she came to England she was very happy to spend time with them. We all became like family. When my wife was in hospital she visited her frequently. When her daughter came to England a couple of times we treated her as one of our own. Aside from close ties she loved England and the English. When she became a widow we travelled the country from top to bottom including Scotland.
She did have a liking for sport and she knew the names of the favourite places and wanted to visit them and even play. We went to every golf course where the Ryder cup took place. When she played she had a caddy and enjoyed it. At Wimbledon she visited the museum and found the commentaries very interesting especially with the American champions. She bought Wimbledon items to take home as gifts. We did manage some indoor tennis as well as a Davis Cup match. She is also crazy about the Boston Baseball and football teams, and since she has known me, she knows something about Arsenal, Manchester and Liverpool.
When I visited her home, she took me to a deli where I saw something that enchanted me. The place always gets crowded and has ingenious method to prevent people waiting. We ordered sandwiches. Someone put the sandwiches together, placed them in a large class container and pressed a button. There was a long glass enclosed tunnel about two feet high and two feet wide and about twenty feet long. The sandwiches just flew to the far end where someone was waiting to wrap them up and put them in a bag, and we had to go there to collect them and pay. It's the best way of saving people's time especially at lunch times with only a short break. Kids coming home from school love to sneak in and watch the flying sandwiches. The Wright Brothers would have been proud. I am happy to say that the lady and I still communicate.
My last touring job came unexpectedly. I was driving a couple from La Vegas. We toured mostly around Yorkshire, and they were fond of looking at monasteries and old churches. They were not unpleasant but they were quiet for most of the trip. He did say that he had been a Major during the war. I told him I had been in the Air Force and knew many Americans in the forces. He remained quiet even when I drove him to the airport. A few days later, the boss of the company I worked for asked to see me. He had received a letter from the Major who complained about me. He reported that I was in the RAF so I must at least be as old as he was. Didn't they have any younger drivers? My boss said he was sorry but there was a lot of business with that travel company so he would not use me any more for touring but if I liked I could still do home jobs. I gave it some thought but decided it was best to retire. The insurance cover was too costly and I suppose it was time for me to retire and become an old aged pensioner.
Although in my career I was lucky enough to meet many great stars and famous people there was one person who was unique and it's unlikely that there will be another. I was on guard duty at the gate at an RAF Station a few miles north of London. A corporal came thorough the gates. I recognised him but I couldn't remember his name. He was well known. I said hello Corporal, sorry but your name escapes me. He told me. I said I'm sorry I must be stupid. We had a little chat. I said I was on duty but I'd see him later. He was the captain of Scotland's war time soccer team. We both had a passion for keeping fit. He was very interested in boxing. Many evenings we would spend time together sparring and kicking a ball around although I couldn't do the tricks with the ball like he did.
I lived with my wife near the camp and I took him home to meet my wife. We had supper and sometimes we would make a bed and he would spend the night with us. As footballers were used for entertainment for the depressed nation, he played for Arsenal at weekends. Sometimes in the camp we arranged games for the lads and we watched from the sidelines. If the ball was kicked out of touch anywhere near him he would race anyone to get there first to kick back. The Captain of Scotland running for a lose ball just to kick it back. He couldn't help it, soccer was in his blood.
When he retired as a player he became a manager for clubs in the lower leagues until he gained some experience and moved higher and joined Liverpool who were in the second division. He successfully guided them to the First Division. The future years made him a legend and the lovely biography of him by Dave Bower tells the story of his life. I was happy to take him and his wife to Buckingham Palace where he received the OBE. His success with the team transformed the City of Liverpool and his love for the rank and file fan was returned many times over. His system for success was used by four later mangers, to the delight of the fans. He was a simple man not wanting palaces, yachts or private planes or demanding huge sums of money. He had worked in coal mines in squalid conditions. He learned from his large family and the rest of the small village where he grew up that by helping one another you are able to overcome some of life's hardships. The whole of Liverpool and indeed all football mourned at his passing. There can never be one like him again because football is not the same. Apart from football I am glad all my family met him, especially my son who met him at some charity, because he complimented me on having such a fine son. There were times he was angry and lost his temper but he was upset because he thought the directors did not show their appreciation for all he did, for the club. But there's a memento to him around the stadium. Together with millions of others I am happy to have been your pal, Bill Shankly.