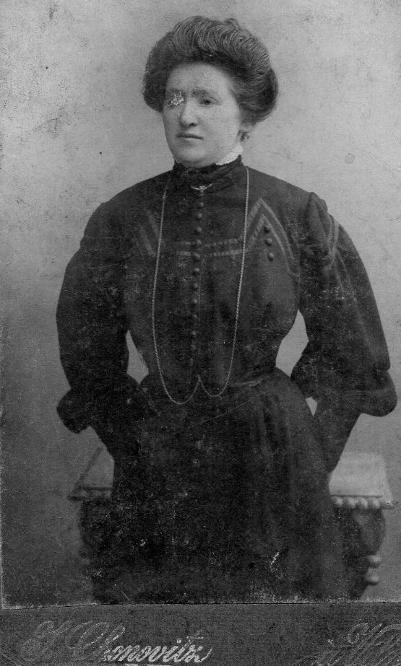 My mother, Jessie Ochs, in 1906. Her name was actually Chessia but she was always known as Jessie because the English couldn't pronounce Ch.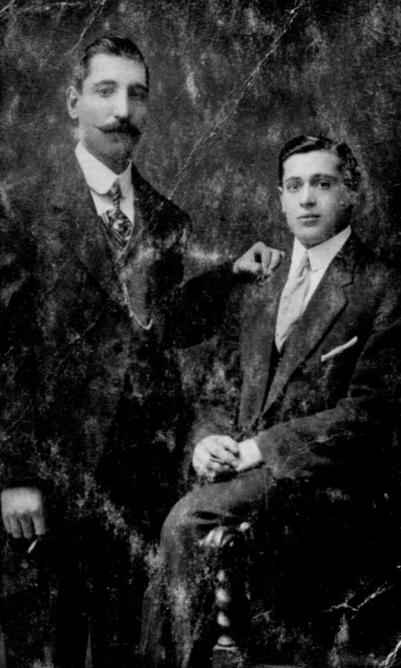 My father, Morris Mindel, (standing) with his brother-in-law, Harry, Jessie's brother, who followed her to England some years later. Harry changed his name to Greenfield before his wedding in 1918 - see below.

My parents, who had such an influence on my life, were born in a small village in the town of Vilna in Lithuania, which was under the control of Russia. Their families were Orthodox Jews. My father. Morris, was extremely intelligent. His father placed him at an early age in a Jewish college to learn to be a Rabbi. My mother, Jessia, was very clever but was not allowed to be educated as was the custom but she was gifted with the ability to do many things very well. My parents were betrothed by a marriage broker, which was the normal way according to the custom of Jews at that time.
Unfortunately the Russian Tsar had a mad impulse to annihilate all Jews living in his lands. As the Cossacks happily did the destruction and murder in the pogroms, all the Jews who were able, left their homes and went anywhere they could to escape. A few even tried to resist and persuaded some Russian people to help them. A few young Jewish men formed a resistance group called the Bund. My father was active in the Bund and was arrested for distributing leaflets and was put into prison. He was a marked man but he managed to escape on a cattle boat, which carried people for a little money to various ports. Others unable to escape were sent to Siberia as slaves. Several Jews had travelled this way and were already in other countries. My father had a brother, who had managed to reach America.
The passengers were treated worse than the cattle. They slept anywhere on the decks where they could. They knew that they had to bring food with them and some money to bribe the crew. The journey was hardly pleasant. The ship stopped at various places and some people got off to meet friends or relatives. Although my father was hoping to go to America he had friends in London, people from his village who had managed to escape much earlier.
When the ship docked in Liverpool, all passengers had to be examined. My father had eye problems and he was denied permission to continue his journey to the U.S.A. With the help of some Jews he found temporarily shelter and was given a little money. He knew no one in Liverpool, but he earned a little money working as a stevedore at the docks. The work was very chancy and difficult - each day he had to wait at the dock gates with many men and hope he was the lucky one to be chosen.
After a few days, he decided to go to London. Not having enough money, he walked much of the way carrying his few things looking like a tramp and speaking only a few words of English. In spite of this he not only found his way to London but also managed to trace the friends from his village, Mr & Mrs Nathan Lerman. They were so surprised to see him they treated him like long lost family. They took good care of him. They found a two room apartment at very low rent and even found a job for him, which at that time was very hard, but he had to work long hours for little pay. The 1911 Census records him as a "Cardboard Box Maker"
In spite of the difficulties he wrote home asking his bride to join him. Two of her sisters had already left, one to America and the other to Brazil. My mother travelled on a cattle boat with her trousseau, which was so bulky and heavy it took two of the crew to help her. The boat eventually arrived at London docks. The Jewish Organised Association greeted the motley travellers and helped them.
My mother had been given no address except for Commercial Street in Whitechapel. There was no transport arranged but she was given a little money and told to walk to the church in Commercial Street, which in normal circumstances is not very far, but with all her luggage, it was like walking the marathon pulling a sledge. Carrying as much as she could and dragging the rest, she started out. She had to stop sometimes to get a breather. It was also getting darker. She carried on until she was not far from the church but she was so exhausted, she sat in a doorway. People passed by and thought she was some kind of tramp. One lady glanced at her and walked by but after a few yards she stopped and went back to have another look. She screamed out 'Jessie!!!' she was Becky Lerman, my mother's friend. She helped my mother with her things and took her home.
The Lermans had known my mother was coming but didn't know when. After resting and a meal she waited for the arrival of my father who always came to the Lerman's straight from work, had a meal and then went to his apartment. When he walked in and saw his betrothed he was in a state of shock, however, he soon took her up to his small apartment. By then it was dark and when my father tried to light the gas light it did not light up. The gas meter needed money my father had none but fortunately my mother had the coins that were given to her. When the light came on it was my mother's turn to be shocked. The flat was like a pigsty. Without another word she set to and tidied the place as well as she could. My father had been so waited on that he hardly knew what a broom was for but he did give up his bed and slept on the floor. The next morning my mother prepared breakfast from the little food that was there, typical black bread, some herring and lemon tea. My father had to leave early to avoid being sacked for being late.
My father earned so little that my mother decided to find ways to earn some more. She was introduced to families that needed home help, although they were poor themselves they were very happy to have such a capable diligent lady for so little cost. Word spread she worked almost every day and was liked very much. For a few she even cooked meals and it became known she was a fine chef. My mother was earning more than my father and it remained so all their lives. Every penny mattered. She'd buy food from the vendors and haggle for lowest possible price.
Very soon they moved into a better apartment, which cost a little more but which made life a little easier. Meanwhile, the Czar was having trouble with a revolution so his pogroms eased. My parents got married, the Lermans helped and everything went well.
Their marriage is recorded in the first quarter of 1909. Jessie's forename is given as Hassie - probably the registrar was having his best shot at her Russian name, Chessia. The Russian Ch sound clearly gave all the English a bit of trouble. It is interesting that although Morris was in Lolesworth Buildings at the time of his marriage he was in a different numbered flat from where they were in the 1911 census - see Chapter 2. Jack's story talks of them moving to a "better apartment" after the marriage although the 1911 census shows that it was still only a single room.

The members of Jewish Bund got together, rented a building and formed a society to help workers in every way possible. For a small subscription they were covered for the cost of their funeral and help when unemployed. A large room was set aside for them to play games to amuse themselves. It was like a club. It had a library and a section for education and lectures, both of which father cared for. He was one of the founders. The society was known as The Workers Circle just like the one in New York. He loved what he was doing and went there after work almost every day. Although my mother was left alone she got used to it and was proud of the fame and appreciation he received.
Those who were illiterate came to ask him to read letters they had received or to write a letter for them. Nearly every Friday evening a group of people gathered in the flat to listen to him read stories by famous writers. His audience consisted of Jews from various countries and their accents were slightly different. The best Jewish dialect was considered to be that known as Litvack. This was where my parents came from and the dialect they spoke. At meetings all present were given a glass of lemon tea served from the samovar and a cookie. Everyone was happy and called my father Mr Morris, using his first name, which was the custom.

In 1910 my eldest brother, Myer, was born. Because of the lack of funds my mother worked until the last minute. The doctor and midwife came and the baby was born at home, which was quite normal in those days. As soon as she was able my mother went back to work carrying the baby. Everyone was happy to see the child so there were no problems. Two years later she had her second son, Solomon (Sid). She carried on as normal but made arrangements for Myer, to go to nursery school.
Jack's brother Myer was known as Mick. Mick Mindel was a noted active communist and helped organise the Jarrow March. He also helped organise the communists who fought the Blackshirts in the battle of Cable Street. He was also in love with Arnold Wesker's aunt, Sara. For details see this Guardian article by Jonathan Freedland.
My mother's young brother, Harry, managed to get to England just as World War I started. He stayed in their apartment for a while and then joined the army. He met a nurse and they were married soon after.


Half way through the war my mother had her third child. It was me, Jacob. I was born just as the first bombs were dropped on London from a huge dirigible called the Hindenburg. It was soon attacked and destroyed. The war was known as the War to End Wars. Millions of soldiers were slaughtered and maimed and if America had not come to our aid we would have been under German rule. The Germans lost but even so it took many years for social conditions to improve.
From 1911 the mother's maiden name is recorded in the registration record. (It was always on the actual birth certificate and these are available at a cost of £10 each.) It is interesting to compare the maiden name of Jack's mother, Jessie, on the various registration records shown on this page. On Solomon's record his mother's maiden name is given as Hawkes and on Jacob's it is Oakes. I suspect the registrar just wrote what he heard with no knowledge of the appropriate spelling. The marriage registration is clearer - the name is Ochs - which fits that known by the family.

However, there is no similarity in sound to
the n
ame eventully adopted by Jessie's brother, Harris
(Harry) which was
Greenfield
. There is a re
cord of his marriage in 1918 to Rebecca Kirschenbaum which fits with Jack's account.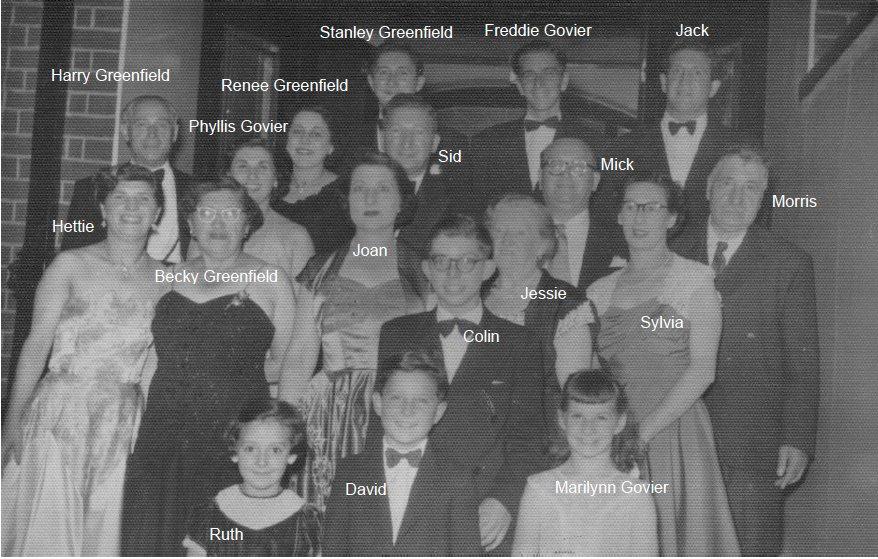 The photograph above, taken at Colin's Barmitzvah is the only one known that shows all the Mindel family.
Everyone listed in the trees below is shown in the photograph.
Harry Greenfield is brother to Jessie, Jacks mother.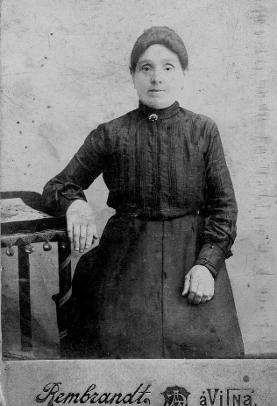 Jack's maternal grandmother, Malka Ochs. The studio logo at the bottom of the photo suggest that this was taken in Vilna. We have no evidence that Malka ever came to England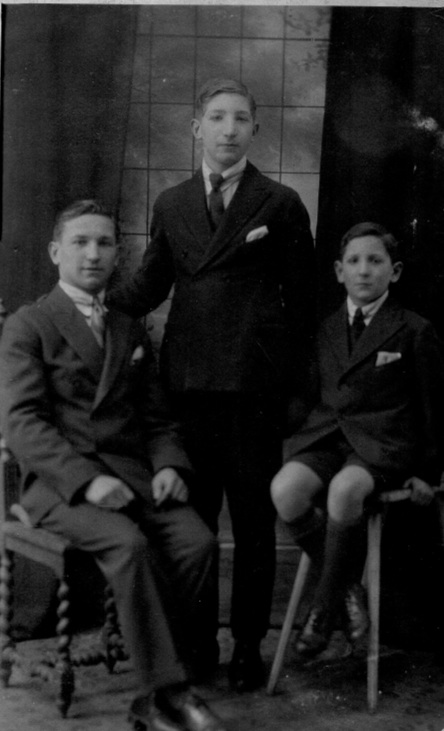 This photo shows - l to r - Mick (Myer), Sid (Solomon) and Jack (Jacob). It was taken around 1926.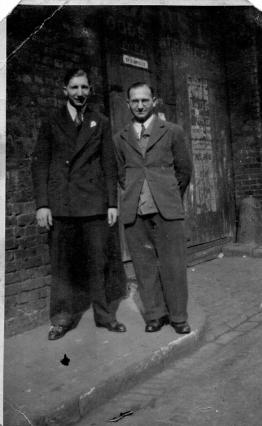 Taken some years later - this is Sid (left) and Mick.