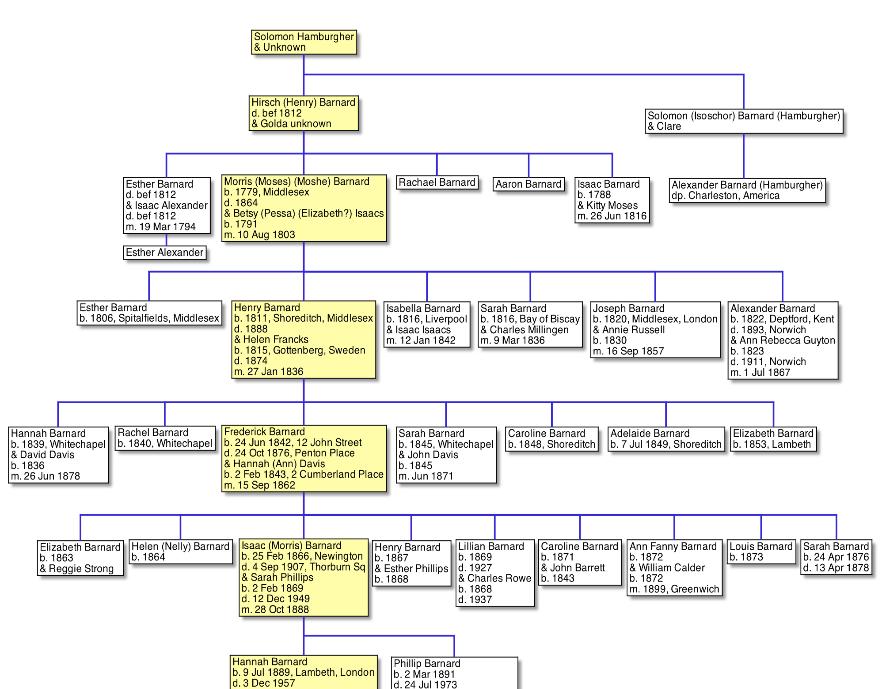 Morris (1779-1867) & Betsy (1787-1851) Barnard Outline
1779 - Morris born in Whitechapel, London (ref 1861 census) - father's name Hirsch (ref marriage record SS)
1787 - Betsy - born Elizabeth Isaacs in Bath, Somerset (ref 1851 census) - father's name Joseph (ref marriage record SS)
1803 - 10th August - Moses (Moshe) Barnard (aged 24) married Betsy Isaacs (aged 16) (SS) On all marriage certificates and registrations Morris' Jewish name 'Moses' is generally used.
1803 -> Morris and Betsy raised a family. They had 6 children that we know of but there were probably more than this as there are gaps in the first 10 years of their marriage. They may also have travelled widely as their children were born in many different places - see p5 below for details.
1834 - Morris (aged 55) - Umbrella Maker - @ 45, London Wall - gives evidence in trial of Samuel Samuel (OBO)
1841 - Morris (aged 62) - Umbrella Maker - @ Leman Street on 1841 census - living with Elizabeth (aged 50) + four children: Esther, Isabella, Joseph and Alexander. (Elizabeth's actual age must be greater than this as she was married in 1803.)
1842 - 12th January - Morris (aged 63) - Umbrella Maker - @ 70, Leman Street (from Isabella's MC)
1845 - 7th July - Morris (aged 66) - Umbrella Maker - @ 8, Camomile St - imprisoned for receiving stolen goods (OBO)
1845 -> 1846 - Morris (aged 66-67) - in prison - we do not know whether he served the full sentence
1848 - Morris (aged 69) - Umbrella Manufacturer @ 10 Marylebone Lane (in Commercial Directory for 1848)
1851 - Morris (aged 72) - under the name of Edward Barnard @ 15A South Audley St living with Elizabeth (aged 64) and Esther (aged 46)
1851-1861 - Elizabeth Barnard died - this is based on the assumption that the 1851 'Edward' is in fact Morris, since Morris is recorded as 'widower' on the 1861 census. If the 1851 Edward is not Morris, Elizabeth may even have died earlier. However the registrations at that time did not give age so it would be necessary to send for death certificates and there are too many Elizabeth Barnard deaths in the 10-year period to make this practical.
1857 - Morris (aged 78) - 'Moses' recorded as 'father' - profession 'Gentleman'- on the marriage certificate of Joseph Barnard.
1861 - Morris (aged 82) - widower - @ 10 St Mary Axe on 1861 census - profession 'Sailor'?
1864 - 12th April - Morris (aged 85) - died of Palsy Paralysis @ 46, Howland Street, St Pancras (DC)
(1867 1st July - Moses (father's name) recorded as 'deceased' on the marriage certificate of Alexander B.)
Further details of all these life events are given below with links to all the documentary evidence.
Morris Barnard & Betsy Isaacs Marriage 1803
The marriage of Morris (Moses) (Moshe) and Betsy is recorded in one of the lists of marriage records of the Great Synagogue, now available on the Synagogue Scribes website - but I cannot seem to find any further information about them there. The father's names are given on the marriage records but a search for the fathers themselves on that site was fruitless. Morris' father is given as Hirsch.
The marriage was well before the start of BMD certificates (1837) so there are no further sources of information.
The only information about the next 30 years of their lives can be deduced from later census records for their children, which give their ages (and therefore approximate birth years) and the places of their birth. As with their parents' marriage, the children's births are all before official registration so certificates are not available. (Dan Barnard's family tree also has an Amelia Barnard b. 9th July 1822 in Broad Way, Deptford, Kent. I do not know what his evidence is for this but I cannot connect her.)
1806 - Esther born in Spitalfields (1851 Morris (Edward) Barnard)
1811 - Henry born Shoreditch, Middlesex (see several census records eg 1861 Henry Barnard)
1816 - Isabella born in Liverpool (see 1861 census for Henry - Isabella was living with him)
1816 - Sarah born in the Bay of Biscay (see 1851 Millingen family)
1820 - Joseph born in London, Middlesex (see 1861 Joseph Barnard)
1823 - Alexander born in Deptford (see 1851 Alexander Barnard)
Morris Barnard (aged 55) - witness 1834
The first historical reference to Morris is when he appeared as a witness in the trial of Samuel Samuel in 1834. He had received stolen goods, although he claimed to have received them in good faith from the accused. The trial is to be found in the Proceedings of the Old Bailey:
http://www.oldbaileyonline.org/browse.jsp?id=t18340703-169-person1037&div=t18340703-169#highlight
This is his evidence, which includes a clear statement of his address. There is no separate address given for the shop and the implication from the first sentence is perhaps that the family lives above the shop. This is reinforced by the comment - highlighted below - that Mr Millingen was visiting to court Morris's daughter and was 'upstairs'. Such a visit would be to her home not to the shop.
MORRIS BARNARD: I live at No. 45, London Wall, and am an umbrella-maker. I have known the prisoner several years coming to my warehouse to purchase materials for umbrellas. On Sunday morning, the 25th of May, he came and purchased two dozen of pressed horn hooks, two dozen of collars, two dozen of six-inch runners, four dozen of cane ribs, and two dozen of embossed ferrules. He then said, "Mr. Barnard, I have a piece of silk I think will suit you". I said I would look at it. He untied this silk. I looked at it, and asked what quantity he had. He said twenty-two yards, and it was 5s. a yard. I told him I could purchase from the manufacturer as good silk, or better than that, for that price; but I would give him 4s. 9d. for it. He accepted my offer. It was twenty-two yards. I calculated what it came to - it was 5l. 4s. 6d. My son was present, and Mr. Millingen was up stairs. I called him down, and borrowed 5l. of him. I paid the prisoner, and he paid for what he purchased of me. I made these parasols out of that silk.
Cross-examined. Q. Did you buy it cheap? A. No; not cheap. There was no allowance for any defect in it. I saw no defect. I cut up many hundred yards. I looked at this before I bought it. I asked him if it was honest silk. Millingen was in the shop when I bought it, and he saw it. The prisoner has been in the habit of buying and selling- if I had not known him, I would not have bought it.
COURT. Q. You asked if it was honest silk, what did you mean by that? A. If he got it fair. He said it was quite right, I might offer it where I pleased.
COURT to MORRIS BARNARD. Q. You told us the prisoner came to you on Sunday, the 25th of May? A. When Mr. Wilson called upon me, on the Thursday, and looked at the parasols, saying, that the silk was stolen from him, I was rather confused, and I did, in mistake, say Monday - I gave Millingen a cheque for the money.
Cross-examined. Q. Was Mr. Millingen paying his addresses to your daughter? A. Yes. I was confused at the moment Mr. Wilson called, but my memory came back that afternoon, when I came back from the magistrate - I was confused in the prisoner's house - I did not think of the day- I did not correct the prisoner on the spot - I had made a mistake - I first told Mr. Wilson I bought it on the Monday, but I was confused then
Morris's son Henry (who would have been 23 at the time) also gave evidence (see under Henry below for details).
There was a lot of confusion about the day - the prisoner seemed to have an alibi for the Monday - and the verdict was NOT GUILTY.
SAMUEL SAMUEL was indicted for feloniously receiving, on the 23rd of May, 39 yards of silk, value 13l., the goods of Alexander Wilson, which had then lately before been stolen: against the Statute, &c. NOT GUILTY.
Mr Millingen, mentioned in the evidence, was Charles Millingen, 'paying addresses' to Sarah Barnard who he was to marry around 1839. Charles was also an Umbrella Manufacturer and may have initially worked in Morris's business. The lives of Sarah and Charles and the family they raised are well documented in census records.
Morris Barnard (aged 62) & Elizabeth Barnard (aged 50) Census 1841
Morris Barnard (aged 62) and his wife, Elizabeth (Betsy) (aged 50) appear with four of their children on the 1841 census.
The quality of the original image is not good and the transcript of this 1841 Census form has a number of errors and thus is not very helpful. The evidence that this is our ancestor is the location in Whitechapel, the occupation of Umbrella Maker, which seems to be a family tradition (see data for Henry below), and his wife's name, Elizabeth (Betsy). The ages of the children are approximate as the 1841 census often gave these to the nearest 5 years. However we have marriage certificates for Joseph and Alexander (see section on 1850s below) which suggest that the birth years, are those shown in brackets below. Isabella appears on the 1861 census record, aged 45, living with her brother Henry. This gives an approximate year of birth for her as 1816. (The birth years are not on the original census record - all are extrapolations.) This 1861 census record also says that Isabella was born in Liverpool which does not fit with this 1841 record that says all the children were born in the same county (as the current address - ie Middlesex). However the 1841 census, which was the first in England, is notoriously unreliable.

Nothing reliable can be found of Esther after this 1841 census entry apart from the (questionable) 1851 census (see Morris Barnard 1851 below). There is no evidence that she ever married.
We know that Morris and Elizabeth had at least one other child, our direct line ancestor, Henry. He had left home by the time of the 1841 census - the whole of his story is given later in this document - but we know that he was son to Morris because of the father's name on Henry's marriage listing (see below) and the transcript of the 1834 trial (see below) in which both Morris and his son gave evidence.
However, Henry was not born until about 8 years after his parents got married. In those days couples would start having children very soon after their marriage (even less than nine months was more common that one might expect). Although the child mortality rate was tragically very high, there is a strong possibility that Henry had older siblings.
1842
On the certificate for the marriage of Isabella she is shown as of 'full' age - which unfortunately does not help with establishing her DoB. However she was married from number 70, Leman Street. The 1841 census did not give the house number but this is presumably her parent's home.

Morris Barnard (aged 66) - receiver of stolen goods 1845
There is a record of the imprisonment of Morris Barnard in 1845 (at the age of 66) for Receiving Stolen Goods. In brief the story is that Charlotte Palmer had stolen the umbrella components from her employer Evans & Co. (another umbrella maker) and supplied them to Morris Barnard. She was a home worker and claimed she had delivered the wrong batch in error to Barnard but she was not believed.
This record is in the Criminal Register for the County of Middlesex dated 7th July 1845. The full account of the trial is in the Proceedings of the Old Bailey.
http://www.oldbaileyonline.org/browse.jsp?id=def1-1506-18450707&div=t18450707-1506#highlight
MORRIS BARNARD was indicted for feloniously receiving, on the 2nd of June, 240 pieces of silk, value 2l. 10s.; 30 parasol-sticks, 2s.; 240 pieces of cane, 3s.; and 240 pieces of iron, value 1s. 3d.; the goods of William Evans and another.—2nd Count, stating the goods to be 30 parasol-frames, value 14s.; and 240 pieces of silk, 2l. 10 s.
(Jonas Levy, a merchant, in Great Prescott Street, who had known the prisoner from a boy; Ralph Harris, a merchant, who had known him forty years; Charles Williams, a warehouseman, who had known him eighteen or twenty years; and Lewis Isaacs, of Houndsditch, who had known him sixty years, gave him a good character.)
GUILTY. Aged 66. - Recommended to mercy by the Jury on account of his years and his good character. - Confined One Year.
1845 Morris Barnard imprisonment - record of imprisonment
1845 Morris Barnard Imprisonment transcript
1845 Morris Barnard Theft Old Bailey - transcript of the trial
1845 Page Image - Central Criminal Court
No formal address is given for the 'prisoner' but one of the witnesses, Thomas Graves, states:
"I knew the prisoner before—our people were in the habit of buying of him—I believe he lived at No. 6 or 8, Camomile Street."
The trial is also reported in the London Standard, first on Friday June 13th when the preliminary hearing took place and then after the trail on Wednesday July 8th. Both of these page impressions were obtained from the British Newspaper Archive by searching on Search by Publication > London Standard and then entering "charlotte palmer" in the search box.
Standard Friday June 13th 1845 (2/3 of the way down column
Standard Wednesday July 8th 1845 (close to top of column 3)
The latter article ends with the following text:
The Common Serjeant said that it was fortunate for the prisoner that no previous act of a similar nature could be alleged against him, or he would have been transported. The sentence at present was, that he be imprisoned and kept to hard labour in the House of Correction for 12 calendar months.
The family could have been Australians!!!
Morris Barnard 1848
A Trade Directory for 1848 shows Morris Barnard, umbrella manufacturer at 10, Marylebone Lane and his son Henry, also an umbrella manufacturer at 15 White Lion Street. The pianist Henry Barnard of 68, Newman Street, also shown on the same page, was a son of Isaac Barnard, the younger brother of Morris mentioned in Solomon's will. The second of the two links below has detail of the page with the names highlighted
1848 Morris Barnard Trade Directory
1848 Trade Directory showing Morris and Henry
Morris Barnard 1850s
Further information about Morris comes from the marriage certificates of two of his sons. As they were both quite old at the time of their marriages they were unlikely to be living in their parent's house. Thus the address of the 'residence at the time of marriage' is not evidence of an address for Morris.
On the certificate for the marriage of Joseph in 1857 1857 Joseph Barnard Marriage Morris's name is given as Moses and his Profession as Gentleman - which presumably means he is not in employment - not surprising as he would be 78 years old.
On the certificate for the marriage of Alexander in 1867 1867 Alexander Barnard marriage Morris (Moses) is given as deceased - which fits with his death in 1864 - see below. Note that Rebecca made her mark, so was presumably illiterate.
Both marriages - although a decade apart - were witnessed by men with the surname Levy but I cannot find any obvious family connection.
(Isabella's marriage in 1842 is mentioned above and the marriage of Sarah to Charles Millingen was in 1836 - before official registrations began. There is a possible marriage of Esther in 1846.)
Morris Barnard? 1851
I am unable to find Morris (or Moses or Moshe) in the 1851 census but there is an Edward Barnard, umbrella maker, with a wife Elizabeth and daughter Esther living in London. The ages of Elizabeth and Esther are a bit out compared to the 1841 census and Elizabeth's place of birth does not match but until we find some clear evidence to the contrary I'm going to go with the theory that this is our Morris who has taken on a new name after his release from prison. In support of this theory is the fact that I cannot find an Edward Barnard (umbrella maker) of this age in the London area in censuses before or after 1851 - either with or without wife and daughter.
Tony Barnard rejects this theory. It is certainly true that Morris appears under the name Moses Barnard on the marriage certificate of Joseph in 1857, just six years later. If Morris had taken on the name Edward it didn't stick for long. This is also the wrong part of London really as the family generally lived in the East End/Whitechapel areas.
Other missing persons in 1851 are Joseph and Isabella (who would by then have been married to Isaac Isaacs). Joseph reappears in 1861 but I cannot reliably find Isabella thereafter. Tony's theory is that they may have been in Scotland but I have looked in Scotland's People and cannot find them.
Elizabeth Barnard Death 1851-1861?
As the 1861 census has Morris as a 'widower' Elizabeth died between 1851 and 1861. This is based on the assumption that the 1851 'Edward' is in fact Morris. If the 1851 Edward is not Morris, Elizabeth may even have died earlier. However the registrations at that time did not give age so it would be necessary to send for death certificates and there are too many Elizabeth Barnard deaths in the 10-year period to make this practical. I did find one death of Elizabeth Barnard in St George Hanover Square (same district as the 1851 census records above) in September 1851, which looked promising so I sent for the DC. However it turned out to be a 6-month-old baby!
Morris Barnard 1861
In 1861 there is an 82 year-old widower, living alone in the 1861 census. The age is right as is the location but the profession is given as Sailor (or Tailor) not Umbrella Maker. However, it is possible that Morris has given his occupation as Sailor because, in a way typical of early dementia, he has forgotten more recent times but is remembering his youth. The fact that Morris & Betsy's children were born in various places (including Sarah born at sea in the Bay of Biscay - see Appendix 1) supports the idea that he was a sailor when young. 1861 Morris Barnard
The address, St Mary Axe, is currently the site of the London landmark known as The Gherkin.
Tony Barnard comments (4/11/12): Although the age, and status as a widower, given for the Morris Barnard in the 1861 census entry you sent does match with the age and status of 'our' Morris Barnard, I'm not 100% sure it is the same person. However, if it is, I think it is extremely unlikely that he gave 'sailor' as his profession. The travelling of our Morris Barnard was most likely in connection with his business. It was very common for people to travel around to buy materials for their trade. Also, it wasn't usual (was it?) for sailors to be accompanied by their 8-9 months pregnant wives. 'Tailor' would be just about possible, as this could be construed as being vaguely related to umbrella making.
Morris Barnard Death 1864
Morris Barnard, Umbrella Maker died on 12th April 1864 @ 48 Howland Street at the age of 85. (1864 Morris Barnard death index Barnard Morris - Pancras Volume1b page21) 1864 Morris Barnard DC.