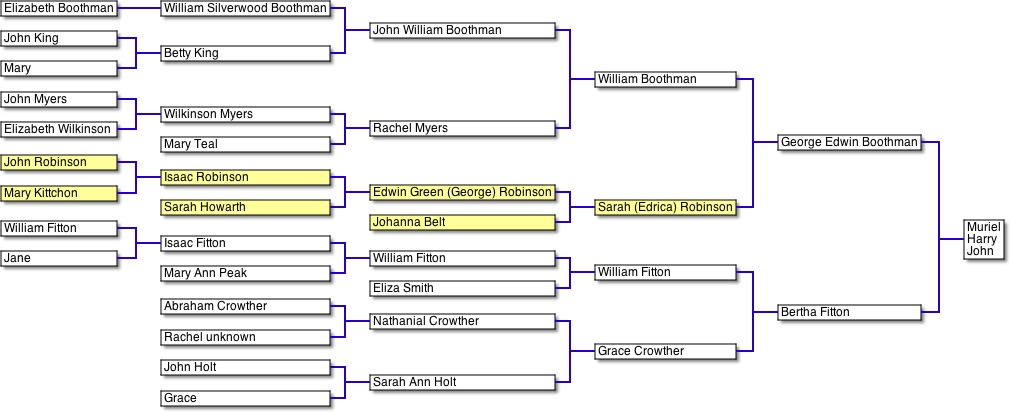 Edwin Green Robinson Predecessors
Another family member (K) carried out detailed research on the Robinson line before I began looking into it. She had the names of the parents and grandparents of Edwin G Robinson plus two siblings. On line research (Family Search) shows an Isaac, son of John & Mary, which provides supporting evidence confirming his birth year as 1792.
However, there appear to be at least 6 possible marriages for John and Mary - I do not know how K had determined that the wife was Mary Kittchon. There are also numerous baptisms in the same church of children with parents Mary & John Robinson. These could be siblings to Isaac but I cannot authenticate any of them.
The baptismal record for Edwin Green Robinson certainly has his parents as Isaac and Sarah and there is a marriage record for Isaac Robinson and Sarah Howarth, which seems to be the best fit. The fact that Edwin was staying with a Howarth family in 1851 is another clue - although he is classed as a 'visitor', which does not help establish the relationship. The family tree above seems to suggest a fair bit of intermarriage between the Howarths and the Robinsons.

K
had found two siblings of Edwin G - Sarah and William - supported by 3 baptisms in Manchester, recorded in "Manchester, England, Births & Baptisms, 1813-1901 (cathedral)" available through Ancestry. The actual records show the fathers occupation to be 'waiter' in all three cases which gives supporting evidence.
As none of the above sources give ages for Isaac and Sarah I cannot search for their births. Sarah does appear in the 1841 census with two of her children, Sarah & Edwin, when she is 40 years old. However, neither Isaac nor William Turner Robinson are present. There is a William T with a large Robinson family in Liverpool and as there is another William of a very similar age he is unlikely to be their son. Isaac appears to have died in 1839. Unfortunately the death records from this time do not include the age of the person so I shall need to send for the DC to see if this can be shown to be our Isaac.
I cannot reliably find Sarah Robinson after the 1841 census but there are more than 20 possible deaths between 1841 and 1851 so her date of death must remain tentative.
Edwin Green Robinson - Birth 5th August 1838

Edwin Green Robinson was born in Manchester on 5th August 1838. According to the baptismal record he was the son of Isaac and Sarah Robinson. It is probably safe to say that Edwin Green was the son of Sarah Robinson - but according to K's research he was not son to Isaac but the illegitimate son of William Green (which is where his middle name - Green - originates). There is no way of verifying this from online sources but K's research in Holland makes it very likely.


Edwin Green Robinson -
1841 Census
By the 1841 census Edwin's 'father', Isaac, had died and the 2 year-old Edwin was living with his mother and sister in Salford.

Edwin Green Robinson - 1851 Census
It seems likely that by 1851 Edwin's mother had also died as he is living with his (now married) sister. Unfortunately the record gives a relationship as 'visitor', which is not very helpful, but I have found an 1849 marriage of Sarah Ann to John Howarth that confirms the connection. Thomas Robinson is the right age to be Edwin's brother William but the name is puzzling.

Edwin Green Robinson - 1861/1871 Census
There is no sign of Edwin in the 1861 or 1871 census. This is entirely consistent with what I have been told - that as an esteemed engineer for the cotton industry Edwin went to work in Holland where he met and married a Dutch girl, Johanna Belt. The first four of their children, Sarah (Edrica), Sandy (Sander), George (Gerabus) and Ben (Barand) were born in Holland (and originally had those Dutch names) but the family returned to England and settled in Todmorden (Richmond Street) where Edwin and Hannah were born.
Edwin Green & Johanna Robinson - 1881 Census
All of this is borne out by the census record from 1881. The family had returned to England sometime between the birth of Bennett in 1874 and Edwin in 1877. According to K there had been an elder son, William, who died aged 16 in 1879 and is buried at Cross Stone St Paul in Todmorden. FreeBMD has a record of this death.


Edwin Green & Johanna Robinson - 1891 Census
By 1891 Edwin has started in the ice-cream business. Ice-cream manufacture first became cheap enough to reach a mass market in the late 19th Century and census data suggests that Edwin Robinson's move from the local cotton industry to ice-cream took place sometime in the 1881-1891 decade. However, according to K, Robinson's Ice-Cream was established in Todmorden in 1875. This is probably correct, as her research seems to have been quite detailed. It may be that Edwin was not prepared/able to give up his work at the mill until the business was well established which is why he had still classed himself as a Cotton weaver in 1881.


Sander (Sandy) has left home. He is now married to Lettice Sunderland with two daughters Mary (2) and Emily (9 months) and head of household at 17 Osbourne Place, Todmorden. His widowed mother-in-law, Mary A Sunderland and single sister-in-law Sarah E Sunderland are also living with the family.

The photograph below and all the other captioned pictures come from a 2010 calendar of the Robinson family which was sent to me by K.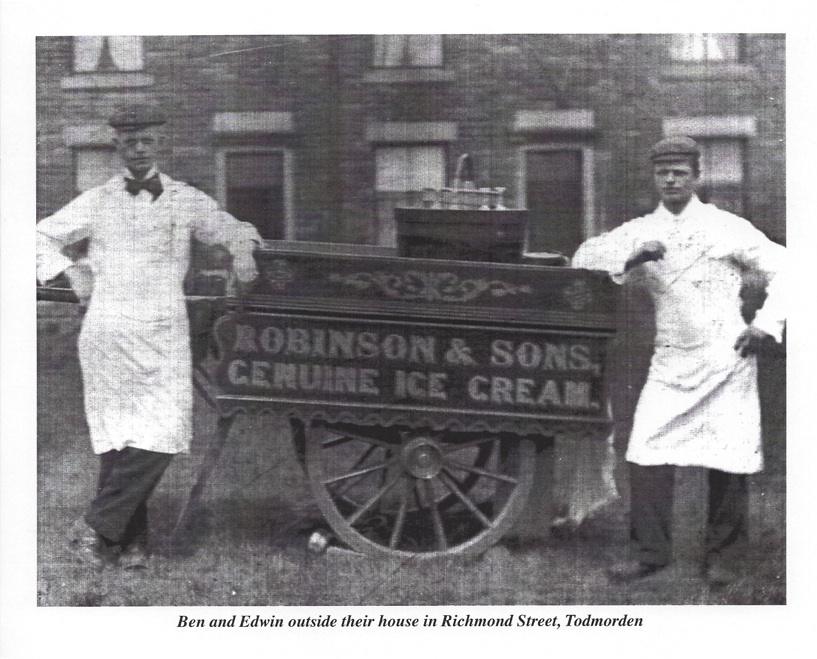 Edwin Green & Johanna Robinson - 1901 Census
Edwin & Johanna are still at 18 Richmond Street in 1901. The ice-cream business has expanded now to the more general 'Refreshment Dealer' and the description seems to include 'Coffee Ho' - suggesting that they are running a café. The photographs of Johanna and Edwin were probably taken around this time. Daughter Sarah is now married to William Boothman - see Boothman line for details.

Their remaining unmarried daughter, Hannah, is still at home and son, Bennett, is still here but now married with his wife Mary also living here. There is also a 50-year-old lodger, a deaf & dumb man working as an unskilled manual labourer in the mill.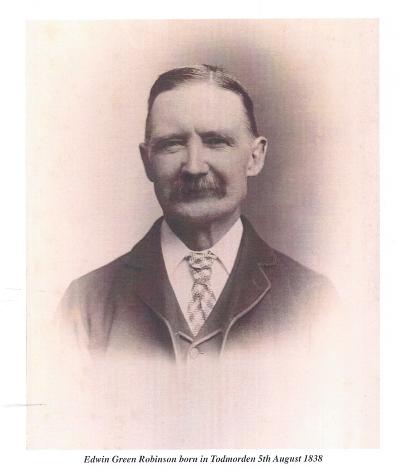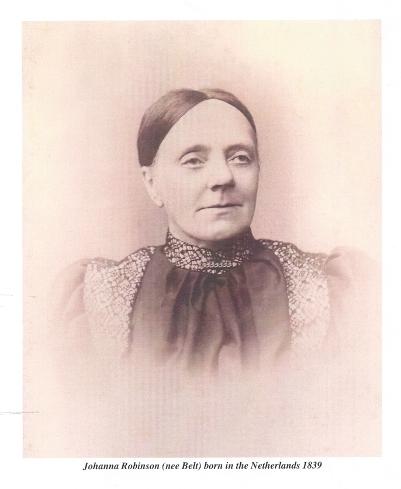 Edwin Green Robinson - Death 12th September 1901
Edwin died on 12th September 1901 at the age of 63. He was buried on 14th September at Cross Stone.
The England & Wales, National Probate Calendar (Index of Wills and Administrations) record for Edwin Green Robinson gives the date of death and shows probate granted to Edwin's son George on 17th January 1902.

Johanna Robinson - Death August 1911
Johanna died a decade later in 1911 at the age of 73. She was buried with her husband at Cross Stone on 10th August 1911 (the death is registered in the September quarter).

For more about the continuing life of their daughter Sarah - now married to William Boothman see
Edwin's Story
and the
Boothman Family Story.