Crowther line pre 1837/1841
A great deal of research into the Crowther family tree was carried out by a family member (NJ) before I began my investigations. This was before sources were available online. I corresponded with him in 1999 and he shared all his research with me. This formed the basis for my own research reported below.

The first ancestor in the tree is Abraham Crowther 1808-1875. This date of birth is extrapolated from census data, which gives his place of birth as Stansfield. Family Search has two Abraham Crowthers born 2 years earlier but in Leeds and Brighouse. These appear elsewhere in census data and are not our Abraham. I cannot find a record of his birth in Family Search.

Thus the earlier ancestors in the Crowther line are Abraham and Rachel. We do not know Rachel's maiden name so we cannot trace her any further back.
The lives of the people in this ancestral line were very different from those of any of our other ancestors. All the others lived in towns with conventional streets and were part of relatively large and mobile communities. The Crowthers lived a more primitive life as part of a very small community that would have probably been unchanged for centuries. The people were farmers and weavers - initially of wool and then of cotton. Weaving was originally a cottage industry - done on home looms - but the mills came to the area at the start of the 19th century and dramatically changed the lives of the people - not for the better. The mills were noisy and unpleasant places and the hours worked were long - even for children who started work in the mills from the age of 10 as the census records show.

Abraham & Rachel Crowther - 1841 Census
In 1841 Abraham Rachel and 6 children are living in the Township of Cliviger, Burnley. The front page of this 9-page census record is interesting as it lists all the addresses covered. There is no road name and the properties are all farms and cottages connected by unnamed tracks. Coal Clough Farm, just north of the main Burnley Road, is shown on an historic map from 1849 but as this is copyright it is not reproduced here.


Abraham & Rachel Crowther - 1851 Census
In 1851 the Crowther's address is given as Pudsey. Some property names that are shown on the 1849 map do figure in this 34-page record, for example New Delight and Pitts Bottom, but a dozen households are just listed under 'Pudsey'.

A Bobbin Turner made the bobbins used in the mills for holding thread. These were usually made of wood with a steel core. This was an engineering job, involving a lathe. A Throstle Spinner worked in the Spinning Room operating a Throstle – a type of spinning machine named after the noise it made - like the sound of a thrush (throstle is an alternative name for a thrush). All working members of the family wiould have worked at the local Pudsey Mill. More about this mill can be found in the following notes from http://freepages.genealogy.rootsweb.ancestry.com/~todmordenandwalsden/springwoodmill.htm.
Helliwell and Astin (named in the extract below) figure in the same 34-page 1851 census record & both Spring Wood and Pudsey Mills are shown on the 1849 map.
In Pudsey, John Hodgson and family had land and the freehold right to Paul Clough water, which came first to PUDSEY MILL in the bottom, which was afterwards changed to bobbin manufacturing by Mr John Helliwell. Pudsey Clough divides Cliviger from Stansfield. Mr John Hodgson built the Springwood Mill about 1840, intending to run it by water power, but the goit to bring the water as it left Pudsey Mill was not made and later a steam engine and boiler were put in, and his sons began the bobbin making trade. Afterwards a son-in-law, Mr Parker Astin, used the higher rooms for powerloom manufacturing. About 1857-8 both the bobbin making and the cotton manufacturing came to grief and the place stood derelict until there was a boom in cotton again, when Mr Shackleton took it and began carding and spinning cotton once more.
Abraham & Rachel Crowther - 1861 Census
In 1861 the family were living at Pitts Bottom, one of the properties shown on the 1849 map. The full family is shown in the tree below. Our direct line ancestor Nathaniel Crowther is now married- see below.
Abraham and Rachel's eldest son, William, is listed as head of a separate household at Pitts Bottom (shown with two strokes in the first column of the record). He is now married with 2 children.

According to NJ's tree, Abraham and Rachel's second son Abraham died on 26th September 1852. This is born out by a record from Free BMD. Abraham would only have been 21 years old. NJ has him married already to a local girl - yet another Rachel - but I cannot find any sign of such a marriage between 1851 - when Abraham junior (aged 18) was at living at home and 1852 when he may have died. There is an Abraham Crowther marriage in Todmorden in 1848 when Abraham would have been only 16 but of the 4 possible brides there is no Rachel - just two Marys, a Jane and Betty. This is a little mystery - but not in the direct line.


Rachel Crowther Death - 29th July 1865
Rachel Crowther died on 29th July 1865, when she was 57 years old. She died of chronic diarrhoea (the spelling on the certificate is as given below) at the same address as that shown on the 1861 and 1871 census forms - the cottage called Pitts Bottom. It is interesting to note that Todmorden is shown as in BOTH Yorkshire and Lancashire. Over the years the boundary wandered so that sometimes Tod was in one county and sometimes the other.

In 1865/6 there was a cholera epidemic in England. This is a disease spread by contaminated water, the main symptom of which is diarrhoea. This could have been what killed Rachel.
Abraham Crowther - 1871 Census
By 1871 Abraham, still living at Pitts Bottom, had a new wife.
There is a marriage recorded in Todmorden in 1866 although none of the possible brides is a Susan - which is definitely the name on the 1871 Census record. I sent for the MC which proved a false trail - this Abraham Crowther (marrying Mary Howarth) is the 20 year old son of George Crowther.
There this appears to be no record of the marriage of our Abraham to Susan - they may not have been legally married.

Abraham Crowther Death - 16th September 1873
Abraham's death certificate is interesting as it shows him to have died from what today would probably be called an 'industrial injury'. He was still working as a labourer at the age of 69, having given up the more skilled job of weaver between the ages of 45 and 55 (see above). Perhaps this was because his sight was failing? His job in the bobbin works clearly involved moving the timber from which the bobbins were made. His death was however, registered at home so they were clearly able to take him home after his fall - the bobbin works was not far from Pitts Bottom.

Nathaniel & Sarah Crowther Marriage - 8th November 1856
This marriage certificate is interesting in that both Nathaniel and Sarah 'made their mark' and thus were presumably illiterate.
The 'Profession of Father' box is also interesting as it gives Abraham as 'Gas Maker' which differs from the census records which give him as Weaver ((1851) and Labourer (1861 and 1871).
Nathaniel's address - Pitts Bottom - accords with the 1851 census. Abraham remained at that address at least until the 1871 census and probably until his death.

Sarah Ann Holt + Parents - 1841 & 1851

The information about Sarah Ann Holt on the marriage certificate (age and name of father) allows her to be identified in the census records for 1841 and 1851. NJ's tree had a definite date of birth for her (15 October 1836) but I do not know where this information came from and have no way of verifying it as the date is before national records began in 1837. There is no matching record in Family Search or Ancestry.



The description of the district from the 1851 census is:
All that part of the Upper Third of the Township of Stansfield which lies South of the Burnley Railway from the Western extremity of Line Holme Chapel to the Western extremity of Redwater Foot Public House including Canteen, Lidgate part of Kitson Road, Fiddlers Mill, Field Hirst Mill, Redwater Foot and Black Rock.
This district lies just across the railway from Nathaniel's home of Pitts Bottom.
More to come about Sarah Ann Holt ancestors when certificates come back.


Nathaniel & Sarah Crowther - 1861 Census
Nathaniel & Sarah Crowther proved very tricky to find in 1861. Working back from the 1871 census record (see below) their son John would have been 4 years old. I could not find them with a search under any of their names but it then occurred to me that perhaps the surname had been mis-transcribed so I just looked for a Nathaniel married to Sarah without giving a surname - and there they were under the name of Crowth!

Here too is the one-year-old Mark - seen in NJ's family tree but not elsewhere in census data as he died before the 1871 census in 1865. NJ has the date of his death as 27 May 1865, which fits with the FreeBMD record.

Neighbours in Vale Terrace (shown on the census form) include Pickles, Greenwoods and Marshalls - all names that figure in the family tree.

Nathaniel & Sarah Crowther - 1871 Census
In 1871 Nathaniel and his family were living at Dundee - where Nathaniel was to remain until at least 1901. He was probably there for some years more as Bertha, his granddaughter (b.1899), described visiting him there. However he left Dundee before 1911, when he was living with his daughter Rachel at 45 Cliff View, Pudsey.

Neighbours at Dundee were the Carter, Abraham Ormerod (24) with his wife Hannah (27) and their 3-year-old son John.
Image 12 of the same record has the inhabitants of New Delight listed as 5 households:
· John Greenwood (34) Farmer and Landowner recorded as having been born at New Delight & his wife Emma (recorded as having been born at Bank Top) (30) and 4 children
· Samuel Crabtree (60) Woodcutter
· William Walton (23) Weaver & his wife Sara Ann (23) also a Weaver
· Hannah Law (66) Washerwoman
· John Law (34) Bobbin Turner & his wife Elizabeth (32) Housekeeper
Throughout the record the same names recur commonly: Stansfield, Barker, Greenwood, Holt, Lord, Horsefall, Ormerod, Mitchell, Helliwell, Marshall, Crabtree, Law, Cunliffe, Crossley, Sutcliffe and Clegg.
There is also (on p7) the Pickles family living at Hartley Road - including John (9) who would later marry Nathaniel's daughter Rachel.
Grace Crowther Birth - 14th December 1871
Grace Crowther was born on 14th December 1871.

Her illiterate father, Nathaniel, again 'made his mark'.


Nathaniel & Sarah Crowther + Grace - 1881 Census
In 1881 the family were still at Dundee - now having grown to fill the property.
This area is right on the Lancashire/Yorkshire border, which is why some addresses are given as Yorks and some as Lancs.

The same family names recur and there is also a Binns family (one of Muriel's cousins married a Binns).
Pitts Bottom is now occupied by Greenwoods, Cleggs and Hodgsons and New Delight Farm by William Stansfield (48) Farmer of 7 acres and his family. Note that New Delight is specifically named as 'Farm' in this record, as are a fair number of the other recurrent place names such as Blue Bell.
Nathaniel & Sarah Crowther + Grace - 1891 Census
In 1891 the family were still at Dundee - with some of the older children having now left. Samuel (24) with a wife and 2-year-old child are living at 6 South View (p21 of the census record) and I doubt the others (John, Robert and Rachel) have gone far.

The Ormerods are still next door and New Delight Farm (p16 of the record) is occupied by Robert Binns (49) Farmer with his wife and family and now listed are New Delight Cottages occupied by James Stansfield (54) Retired Bobbin Turner and Bramwell Bulcock (25) Bobbin Turner with his wife and baby.


Grace Crowther & William Fitton Marriage - 18th July 1895
Grace married William Fitton in Todmorden in 1895. She was his second wife. Bertha told me that William had a key job in the cotton trade as a shuttle peg forger and travelled around Lancashire meeting Grace when he came to the Cornholme mill. Note his address on the marriage certificate - Hirst Street, Cornholme. This is the next street along the Burnley Road after Oakleigh Terrace/Sun Terrace where Edwin, Bertha and family were to live from 1940. Grace's address is Dundee House where her family had lived from 1871 and her father continued to live until 1901.

Ancestry research into the Fitton line is given in a separate page accessed from this link - Fitton Line.

A Shuttle Tip Maker/Forger made the pointed steel shuttle tips, which came in many different designs. It was a very skilled job as the tips had to withstand being hammered to make the shuttles fly through the yarns from one side of the loom to the other and had to have aerodynamic properties.

Bertha Fitton Birth - 27th April 1899
Bertha was born on 27th April 1899. The story of the first 24 years of her life is in the volume Bertha's Story.

Nathaniel Crowther - 1901 Census
In 1901 Nathaniel was still at Dundee but recorded as alone in one household. Although he is still listed as 'Married' (not Widowed) there is no sign of his wife Sarah. I have searched for her without success.
However son Sam (34) is now also there listed as Head of a separate household with wife Emily and 3 children.
Grace is now married and living with husband William Fitton, one of his children from his first marriage (Ellen/Nell) and three children of her own, Walter, Ada and Bertha. Their fourth child Mabel would be born in 1903. See the volumes Fitton Line and Bertha's Story.

Sarah Ann Crowther - Death 8th March 1906
According to NJ, Sarah died at the age of 70 on 8
th
March 1906 in Todmorden. I have found a FreeBMD entry to support this but have not sent for the DC. The mystery of her whereabouts in the 1901 census remains.
Nathaniel Crowther - 1911 Census
In 1911 Nathaniel, now a widower, was living at 45 Cliff View Pudsey, in the household of his daughter Rachel Pickles - also widowed - and her 5 children.

The photographs, taken at around this time, show Rachel Pickles - captioned 'Aunt Rachel' in Bertha's handwriting - and a boy dressed as a jockey - possibly Rachel's son James (both highlighted in green on the chart below).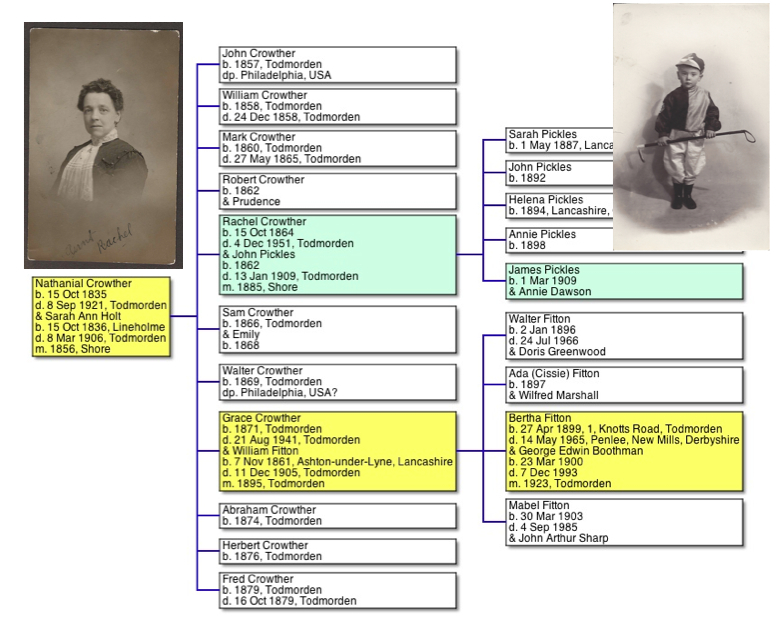 Nathaniel Crowther - Death 8th September 1921
According to NJ, Nathaniel died at the age of 85 on 8
th
September 1921 in Todmorden.I have found a FreeBMD entry to support this but have not sent for the DC.